New York City politicians have been calling for the move announced by DHS
The Biden administration on Wednesday announced that it will be offering hundreds of thousands of Venezuelan migrants already in the U.S. – including those in the country illegally – work permits and protections from deportations, just as numbers are skyrocketing at the southern border.
Officials announced a move to redesignate Venezuela for Temporary Protected Status, which allows migrants to apply for deportation protections and work permits if they have arrived for a certain date.
The latest extension will see TPS extended for 18 months and applies to nationals who were in the country on or before July 31. Venezuela was last extended, but not re-designated, for TPS in 2022, meaning it was not open to new applicants. This redesignation will open it up to new applicants, and officials told reporters they estimate it will protect around 472,000 foreign nationals. 
THOUSANDS OF VENEZUELAN MIGRANTS GATHER UNDER TEXAS BRIDGE AS BORDER NUMBERS SKYROCKET
The designation is typically based on conditions in the designated country and is based on three grounds: armed ongoing conflict, environmental disasters or "extraordinary and temporary conditions." Officials on Wednesday cited the latter.
However, it comes as the administration has faced fierce pressure from sanctuary jurisdictions like New York City, which have demanded more federal action to help them deal with the migrant crises they are facing – including expedited work permits. New York City has declared itself overwhelmed by the more than 110,000 migrants that have come to its city.
The announcement comes on the same day as Eagle Pass, Texas saw a surge of predominantly Venezuelan single adults surge into the area, overwhelming officials and causing the closure of the main bridge so officials could focus on processing. 
GOP GOVERNORS CALL ON BIDEN TO PROVIDE 'HONEST, ACCURATE' DATA ON MIGRANT CRISIS AS NUMBERS SURGE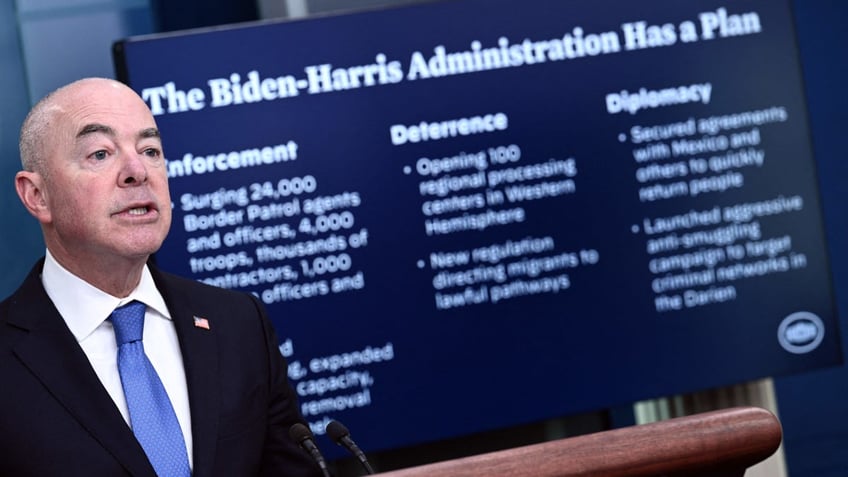 US Homeland Security Secretary Alejandro Mayorkas speaks during the daily press briefing in the Brady Press Briefing Room of the White House in Washington, DC, on May 11, 2023. (Brendan SMIALOWSKI / AFP) (Photo by BRENDAN SMIALOWSKI/AFP via Getty Images)
Across the border there has been a jump in encounters since a relative lull in June. Numbers jumped to over 180,000 encounters in July and what is believed to be around 230,000 in August, although numbers have not been released. This week, officials have made over 45,000 migrant encounters in the last five days alone both at the ports of entry and between them, sources told Fox, with multiple days of over 8,000 illegal immigrant encounters.
Multiple Border Patrol Sectors have been conducting street releases to relieve overcrowding, while leadership has set targets for "bookouts" as they struggle to deal with arrivals.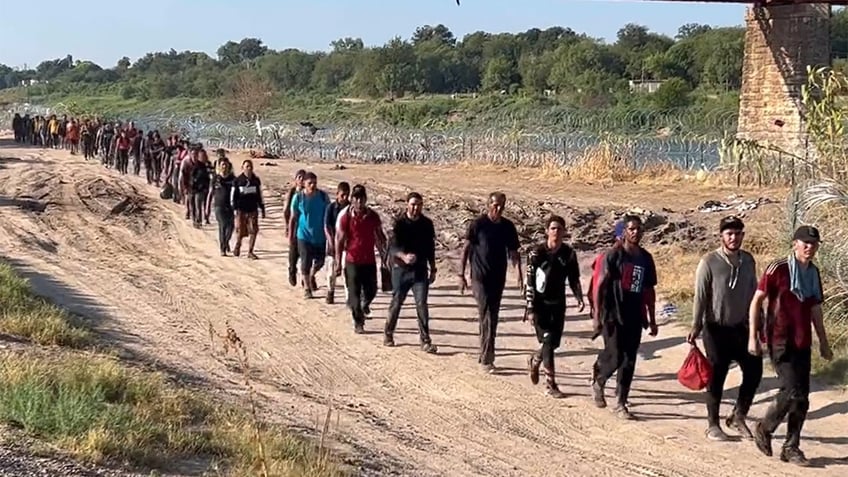 Sept. 20, 2023: Migrants mostly from Venezuela move into Eagle Pass, Texas. (Fox News)
The redesignation is on top of a parole program that allows 30,000 migrants from four countries, including Venezuela, to be paroled into the U.S. each month, and Venezuelans are also eligible to be one of the 1,450 a day allowed to enter the U.S. through a port of entry for parole after making an appointment on the CBP One App.
There will likely be concerns, particularly from Republicans and immigration hawks, that redesignating TPS could attract more migrants even though they are not eligible for protection if they arrive after July 31. Customs and Border Protection (CBP) sources told Fox News that the decision will only compound the problem at the border and draw even more Venezuelan migrants because of the "pull" factor of being granted TPS status and the ability to get work authorization. Republicans, meanwhile, have blamed the border surge on the administration's policies, accusing it of winding down Trump-era border protections and increasing "catch-and-release."
BIDEN ADMIN SHIELD 330,000 IMMIGRANTS FROM DEPORTATION; TOP DEM SAYS ITS NOT ENOUGH
The administration has pushed back, saying Congress needs to provide more funding, and pass a comprehensive immigration reform bill the administration unveiled after taking office. That bill included a permanent pathway to citizenship for TPS recipients. 
CLICK HERE TO GET THE FOX NEWS APP 
The administration has also pointed to enforcement measures it has taken, including restored use of expedited removal and an asylum bar for some who have crossed illegally and failed to claim asylum at a third country. It has also said it has removed or returned around 253,000 migrants since Title 42 ended on May 12. 
On Wednesday, the administration announced an additional 800 active-duty personnel to assist with logistics and allow Border Patrol agents to return to the field and expand holding capacity in facilities by 3,000 to 23,000. It also announced accelerated processing for employment authorization documents fled by those paroled in via the CBP One app, reducing processing from 90 to 30 days and increasing the validity periods of those documents to five years in some cases.
Fox News' Bill Melugin and Griff Jenkins contributed to this report.
Adam Shaw is a politics reporter for Fox News Digital, primarily covering immigration and border security.
He can be reached at This email address is being protected from spambots. You need JavaScript enabled to view it. or on Twitter.