Officials estimated that they had seen about 4,000 migrants moving into Eagle Pass
Thousands of predominantly Venezuelan adult illegal immigrants moved into Texas and gathered under a nearby bridge on Wednesday, reminiscent of the Haitian migrant crisis two years ago -- just as numbers are again skyrocketing at the border.
Texas troopers told Fox News that their initial count of the number of migrants moving across the water into Eagle Pass on Wednesday was about 4,000. The migrants gathered under the bridge and were waiting to be processed by Border Patrol, in the hope of being released into the U.S.
Many of them told Fox News that they were arriving from Venezuela, with some saying they arrived on a train from Mexico. The Mexican military deployed on the Mexican side of the border, but it did not stop the migrants from crossing.
PERUVIAN ILLEGAL IMMIGRANTS' ALLEGED MURDER VICTIM IS US CITIZEN, SHERIFF CONFIRMS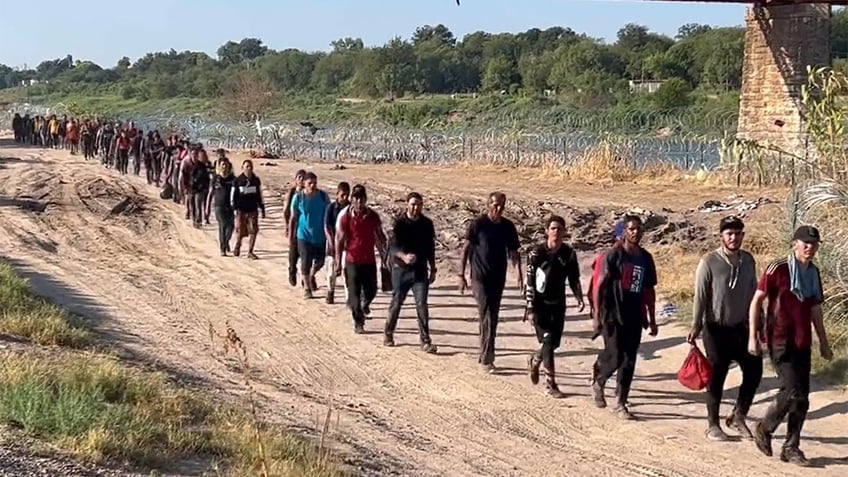 Sept. 20, 2023: Migrants mostly from Venezuela move into Eagle Pass, Texas. (Fox News)
The U.S. has seen a sharp uptick in crossings at the southern border in recent days. Officials have made over 45,000 migrant encounters in the last five days alone both at the ports of entry and between them, sources told Fox on Wednesday, with multiple days of over 8,000 illegal immigrant encounters.
Sources have also told Fox News that there were around 230,000 migrant encounters in August -- Customs and Border Protection has not yet released its official numbers. That 230,000 would be up significantly from over 180,000 in July and 144,000 in June. August's numbers would mark the highest month in 2023.
Border Patrol sectors have been overwhelmed with the numbers they are seeing, with mass street releases taking place in the last week in Tucson and San Diego. Fox has previously reported how Border Patrol has set up targets for sectors to more quickly process migrants through their facilities as they attempt to handle the influx.
GOP GOVERNORS CALL ON BIDEN TO PROVIDE 'HONEST, ACCURATE' DATA ON MIGRANT CRISIS AS NUMBERS SURGE
The scenes in Eagle Pass are reminiscent of the Haitian migrant crisis from Sept. 2021, where thousands of predominantly Haitian adults gathered in squalid conditions under a bridge in Del Rio, causing a major headache for the Biden administration and drawing national attention to the border crisis.
The migrant crisis has dogged the administration since then, but over the summer it touted a sharp drop in encounters after the ending of Title 42 expulsions in May, and attributed it in part to its strategy of expanding "lawful" migration pathways, including a parole program that allows up to 30,000 migrants a month from four countries including Venezuela to fly directly into the U.S. legally. DHS had pointed to an 89% drop in illegal encounters from those four nationalities as proof it was working.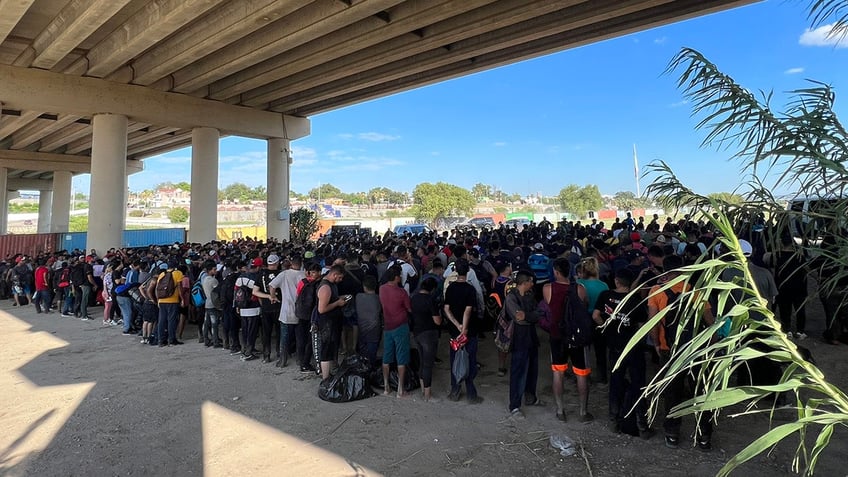 Sept. 20, 2023: Migrants mostly from Venezuela move into Eagle Pass, Texas. (Fox News)
Separately, up to 1,450 migrants each day are being paroled into the U.S. at ports of entry if they use the CBP One app to make an appointment. Those programs were combined with what the administration said was an increase in consequences at the border -- including restored Title 8 removals and an asylum rule limiting asylum claims if migrants entered illegally and failed to claim asylum at a third country. It has also noted that FY 2022 saw a record number of removals under both Title 42 and Title 8 authorities. It had tied the decrease in encounters from May to June as a sign that strategy was successful.
DHS WARNS MEXICO MAY STOP TAKING BACK SOME ILLEGAL IMMIGRANTS IF KEY POLICY BLOCKED, TRIGGERING NEW 'SURGE'
The administration has also said it can only do so much given the "broken" system within which it is working and has called on Congress to provide more funding and to pass an immigration reform bill introduced in 2021. Republicans have rejected that bill due to its inclusion of a pathway to citizenship for millions of illegal immigrants. 
CLICK HERE TO GET THE FOX NEWS APP 
Republicans have passed legislation in the House to restart border wall construction, increase border security and restrict asylum claims at the border, and have sought to include it in a continuing resolution to keep the government funded past the end of the month -- but it seems unlikely to draw significant Democratic support. 
Meanwhile, the Biden administration has also seen increasing pressure from Democratic jurisdictions where migrants have traveled. New York City Mayor Eric Adams has emerged as a vocal critic of the administration's handling of the crisis, calling for more federal aid and other assistance as it deals with the more than 110,000 migrants that have traveled into the self-described "sanctuary" city in the last year. 
 
Adam Shaw is a politics reporter for Fox News Digital, primarily covering immigration and border security.
He can be reached at This email address is being protected from spambots. You need JavaScript enabled to view it. or on Twitter.