She told viewers that she would not be reporting on the case
MSNBC host Alicia Menendez, Sen. Bob Menendez's daughter, quickly addressed her father's indictment for the first time on Saturday and told viewers she wouldn't be reporting on the case.   
"Last week, a grand jury indicted U.S. Senator Bob Menendez. This past week, dozens of members of his own party have demanded his resignation. I have been watching, along with all of you, as a citizen and also as his daughter. I will not be reporting on the legal case," she said.
"That said, my colleagues across MSNBC and NBC News, they have aggressively covered the story, and they'll continue to do so, as they should," she continued, before moving on from the subject. 
Sen. Bob Menendez, D-N.J., was indicted on bribery charges on Sept. 22 and Menendez and his wife both pleaded not guilty to the charges on Wednesday.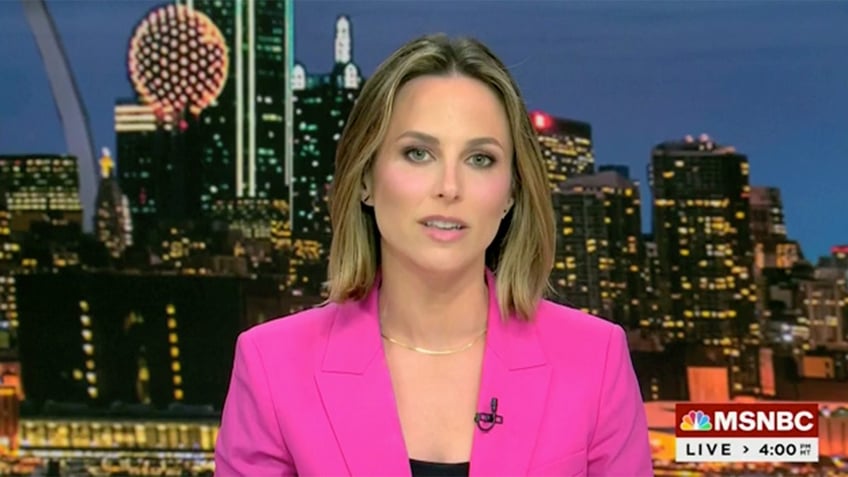 MSNBC's Alicia Menendez addressed her father's indictment on Saturday. 
5 EXPLOSIVE REVELATIONS DEM SEN. BOB MENENDEZ'S FEDERAL BOMBSHELL INDICTMENT
Over a dozen Democratic senators have called on Menendez to resign, including fellow Democratic New Jersey Sen. Cory Booker. 
"Stepping down is not an admission of guilt but an acknowledgment that holding public office often demands tremendous sacrifices at great personal cost," Booker said in a statement. "Senator Menendez has made these sacrifices in the past to serve. And in this case he must do so again. I believe stepping down is best for those Senator Menendez has spent his life serving."
The indictment alleges that Menendez and his wife, from at least 2018 through 2022, "engaged in a corrupt relationship" with three New Jersey businessmen.
The couple is accused of accepting "hundreds of thousands of dollars of bribes in exchange for using Menendez's power and influence as a senator to seek to protect and enrich Hana, Uribe, and Daibes and to benefit the Arab Republic of Egypt."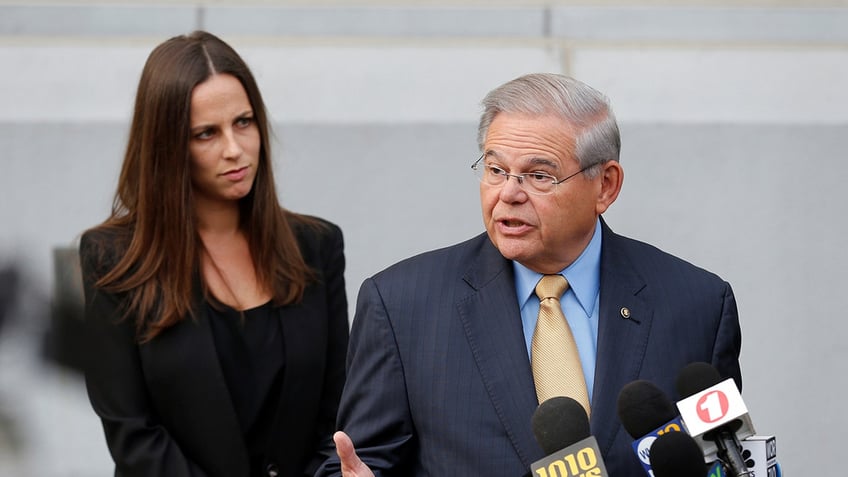 Sen. Bob Menendez speaks to journalists after arriving to face trial for federal corruption charges as his daughter Alicia Menendez looks on outside United States District Court for the District of New Jersey in Newark, New Jersey, U.S., September 6, 2017.  (REUTERS/Joe Penney)
DOJ WEIGHING POTENTIAL CHARGES AGAINST BOB MENENDEZ FOLLOWING CRIMINAL PROBE INTO GIFTS TO HIS WIFE: REPORT
The Democratic senator has remained defiant and has said he won't resign following the indictment. 
"I will continue to cast votes on behalf of the people of New Jersey as I have for 18 years," Menendez said as he left a closed-door meeting with fellow Democrats. "I think Schumer may need those votes, he'll be looking forward for me to cast them."
In a statement following the indictment announcement, he called it a year-long "smear campaign."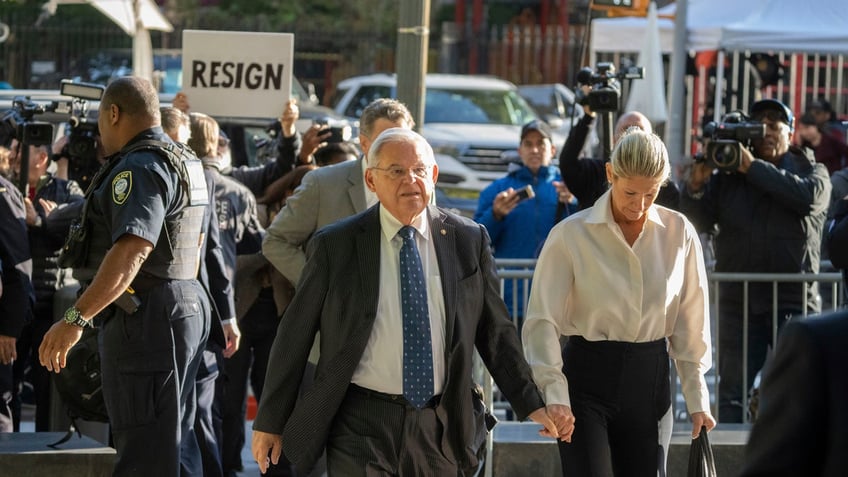 Democratic U.S. Sen. Bob Menendez of New Jersey and his wife Nadine Menendez arrive to the federal courthouse in New York, Wednesday, Sept. 27, 2023.  (AP Photo/Jeenah Moon)
"For years, forces behind the scenes have repeatedly attempted to silence my voice and dig my political grave. Since this investigation was leaked nearly a year ago, there has been an active smear campaign of anonymous sources and innuendos to create an air of impropriety where none exists," Menendez wrote. 
CLICK HERE TO GET THE FOX NEWS APP 
Fox News' Chris Pandolfo contributed to this report.
For more Culture, Media, Education, Opinion and channel coverage, visit foxnews.com/media
Hanna Panreck is an associate editor at Fox News.