Sen. Menendez rejected calls to step down in a Monday press conference
Over a dozen Senate Democrats have called for their colleague, Sen. Bob Menendez, to resign after a bombshell indictment was unsealed in federal court last Friday.
Sen. Cory Booker issued a statement on Tuesday calling for Menendez, also from New Jersey, to step down in the wake of federal corruption charges related to overseas dealings with the government of Egypt.
"Stepping down is not an admission of guilt but an acknowledgement that holding public office often demands tremendous sacrifices at great personal cost," Booker's statement said. "Senator Menendez has made these sacrifices in the past to serve. And in this case he must do so again. I believe stepping down is best for those Senator Menendez has spent his life serving."
As of midday Tuesday, 13 Senate Democrats have called for Menendez to resign. 
LEGAL EXPERTS WEIGH IN ON MENENDEZ INDICTMENT, SUGGEST 'MONSTER' CHARGES POINT TO LIKELY CONVICTION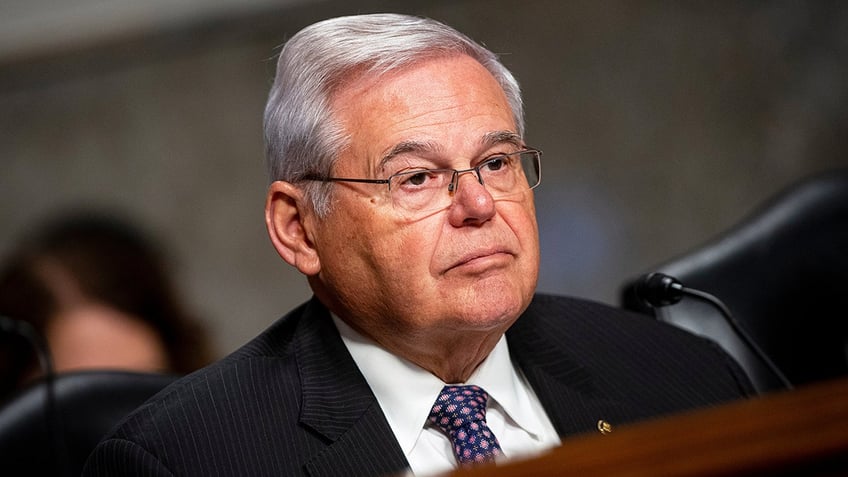 Senator Bob Menendez, a Democrat from New Jersey, during a Senate Banking, Housing, and Urban Affairs Committee hearing in Washington, DC (Al Drago/Bloomberg via Getty Images)
The list of senators includes: Sens. Bennett, Fetterman, Kelly, Booker, Brown, Welch, Baldwin, Tester, Casey, Klobuchar, Rosen, Heinrich and Warren.
In addition to the dozen Senate Democrats, several members of the House have also called for Menendez to step down including former House Speaker Nancy Pelosi.
SEN. BOB MENENDEZ'S CONGRESSMAN SON ANNOUNCES HOUSE RE-ELECTION BID DAYS AFTER FATHER'S CORRUPTION INDICTMENT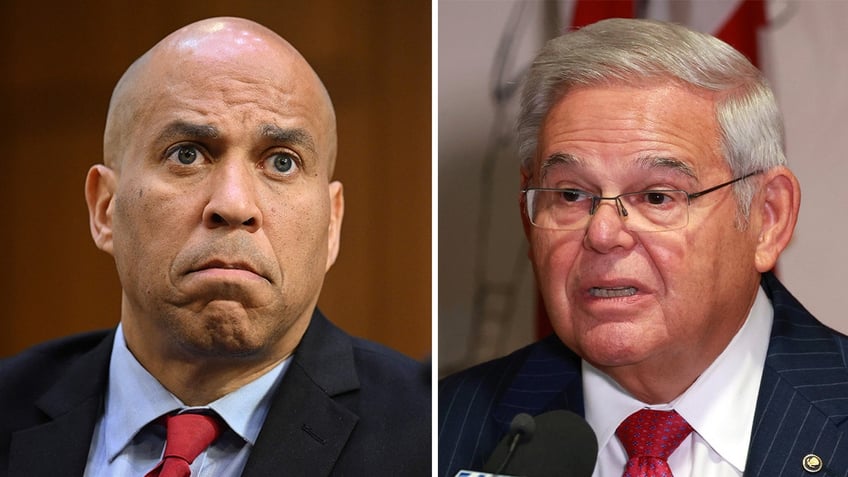 Democrat Sens. Cory Booker and Bob Menendez (Getty Images)
"It probably would be a good idea if he did resign," Pelosi told MSNBC.
Menendez's office did not immediately respond to a request for comment from Fox News Digital.
BOB MENENDEZ ENLISTS HUNTER BIDEN'S DEFENSE ATTORNEY IN BRIBERY CASE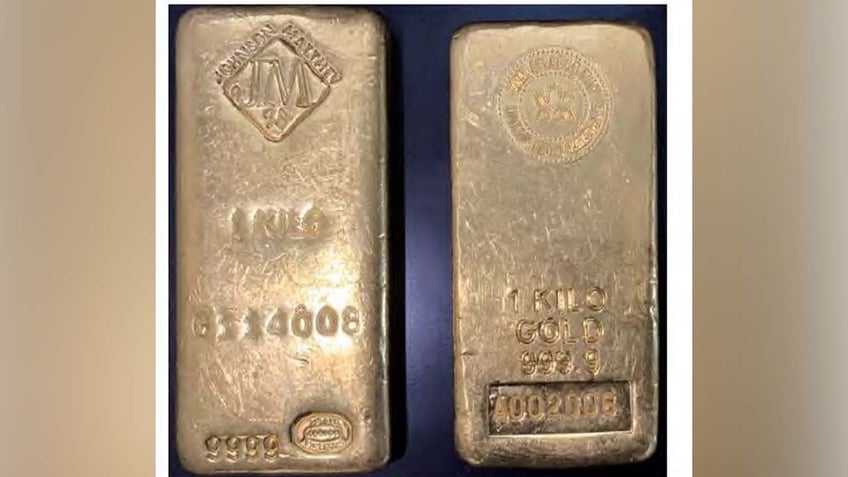 An evidence photo shows gold bars that were gifted by Fred Daibes and found in Democratic New Jersey Senator Robert Menendez and Nadine Menendez's home.  (United States District Court )
In a Monday press conference, Menendez struck a defiant tone and said that he expected to be exonerated of the charges.
"Those who believe in justice believe in innocence until proven guilty. I intend to continue to fight for the people of New Jersey with the same success I've had for the past five decades," Menendez said. 
"This is the same record of success these very same leaders have lauded all along. It is not lost on me how quickly some are rushing to judge a Latino and push him out of his seat. I am not going anywhere."
The press conference at Hudson County Community College in Union City, New Jersey, marked the senator's first public appearance since his federal indictment was unsealed in the Southern District of New York on Friday, charging Menendez, his wife, Nadine, and New Jersey businessmen Wael Hana, Jose Uribe and Fred Daibes in participating in a years long bribery scheme. 
Since 2018, as alleged by federal prosecutors, the three businessmen collectively paid hundreds of thousands of dollars of bribes — including cash, gold, a Mercedes-Benz and other things of value — in exchange for Menendez agreeing to use his power and influence to protect and enrich them and to benefit the government of Egypt. 
Fox News Digital's Danielle Wallace contributed to this report.
 
Andrew Mark Miller is a reporter at Fox News. Find him on Twitter @andymarkmiller and email tips to This email address is being protected from spambots. You need JavaScript enabled to view it..