Granholm's EV road trip 'illustrates yet again how out of touch the Biden Administration is,' Republicans write
Republicans on the House Oversight and Accountability Committee are probing Energy Secretary Jennifer Granholm over her recent electric vehicle (EV) road trip where police were called on her and her team.
Oversight Chairman James Comer, R-Ky., and Oversight Subcommittee on Economic Growth, Energy Policy, and Regulatory Affairs Chairman Pat Fallon, R-Texas, informed Granholm in a letter Tuesday morning that they were investigating the June road trip which they said was aimed to "boost the charade of the effectiveness of green energy."
"This taxpayer-funded publicity stunt illustrates yet again how out of touch the Biden Administration is with the consequences of policies it has unleashed on everyday Americans," Comer and Fallon wrote to Granholm. 
"Committee Republicans remain committed to preserving freedoms like vehicle consumer choice in the face of an unproven, burdensome, and expensive Biden Administration push to force all Americans to buy EVs," they continued. "We request documents and information to understand the purposes, costs, and consequences of your summer 2023 EV road trip."
GOP REP CALLS FOR IMPEACHMENT INQUIRY INTO BIDEN ENERGY SECRETARY GRANHOLM: 'SHE LIED, UNDER OATH'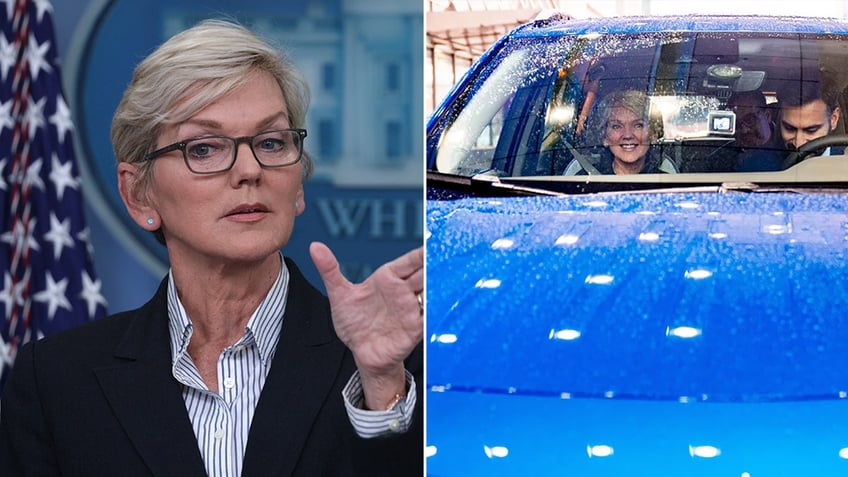 Energy Secretary Jennifer Granholm's team caused the incident during Granholm's road trip in June promoting President Biden's climate agenda. (Alex Wong/Getty Images / AP Photo/Andrew Harnik, File)
Earlier this month, reports surfaced that, during Granholm's four-day EV road trip from North Carolina to Tennessee, Energy Department staffers used a car with an internal combustion engine to block off an EV charger for the secretary outside a Walmart in Grovetown, Georgia. 
One family, angered that they were forced by a gas-powered vehicle to wait to use a charger, ultimately called the police to report the incident.
BIDEN ENERGY SECRETARY REVEALS STOCK OWNERSHIP OF EV LOBBY GROUP FOUNDING COMPANY
"I'm calling because I'm in the Grovetown Walmart at the charging station and there's literally a non-electric car that is taking up a space and said they're holding the space for somebody else," the woman who made the 911 call told a police dispatcher in a recording obtained by Fox News Digital. "And it's holding up a whole bunch of people who need to charge their cars."
"There are other people who are waiting to charge and they're still here and they're not in electric cars," the woman continued. "The sign says you can't park here unless you're charging."
The dispatcher then informed the woman that a deputy was on the way to handle the situation. While a police officer eventually responded to the incident, a police report was never filed. The incident was first reported by NPR which joined Granholm on the trip. According to the report, Granholm's office organized the trip to "draw attention to the billions of dollars the White House is pouring into green energy and clean cars."
GOP OPENS INVESTIGATION INTO BIDEN ADMIN FOR OBSTRUCTING US ENERGY PRODUCERS WITH 'RADICAL ECO-AGENDA'
While Granholm's team planned the trip far in advance to prepare for charging stops, the Georgia stop underscored logistical issues that continue to face zero-emissions cars which Granholm, President Biden and Democratic-led states are aggressively pushing.
After she was pressed on the incident during a House Science and Technology Committee hearing on Sept. 14, Granholm explained the incident occurred as a result of "poor judgment on the part of the team," sidestepping blame.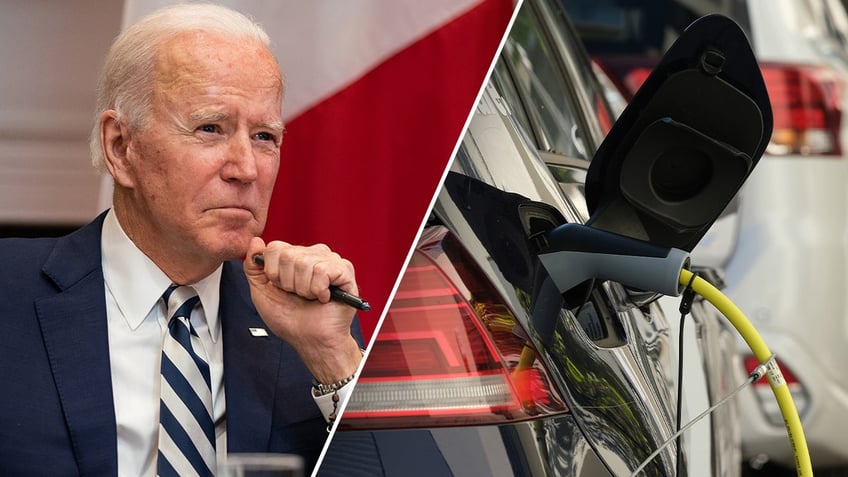 President Biden previously set a goal of ensuring 50% of car purchases are electric by 2030.  (Anna Moneymaker/Pool/Getty Images | Sean Gallup/Getty Images)
"Your fleet of EVs could not complete the trip without the support of the fossil fuel industry which you and the Biden Administration have been intent to vilify and destroy," Comer and Fallon continued in their letter Tuesday. "Traveling from Charlotte, North Carolina to Memphis, Tennessee, you encountered significant EV implementation hurdles."
"You and your staff did not even make serious, practical decisions on the EV vehicles chosen for the road trip."
The Department of Energy did not immediately respond to a request for comment.
Thomas Catenacci is a politics writer for Fox News Digital.