Media tycoon Rupert Murdoch, who has bolstered Florida Gov. Ron DeSantis's (R) national profile through Fox News and other outlets he and his family own, is reportedly losing confidence in DeSantis's ability to defeat former President Donald Trump in the 2024 Republican primary, Rolling Stone reported.
One Fox News insider told Rolling Stone that Rupert and his son Lachlan Murdoch "are transactional and can smell a loser a mile away."
A senior Fox source told the outlet Murdoch's "understandable worry is that we may end up being stuck with Trump anyway."
"And DeSantis is underperforming. Anybody can see that … [and the Murdochs], they're seeing it, too," the source added.
Rolling Stone spoke with two individuals who speak to the Murdochs, three well-placed sources at Fox, and three others briefed on the situation, who all spoke on conditions of anonymity to divulge the contents of private discussions.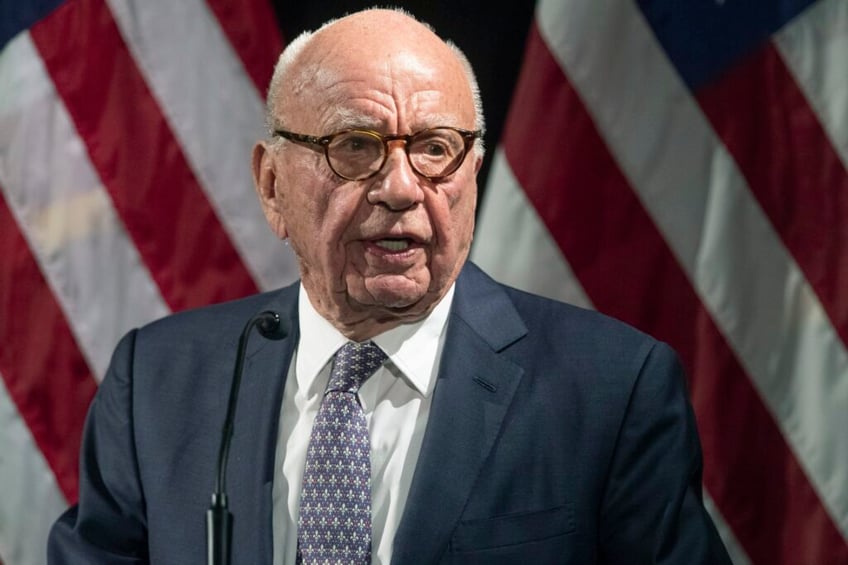 Rupert Murdoch introduces Secretary of State Mike Pompeo during the Herman Kahn Award Gala on Oct. 30, 2019, in New York. (AP Photo/Mary Altaffer, File)
Murdoch's growing concern about DeSantis's campaign is evident in recent Fox News coverage and editorial board articles from the New York Post, an outlet also owned by the Murdoch family. The increased pressure on DeSantis from these outlets is "not by accident," and "not a coincidence," according to Rolling Stone's sources.
For Example, Fox News host Will Cain pressed DeSantis for answers about his poor poll numbers in an interview last week.
"I have to ask you, governor, this: Why do you think, despite those successes, so far, it hasn't been reflected in your polling for your 2024 run for president of the United States?" Cain asked DeSantis.
Days later, Fox News host Maria Bartiromo posed a similar question, bluntly asking DeSantis, "What's going on with your campaign?"
"There was a lot of optimism about you running for president earlier in the year, but here's this weekend's headline from Politico Playbook," Bartiromo said before reading negative headlines about DeSantis.
Gov. Ron DeSantis has yet to make much headway in the polls against Trump in the nearly two months since he has officially been in the race.
For example, a June Harvard poll found that Trump led DeSantis by a margin of 67 to 33 percent, a slight decrease for DeSantis from Harvard's May poll taken before the Florida governor entered the race. Additionally, Trump holds double-digit leads over DeSantis in various states, including, but not limited to, South Carolina, New Hampshire, Wisconsin, New York, and Iowa.
DeSantis's underwhelming campaign performance thus far has left Murdoch wondering if a "comeback" is possible at this point. Murdoch is also privately frustrated with DeSantis's culture warrior campaign strategy, one that has attracted criticism for being "too online" to connect with the median voter.
"According to two of the sources, Murdoch has privately winced at DeSantis' nonstop cultural-grievance strategy, arguing that it is being executed sloppily," Rolling Stone reported.
For example, DeSantis's campaign posted a "pride month" campaign video that attacked Trump for his commitment to "protect" LGBTQ+ Americans in the aftermath of the Pulse Nightclub shooting, leading critics to accuse the DeSantis campaign of being "divisive and desperate" and venturing into "homophobic territory."
In fact, DeSantis's "too online" campaign kicked off with an official announcement on Twitter that was plagued with technical difficulties.
Watch: Technical Difficulties Plague DeSantis, Musk Twitter Spaces Campaign Launch
Twitter
As Breitbart News reported:
The Twitter Spaces call, scheduled to launch at 6 p.m. Eastern, began several minutes late as one unidentified voice whispered that it was "quiet." David Sacks, the entrepreneur hosting the event, began to introduce Elon Musk and asserted that this was "historic" before the audio cut out. From then on, the audio continued to cut in out several times, with continued echoing and seemingly random voices — not the voice of the governor, whom the conversation was all about.
Most recently, DeSantis lost support from top America First movement figures such as Mike Cernovich after DeSantis's press secretary Jeremy Redfern accused detractors of being "dishonest" after raising questions about DeSantis's past comments about then-Special Counsel Robert Mueller's investigation into "Russian collusion" between Trump's 2016 campaign and Russian agents.
The Murdochs are not alone in their concerns about DeSantis's ability to dethrone Trump from the top of the polls. Steve Cortes, who advises the pro-DeSantis super PAC Never Back Down, recently admitted the DeSantis campaign faces an "uphill battle" in the GOP primary.
"Right now in national polling we are way behind, I'll be the first to admit that," Cortes noted before recognizing that "Donald Trump is the runaway frontrunner."
However, the Murdochs are reportedly not quite ready to give up all hope on DeSantis, "in part because they likely would have nowhere else to turn except to crawl back to Trump," Rolling Stone reported.
DeSantis has also suggested he is in the race for the long haul, telling Fox News's Cain that he will be making his case to voters "over the next six or seven months."
"I'm running to win in January and February. I'm not running to juice polling now," DeSantis responded to Cain's concerns.
Jordan Dixon-Hamilton is a reporter for Breitbart News. Write to him at This email address is being protected from spambots. You need JavaScript enabled to view it. or follow him on Twitter.