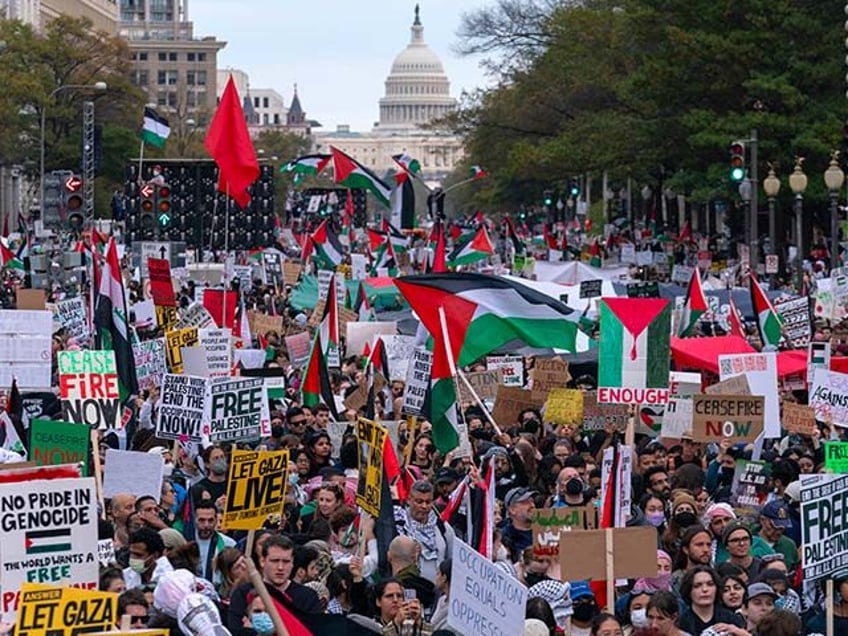 The Democrat party dances with the antisemitic devil, and now His Fraudulency Joe Biden is paying a price with backfiring poll numbers.
The fact that antisemitism reigns in the Democrat party is no secret. Jew hatred is especially hot in the leftist strongholds of academia, Black Lives Matter, Antifa, and the crucial swing state of Michigan, which is home to a large Muslim population.
WATCH — NBC's Kornacki: Biden's Job Approval Is "Lowest" Ever Measured in Our Poll:
Normally, spooning naked in bed with antisemites doesn't come with a political price for Democrats, not when you have billions of dollars in corporate media propaganda and stooges such as CNN's Jake Tapper running cover for you. It also helps that more than two-thirds of American Jews are brain-dead enough to vote for the very same Democrats embracing today's Hitler Youth.
But that all changed when reality arrived in the form of October 7. When the Palestinian savages in Hamas gleefully live-streamed the mass murder, rape, and desecration of 1,400 innocent Israelis, the security imperative of exterminating Hamas became a necessity… And this reality has divided a Democrat party that embraced antisemites to win the youth and Muslim vote.
What happened is this…
Jewish American Democrats, who had deluded themselves into thinking they could find a common cause with Black Lives Matter, Antifa, and academia, now realize they cannot. The far-left hates Jews every bit as much as Hitler hated Jews.
So what is Biden to do?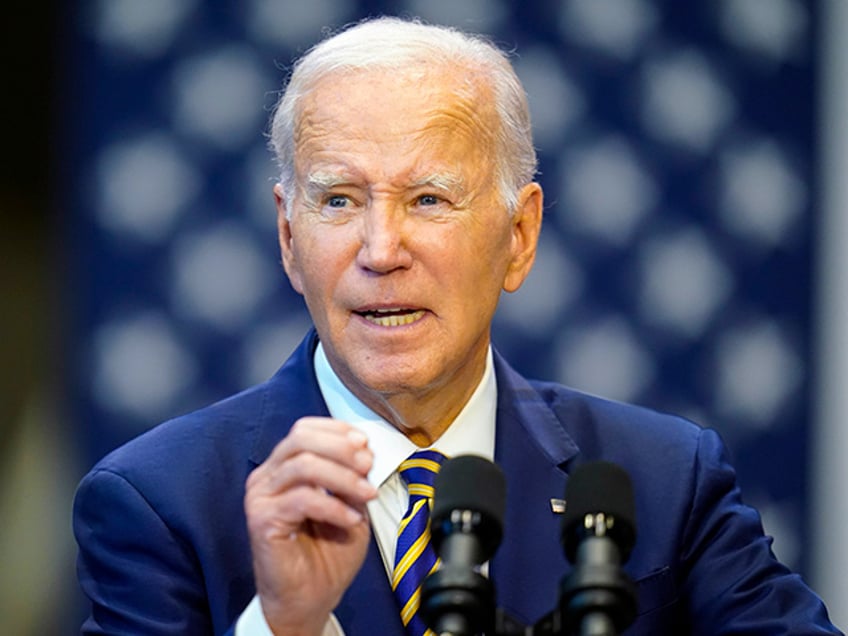 President Joe Biden speaks about his administration's economic agenda at Prince George's Community College, Center for the Performing Arts, on September 14, 2023, in Largo, Maryland. (AP Photo/Alex Brandon)
He's been forced to side with Israel while firing off "ceasefire" and "islamophobia" dog whistles, hoping to keep his fellow travelers who hate Jews on his side. The political fallout would be worse if he abandoned Israel. History would never forgive him. Additionally, Biden can't risk losing the Jewish vote or the money that comes from his Jewish base, especially in Hollywood.
"Jewish money" is not an antisemitic trope. It's simply a fact that one reason Jews are so despised is because they succeed despite being an oppressed minority group. Jews will never be forgiven for proving every other "oppressed minority group's" excuse for failure is crybaby BS.
Anyway, according to the latest polling from far-left NBC News, Biden's embrace of the antisemitic left, which helped him (allegedly) win in 2020, is now backfiring. The result? For the first time in this poll, Biden is losing to former President Trump, 46 to 44 percent. Biden's overall approval rating has also hit an all-time low (in this poll), with 40 percent approving and 57 percent disapproving.
All of this erosion stems from Biden's support for Israel.
WATCH — Thousands of Marchers Arrive in Jerusalem from Tel Aviv to Demand Return of Hostages:
Joel B. Pollak
/ Breitbart News
Back in September, in this same poll, Biden's approval rating on his handling of foreign policy was 41 percent approve, 53 percent disapprove. That's not a great number, but it could be a lot worse in these polarizing times.
Today, it is a lot worse, with only 33 percent of all voters approving of Biden's handling of foreign policy, while 62 percent disapprove.
So what changed?
The answer is simple… He's losing the Democrat party's wide swath of Jew-haters.
Only 34 percent of all voters approve of Biden's handling of the Israel-Hamas War, while 56 percent disapprove.
Among those age 65 and over, 53 percent approve, while 41 percent disapprove. Keep in mind that people over age 65 are mostly Republicans.
Now get a load of this…
Among those aged 18 to 34, only 20 percent approve, while 70 percent disapprove.
Most young voters are Democrats.
RELATED VIDEO — Maher: China Doesn't Have to Feed Kids Antisemitism and Terror Support, Schools Do It for Them:
Should we applaud Biden for angering the Nazi Youth that make up such a large part of the Democrat party's base?
No. He should never have been doing business with these bigots to begin with.
And so, because the Democrat party is broken and evil, it is now paying a political price for doing what is the only moral and righteous thing: supporting Israel after the worst attack on Jews since the Holocaust.
The bottom line is this…
If Black Lives Matter, Antifa, and academia were not raising young people to become the New Hitler Youth, or if Democrats and their corporate media allies refused to tolerate this growing cancer in their own political family, America would not be a country riddled with Jew-haters and Biden would currently be enjoying the poll bump all presidents enjoy during a foreign policy crisis.
The Democrat party's embrace of Jew-haters has come home to roost.
John Nolte's debut novel Borrowed Time (Bombardier Books) is available today. You can read an exclusive excerpt here and a review of the novel here.