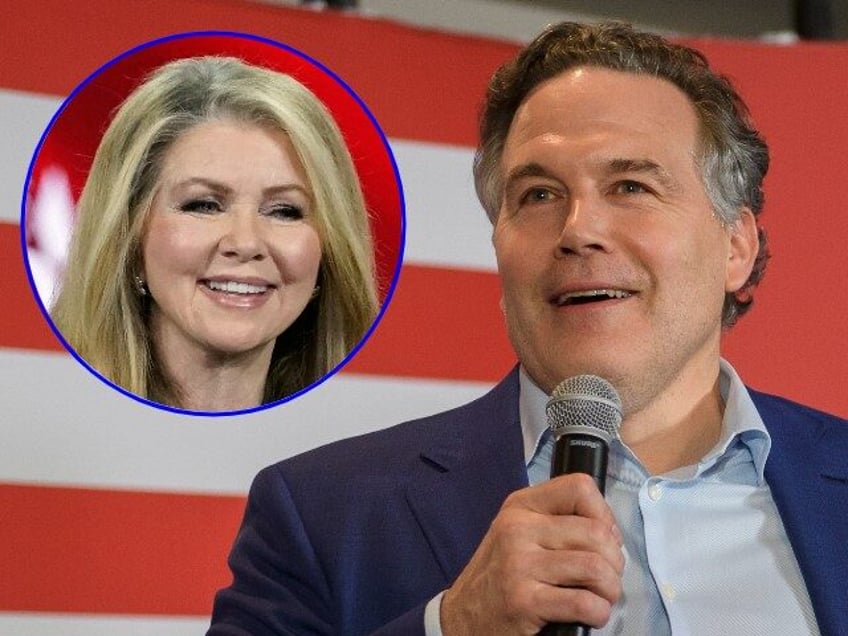 Sen. Marsha Blackburn (R-TN) on Thursday endorsed "proven patriot" and Pennsylvania businessman Dave McCormick's bid to unseat Sen. Bob Casey (D-PA).
Blackburn said in a written statement obtained by Breitbart News that McCormick would serve as a champion of limited government.
She explained:
I am honored to endorse Dave McCormick, a proven patriot and freedom fighter for conservative values. He will stand strong against the Left's radical agenda. Dave knows that limited government is not only necessary to ensure liberty over tyranny, but it also reveals the true might of the individual. He is ready to reverse overreaching government. Pennsylvania's Senate seat is a crucial opportunity for Republicans as we fight to take back the Senate Majority. I am confident that Dave McCormick is the patriot we need to protect conservative principles and protect the values of our country. I will do everything I can to support his campaign for Senate.
McCormick said in a statement:
I am grateful to Senator Blackburn for her endorsement of my campaign for United States Senate. This moment requires leaders who aren't afraid to shake up Washington to not only restore the American dream, but also to rekindle the American spirit. Bob Casey votes for Joe Biden's agenda 98% of the time, and Pennsylvania deserves better than a rubber stamp. As a combat veteran, a job creator, and a seventh-generation Pennsylvanian, I will always put hard working Americans first in the U.S. Senate. I am thankful to have strong conservative leaders like Senator Blackburn in this fight with me!
Blackburn's endorsement is the latest evidence that Republicans throughout the Keystone State and nationwide have quickly united behind businessman and veteran McCormick.
Breitbart News Washington Bureau Chief Matthew Boyle reported:
In the immediate aftermath of McCormick's 2024 campaign launch, the entire GOP congressional delegation from Pennsylvania—Reps. Dan Meuser (R-PA), Scott Perry (R-PA), John Joyce (R-PA), Guy Reschenthaler (R-PA), Mike Kelly (R-PA), Brian Fitzpatrick (R-PA), Lloyd Smucker (R-PA), and Glenn Thompson (R-PA)—formally endorsed him. Also, in-state endorsements from nearly two-dozen GOP legislators in the state House and state Senate came quick after launch, and several top Republicans in Pennsylvania including fellow 2022 candidate Jeff Bartos came fast as well.
Even more big names in Pennsylvania GOP politics, including state party chairman Lawrence Tabas and former Gov. Tom Corbett (R-PA) among many others, signed a memorandum earlier in September in the lead-up to his campaign launch urging McCormick to run for the U.S. Senate.
Even former GOP gubernatorial nominee Doug Mastriano—who some expected might run against McCormick—has been supportive saying in a recent interview with John Fredericks that he intends to back McCormick and has met with the candidate and his wife multiple times.
This week, the National Republican Senatorial Committee (NRSC) hosted a fundraiser for McCormick, which featured Senate Republican Leader Mitch McConnell (KY), Senate GOP Whip John Thune (R-SD), Senate GOP Conference Chair John Barrasso (R-WY), and Sens. Joni Ernst (R-IA), Marsha Blackburn (R-TN), Ted Budd (R-NC), Tom Cotton (R-AR), Lindsey Graham (R-SC), Bill Hagerty (R-TN), Pete Ricketts (R-NE), Marco Rubio (R-FL), Dan Sullivan (R-AK), Roger Wicker (R-MS), and Todd Young (R-IN).
Sean Moran is a policy reporter for Breitbart News. Follow him on Twitter @SeanMoran3.