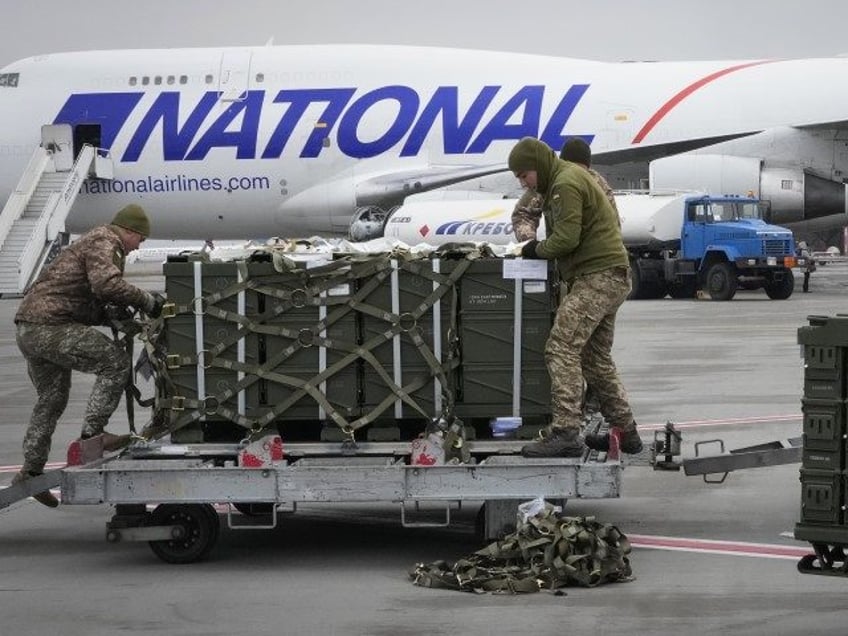 The House on Wednesday night blocked measures to end aid to Ukraine and stop sending cluster bombs overseas.
The House voted on two amendments to strip aid to Ukraine from different appropriations bills.
The House shot down, 104-330, an amendment sponsored by Rep. Andy Biggs (R-AZ) to strip $300 million from the Defense applications bill, which only received support from Republicans.
The Heritage Foundation found that the United States' current $113 billion in aid to Ukraine costs $900 per American household. https://t.co/2vSx0ExVAN

— Breitbart News (@BreitbartNews) August 12, 2023
Rep. Matt Gaetz (R-FL) sponsored an amendment that would have halted all military support for Ukraine, which failed 93-339 and also only received support from Republicans.
While both amendments failed, this represents a growing interest in cutting of seemingly endless aid to Ukraine. In July, an amendment to the National Defense Authorization Act (NDAA) failed 358-70.
My amendment to the DOD appropriations bill would ensure that no more American taxpayer dollars are sent to Ukraine.

Here's why: pic.twitter.com/Jt8MkQBpiy

— Rep. Matt Gaetz (@RepMattGaetz) September 27, 2023
Gaetz also proposed to the Defense appropriations bill that would have banned the transfer of the controversial and often civilian-killing cluster bombs to other countries. As Ukraine continues its protracted conflict with Ukraine, Biden decided to give Ukrainian leader Volodymyr Zelensky these cluster bombs.
The amendment failed 160-269, with 85 Republicans and 75 Democrats in favor of the measure.
Gaetz and Rep. Sara Jacobs (D-CA) made an impassioned argument for banning the transfer of cluster munitions:
The United States should not be sending cluster munitions to Ukraine.

I thank my colleague @RepSaraJacobs for supporting this amendment! pic.twitter.com/az1Zb8Uwkw

— Rep. Matt Gaetz (@RepMattGaetz) September 27, 2023
The Friends Committee on National Legislation (FCNL), or the Quakers, wrote in support of Jacobs' speech, "FCNL thanks @RepSaraJacobs for speaking up about the horrors of #ClusterMunitions, as well as our responsibility to avoid complicity in civilian harm worldwide. We urge her congressional colleagues to listen up."
AntiWar.com reported that the Biden administration recently provided Ukraine with its second tranche of cluster bombs:
The vote on Gaetz's amendment came after the Biden administration announced a weapons package for Ukraine that included the second tranche of cluster bombs in the form of 155mm artillery shells. The administration first shipped cluster bombs to Ukraine in July. Secretary of State Antony Blinken has claimed that without the widely-banned munitions, Ukraine would be "defenseless."

According to recent media reports, the administration has also agreed to provide Ukraine with Army Tactical Missile Systems (ATACMS) that will be armed with cluster munitions. The provision would be a huge escalation as the ATACMS have a range of up to 190 miles, meaning Ukraine could use them to fire cluster bombs into Russian territory.
Rep. Byron Donalds (R-FL) slammed the Senate for moving to advance its stop-gap spending bill that contains $6.2 billion in aid to Ukraine.
REPORTER: "The Senate's bipartisan proposal - What do you make of it, would you support that?"

.@ByronDonalds: "No. That thing is dead over here."

REPORTER: "Why?"

DONALDS: "Are you serious?...$6.2 billion for Ukraine. They do NOTHING to secure our southern border...The Senate… pic.twitter.com/5I5nyuc45W

— Daily Caller (@DailyCaller) September 27, 2023
Meanwhile, Senate Republican leader Mitch McConnell (R-KY) said that the "number one priority" of "most Republicans" is aid to Ukraine.
WATCH: Mitch McConnell claims the "number one priority" of "most Republicans" is aid to Ukraine.

RT if you think Mitch must go NOW.

pic.twitter.com/5MgT1RsdVC

— Raheem. (@RaheemKassam) September 27, 2023
Sean Moran is a policy reporter for Breitbart News. Follow him on Twitter @SeanMoran3.