Eric Adams praised Biden after Venezuelans of the some 116,000 migrants who arrived in New York City are eligible for 'temporary protected status'
Mayor Eric Adams thanked President Biden Wednesday for fast tracking work authorization and deportation protection for some 470,000 Venezuelan migrants, showing signs that their relationship may be thawing after the two Democrats seemingly snubbed each other in New York City this week. 
"More than 116,000 asylum seekers have come to New York City since last spring in search of the American Dream. Our administration and our partners across the city have led the calls to 'Let Them Work,' so I want to thank @POTUS for hearing our entire coalition, including our hard-working congressional delegation, and taking this important step that will bring hope to the thousands of Venezuelan asylum seekers currently in our care who will now be immediately eligible for Temporary Protected Status," Adams wrote on X, formerly Twitter. 
Secretary of Homeland Security Alejandro Mayorkas announced Wednesday the extension and redesignation of Venezuela for Temporary Protected Status (TPS) for 18 months, "due to extraordinary and temporary conditions in Venezuela that prevent individuals from safely returning." 
"Temporary protected status provides individuals already present in the United States with protection from removal when the conditions in their home country prevent their safe return," Mayorkas said in a statement. "That is the situation that Venezuelans who arrived here on or before July 31 of this year find themselves in. We are accordingly granting them the protection that the law provides. However, it is critical that Venezuelans understand that those who have arrived here after July 31, 2023, are not eligible for such protection, and instead will be removed when they are found to not have a legal basis to stay."
ERIC ADAMS SLAMS BIDEN FOR NOT MEETING, IGNORING MIGRANT CRISIS ON NYC VISIT: 'EVERYBODY KNOWS WHERE I AM'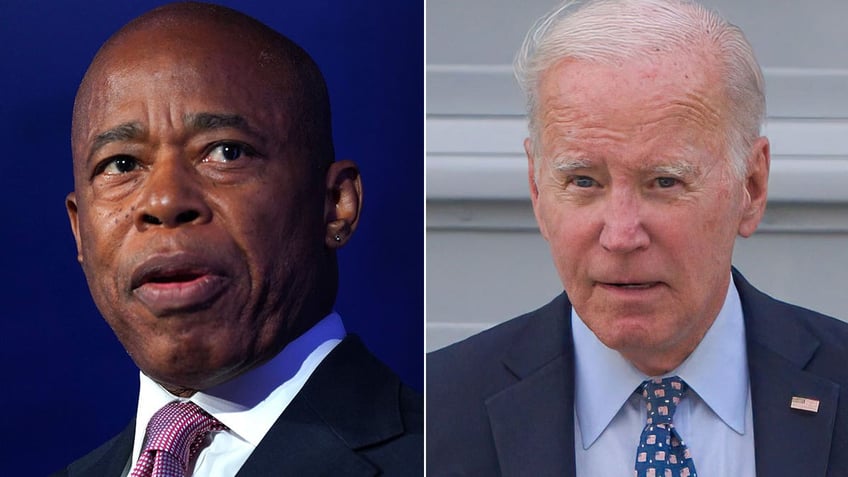 Mayor Eric Adams and President Biden did not meet in New York this week.  (Getty Images)
Adams has commented in recent weeks that the migrant crisis was on tract to "destroy this city," as the massive influx of so-called asylum seekers had shifted from being primarily from Venezuela and Latin America to now more arriving across the border originally from African nations and even Russia.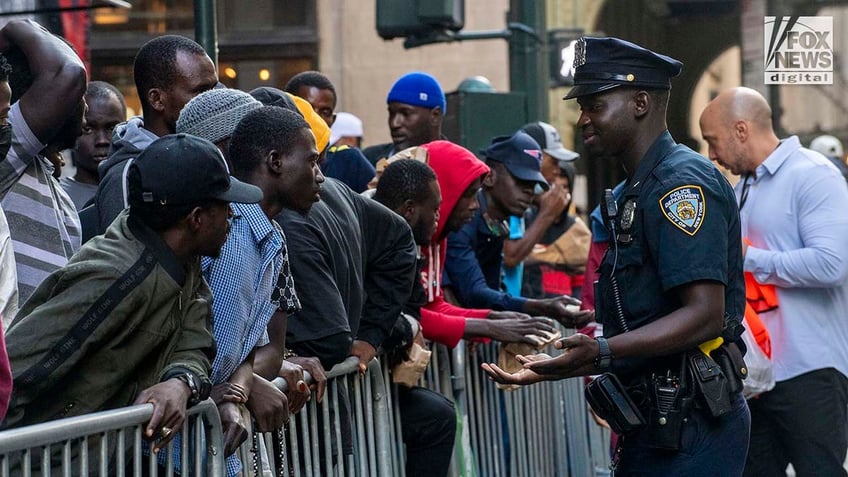 Migrants await registration outside the Roosevelt Hotel in midtown Manhattan on Tuesday, August 1, 2023. The asylum seekers are forced to wait on the streets, since the hotel is currently at capacity. (Julia Bonavita/Fox News Digital )
DHS TO OFFER WORK PERMITS, DEPORTATION PROTECTION TO OVER 470,000 VENEZUELANS AMID NEW BORDER SURGE
The mayor's praise of Biden for clearing the way for 470,00 Venezuelans to work and stay in the country comes after Adams said last month that the Big Apple had "no more room" to house migrants. The mayor's administration has received pushback from upstate counties, outer boroughs of the city like Staten Island and Queens, the governor's office and even the Biden administration over his controversial "decompression strategy" to relocate migrants. 
Biden was in New York City earlier this week to speak before the United Nations General Assembly, and though he met with New York Gov. Kathy Hochul, and even praised her during the top of his remarks at a reception at the Metropolitan Museum of Art Tuesday night, the president did not meet with Adams when he was in the city for the United Nations General Assembly.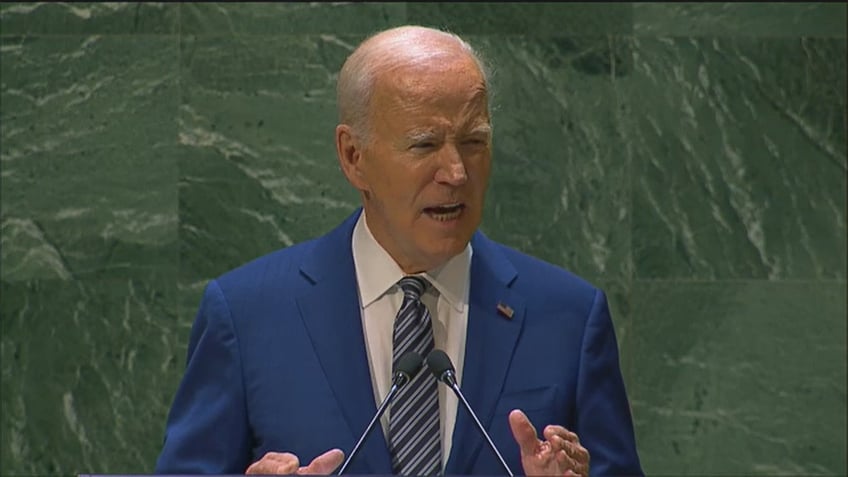 President Biden addressed the United Nations General Assembly.  (Fox News)
"Everybody knows where I am," Adams told reporters Tuesday when pressed on whether he'd meet with Biden while the president was in town. 
CLICK TO GET THE FOX NEWS APP
Adams admitted that the two had not spoken since earlier this year, as their relationship has soured amid the mayor's harsher criticism toward the president on the migrant crisis. Adams was removed from Biden's re-election team, yet Hochul remains a member of the presidential campaign's team of surrogates. 
Danielle Wallace is a reporter for Fox News Digital covering politics, crime, police and more. Story tips can be sent to This email address is being protected from spambots. You need JavaScript enabled to view it. and on Twitter: @danimwallace.