Dayjia Blackwell, 21, livestreamed Philadelphia lootings to her 181,000 Instagram followers
The lawyer for a Philadelphia looter known as "Meatball" who livestreamed herself following a mob breaking into stores says criticism of her client is racist.
Dayjia Blackwell, 21, filmed and followed a mob of looters as they broke into a series of stores last week, including at least an Apple store and a Lululemon. Blackwell broadcasted the incident to her 181,000 followers on Instagram, and police arrested her for encouraging the incident.
"It sickens me to witness the media's complicity in what can only be described as an all-out assault on black and brown people, as their character and actions are mercilessly vilified," Blackwell's lawyer, Jessica Mann, wrote on Friday, going on to accuse police of posting Blackwell's mugshot "with tears streaming down her face and her hair a mess to satisfy your need to get 'clicks' and to sell a salacious story."
"The rightful story should be one of Dayjia doing nothing more than capturing the raw reality of public outrage when she streamed the events that occurred on the night of September 26, 2023, in Philadelphia. Yet, the media seems to have forgotten the underlying catalyst for her actions. It was the dismissal of all charges against Police Officer Mark Dial, who callously murdered Eddie Irizarry. Then, the Philadelphia Police Department, with lies and deceit, attempted to cover up the heinous act," Mann wrote.
PHILADELPHIA OFFICIALS RESPOND AFTER JUDGE'S DECISION PROMPTS MASS LOOTING: 'LOOKING TO DESTROY OUR CITY'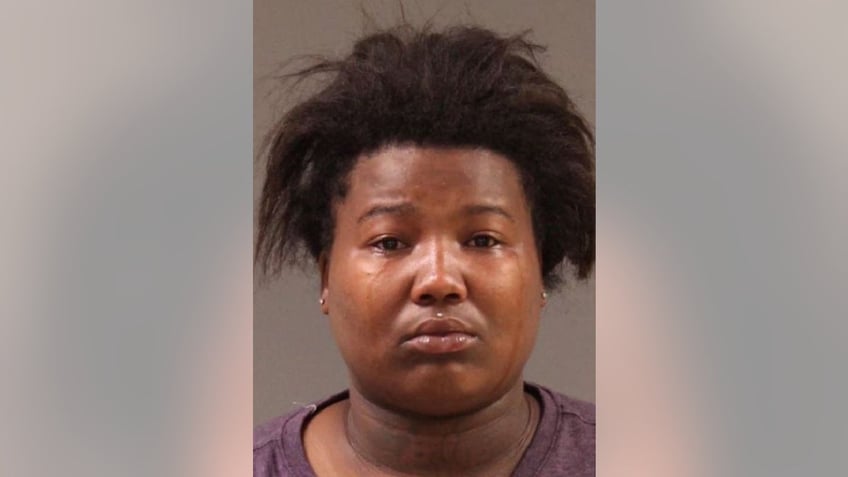 The lawyer for a Philadelphia looter known as "Meatball" who livestreamed herself following a mob breaking into stores says criticism of her client is racist. (Philadelphia Police Department)
Throughout her stream, Blackwell is heard cheering on the crowd. 
Blackwell's livestream ended with her apparent arrest in the back of a Philadelphia police car.
PHILADELPHIA SWARMED BY ALLEGED JUVENILE LOOTERS TARGETING THE APPLE STORE, LULULEMON, FOOTLOCKER AND OTHERS
According to FOX 29 Philadelphia, she was charged with six felonies and arraigned early Thursday morning, with her bail set at $25,000.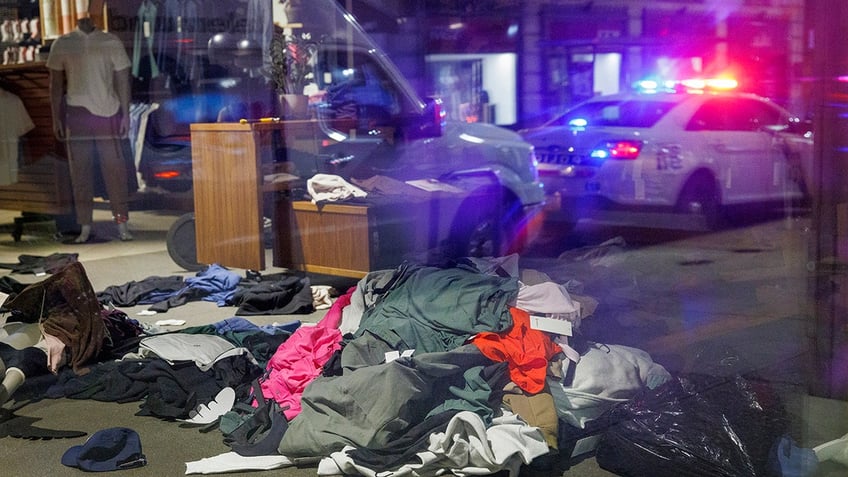 Philadelphia Police sit outside the Lululemon store on Wednesday morning, Sept. 27, 2023, in Philadelphia. A flash mob-style ransacking and vandalism to downtown stores Tuesday night came after a peaceful protest over a judge's decision to dismiss murder and other charges against a Philadelphia police officer who shot and killed a driver, Eddie Irizarry, through a rolled-up window.  (Alejandro A. Alvarez/The Philadelphia Inquirer via AP)
Six businesses in a single retail corridor of North Philadelphia were looted, including three pharmacies, a hair salon, a tax preparation company and a cellphone store, according to the North 22nd Street Business Corridor, a business group.
HUNDREDS OF BUSINESSES TO GO ON STRIKE OVER RAMPANT VIOLENT CRIME PLAGUING CALIFORNIA CITY
Photos of the destructive wake show a sporting goods store at a mall with mannequins and sneakers scattered about; an Apple Store and a T-Mobile store with phones and accessories toppled over; and several businesses with shattered glass windows and smashed metal door gates.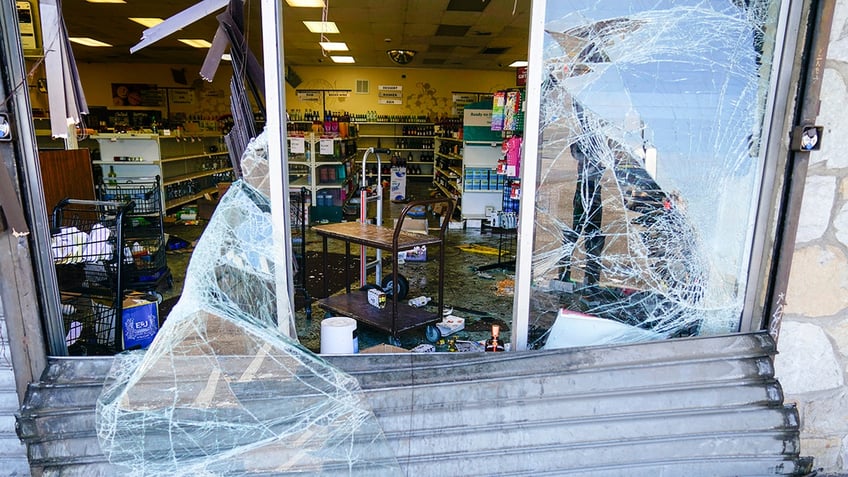 Shown is the aftermath of ransacked liquor store in Philadelphia, Wednesday, Sept. 27, 2023. Police say groups of teenagers swarmed into stores across Philadelphia in an apparently coordinated effort, stuffed bags with merchandise and fled.  (AP Photo/Matt Rourke)
CLICK HERE TO GET THE FOX NEWS APP 
Authorities made more than 50 arrests, including one burglary suspect who was out on bail for a major murder case from last year.
Anders Hagstrom is a reporter with Fox News Digital covering national politics and major breaking news events. Send tips to This email address is being protected from spambots. You need JavaScript enabled to view it., or on Twitter: @Hagstrom_Anders.