Course description asks questions like, 'What does queerness have to do with Judaism, Christianity, or Islam?'
The University of Chicago's 2023-2024 course catalog includes a religious studies course on "Queering God," applying LGBTQ+ ideology to different religions and examining the ways gender is being reimagined in theology.
"Can God be an ally in queer worldmaking? Is God queer? What does queerness have to do with Judaism, Christianity, or Islam? This course introduces students to foundational concepts in queer and trans studies by focusing on queer Jewish, Christian, and Islamic theologies," the course description reads.
"We will analyze the ways that contemporary artists, activists, and scholars are using theology to reimagine gender and experiment with new relational forms," it continues. "Our readings will include a variety of genres: memoir, letters, scriptural interpretation, and a novel. There will be no presumption of previous acquaintance with any of the readings or topics discussed, or indeed with any academic theology or queer theory at all."
UNIVERSITY OF CHICAGO'S 'PROBLEM OF WHITENESS' CLASS SPARKS CONTROVERSY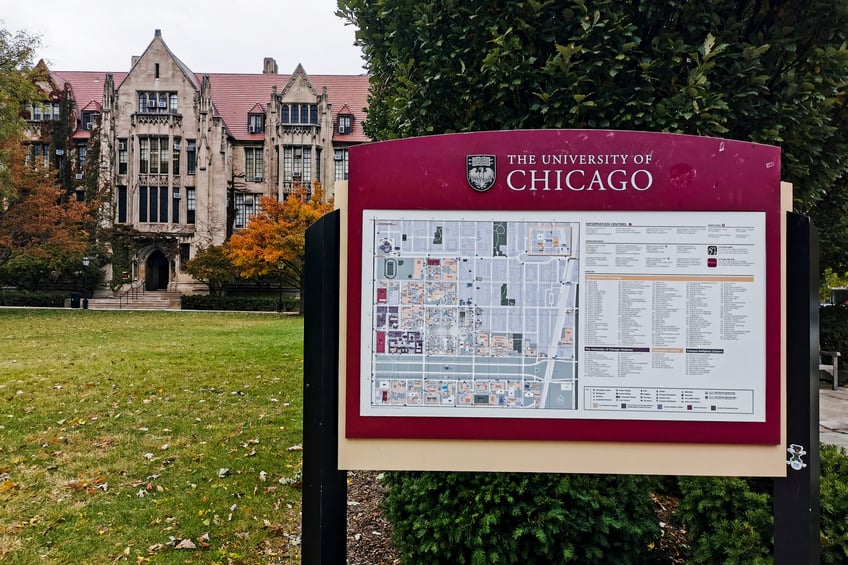 The University of Chicago campus map in Chicago, United States, on October 18, 2022.  (Beata Zawrzel/NurPhoto via Getty Images)
Beginning fall 2023, students can take the course taught by Olivia Bustion, who earned her Master of Divinity degree from UChicago in 2014 and is currently working on a doctoral program in theology at the school.
"Progressive actors seek to conquer and remake God into some crude mockery in their own image. The Christian God is without gender, without sex. To think of Him in such human terms and reduce Him to these categories is deeply disrespectful," Joseph Flores, a student co-president of a Christian ministry organization at UChicago, told the Daily Caller, who initially reported on the course.
"The idea of 'Queering God' is, on its face, quite ridiculous. Simultaneously foolish and offensive, such a line of thinking is emblematic of the societal and spiritual decay we are suffering in our country today," he added.
UNIV. OF CHICAGO STUDENT CALLED A 'BULLY' BY MEDIA SAYS THEY ARE 'SCARED' OF CONSERVATIVES SPEAKING OUT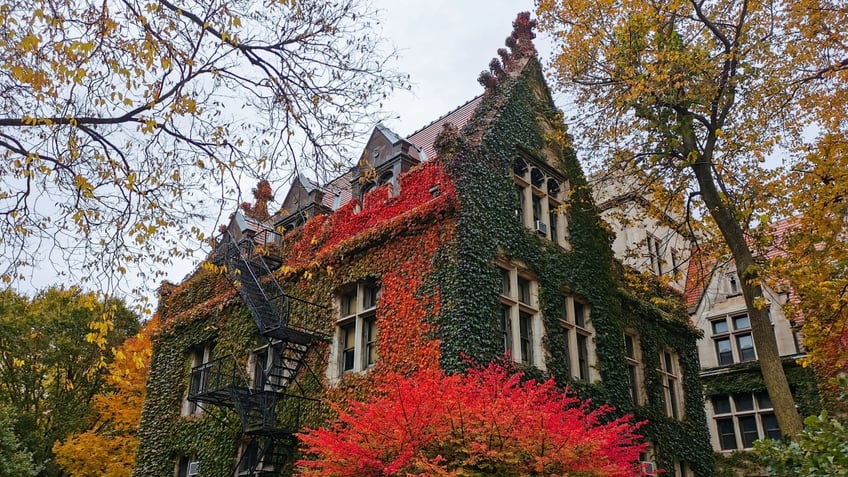 A building covered with autumn leaves at the University of Chicago in Chicago, United States, on October 18, 2022. (Beata Zawrzel/NurPhoto via Getty Images)
Other courses slated to be offered in the subject area in upcoming semesters include, "The Global Black Panther Party," "Religion in Anime and Japanese Pop Culture," "Climate Justice" and more.
The institution caught flak last year over a "Problem of Whiteness" class that garnered criticism from conservative student and then-sophomore Daniel Schmidt, who called it the "most egregious" example of anti-White hatred he had seen on campus so far.
The course was slated to "[examine] the problem of whiteness through an anthropological lens, drawing from classic and contemporary works of critical race theory," according to its course description. 
UNIVERSITY OF CHICAGO STUDENT ORGANIZATION HOSTS 'BIPOC-ONLY' DISCUSSION ABOUT RACE ON CAMPUS
Schmidt, a self-described "right-wing college activist" said he was labeled a "cyberterrorist" and was called out for allegedly encouraging hostile behavior against the professor slated to teach the class.
When recently speaking to Fox News Digital, he accused the media and universities of expecting conservatives to "sit down and shut up."
Fox News Digital reached out to UChicago for comment, but did not receive an immediate response.
CLICK HERE TO GET THE FOX NEWS APP 
For more Culture, Media, Education, Opinion, and channel coverage, visit foxnews.com/media.
Taylor Penley is an associate editor with Fox News.