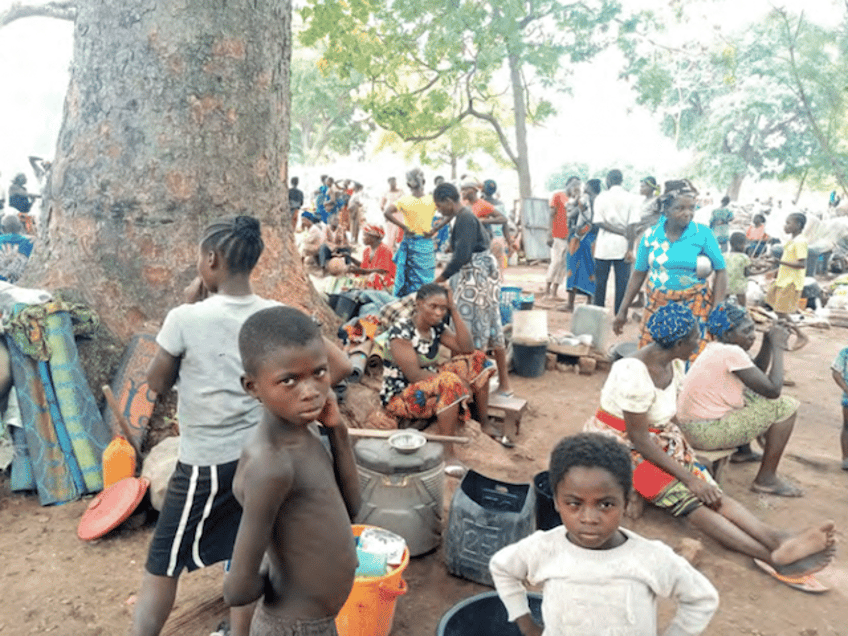 Foreign Fulani jihadists wielding guns and machetes are exterminating the indigenous Christians of central Nigeria in what world observers erroneously describe as a "climate change" conflict, Father Remigius Ihyula told Breitbart News last week from his home state of Benue.
Father Ihyula, who serves as a university chaplain and emergency relief coordinator under the archdiocese of the capital of Benue state, Makurdi, accused the Muslim-led federal government of Nigeria of covering up a ceaseless, decade-long slaughter of his people by ethnic Fulani groups. The groups often appear in media identified only by the secular description of nomadic "herdsmen," or as unspecified "gunmen" or "bandits."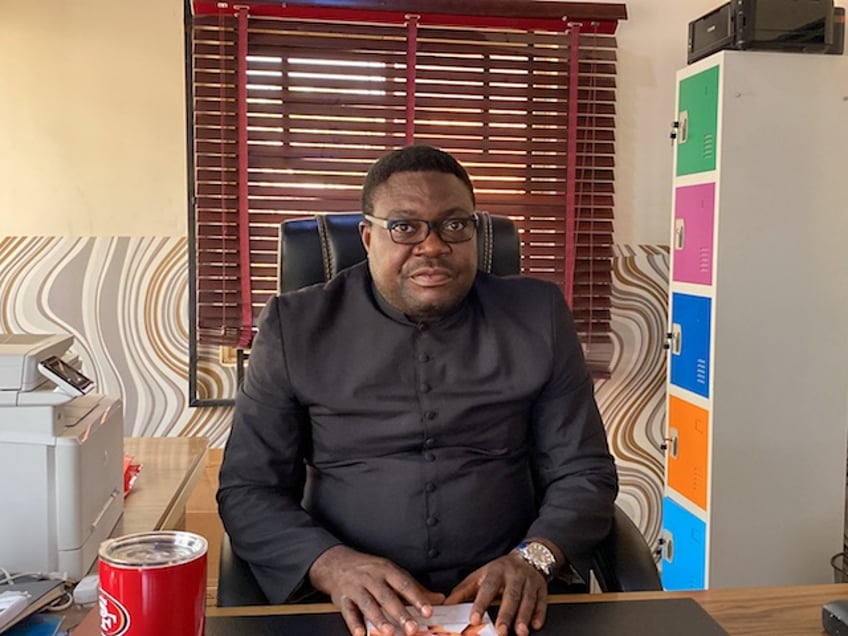 Father Remigius Ihyula of Benue state, Nigeria (Photo courtesy Aid to the Church in Need)
"In fact, people were even warned not to say they are Fulani herdsmen who have been causing these atrocities such that when you open the general media they are talking about bandits – bandits or they say 'unknown gunmen' or things like that," Father Ihyula noted, "so you read about bandits. It's rubbish: they are Fulani men going about with cattle and with guns and killing people and the government won't do anything about it."
The "gunmen" target Christian villages throughout the region known as the "Middle Belt," the span across central Nigeria where Benue state is located. Village attacks often involve the jihadists burning down homes, killing the men, and abducting and raping the women. Those who manage to escape are often semi-permanently displaced, forced into internally displaced persons (IDP) camps where some have languished for over a decade in conditions Father Ihyula described as "worse than animals."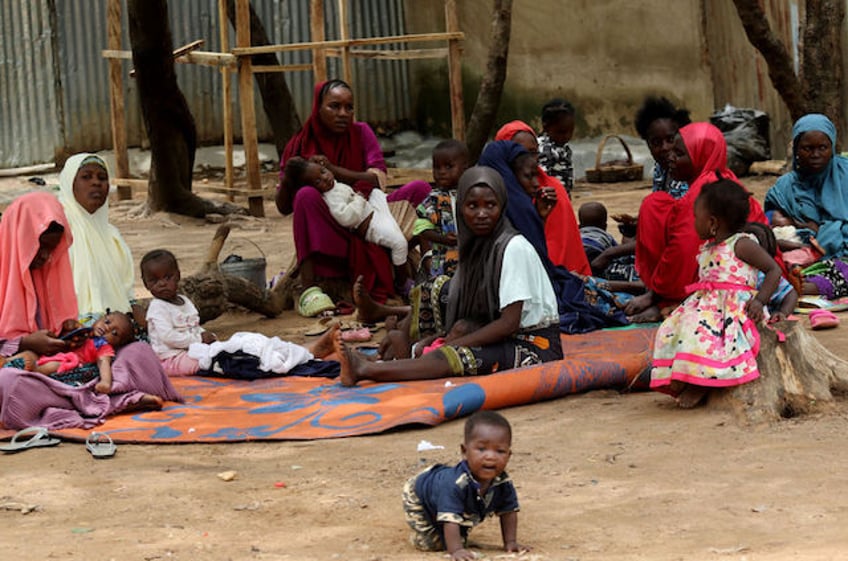 A group of civilians sits on the ground at Durumi Internally Displaced Persons (IDPs) camp in Abuja, Nigeria on May 24, 2023. (Emmanuel Osodi/Anadolu Agency via Getty Images)
Benue officials estimate that as many as 2 million people were internally displaced in Nigeria as of 2022.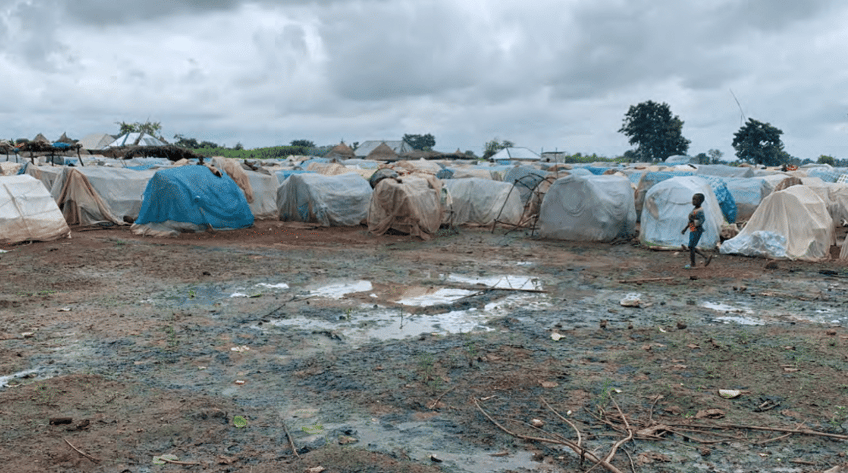 Ichwa IDP Camp in Benue State, Nigeria (Courtesy of the Catholic Diocese of Makurdi Foundation for Justice, Development, & Peace)
Nigerian leaders, most prominently ethnic Fulani former President Muhammadu Buhari, acknowledged the killings but claimed much of the situation was a conflict between the herdsmen and the indigenous Christians, often claiming that "climate change" was to blame for the bloodshed. Climate alarmism has been lucrative for the Nigerian government; American climate czar John Kerry pledged during a trip to Nigeria last year that Abuja would have access to a $12 billion "climate action" fund. Father Ihyula energetically rejected claims of a relationship between the climate and the jihad, noting the alleged climate crisis is global and "people in the U.S. are not killing people because there is climate change."
Jihadist sieges of Nigerian Christian communities became a topic of concern in Washington this month as the House Foreign Affairs Committee hosted a hearing on global religious persecution. The hearing was prompted by meetings Father Ihyula and Bishop Wilfred Anagbe of the Diocese of Makurdi held with lawmakers through cooperation with Aid to the Church in Need, a pontifical charity organization.
The hearing occurred nearly two years after Nigeria was removed from the State Department's list of Countries of Particular Concern (CPC) for religious persecution, a move by the administration of President Joe Biden that "baffled" and outraged persecuted Christians given the lack of any meaningful improvement in their security in the country when Nigeria lost its place on the list. At last week's hearing, Rep. Chris Smith (R-NJ) condemned the Biden administration for giving Nigeria "a pass" while "violations of religious freedom are escalating."
"These killings have been consistent. We have documented atrocities that have risen to the level of genocide against our people," Father Ihyula told Breitbart News. "People, women and children, are killed on a daily basis. They are butchered, they have been driven from their homes, some have been living in camps for about ten years. They cannot go back to their homes."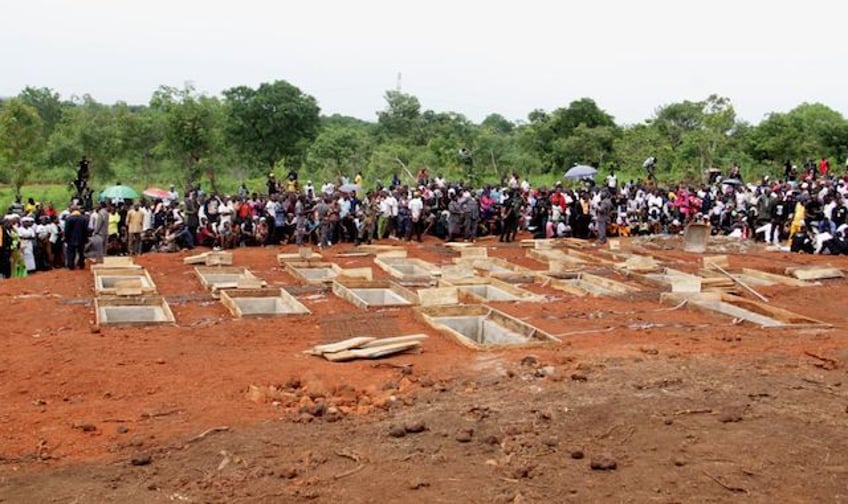 Graves of 17 worshippers and two priests, who were allegedly killed by Fulani herdsmen, are watched by onlookers during a funeral service at Ayati-Ikpayongo in Gwer East district of Benue State, north-central Nigeria on May 22, 2018. (EMMY IBU/AFP via Getty Images)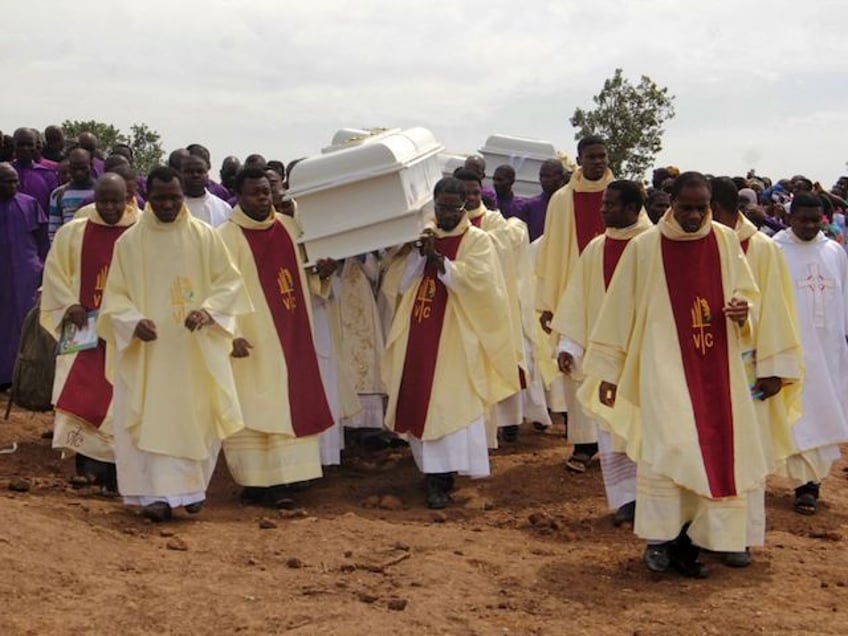 Clergymen carry white coffins containing the bodies of priests allegedly killed by Fulani herdsmen, for burial at Ayati-Ikpayongo in Gwer East district of Benue State, north-central Nigeria on May 22, 2018. (EMMY IBU/AFP via Getty Images)
"They are living in degrading human conditions. They can't go back to their homes and no one has been arrested or prosecuted for bringing this kind of hardship," he lamented.
The clergyman emphasized that, contrary to the vague reporting in Nigerian media, "there is a religious element to this problem."
"There is an orchestrated design to push especially Christian populations away from these places so that they can occupy those territories," he explained, describing Benue state as nearly 99 percent Christian and thus a topic of particular ire for the jihadists.
Father Ihyula reported that currently, in July, the Christians are benefiting from a mild respite in violent attacks as a result of the rainy season.
"During the rainy season generally, especially around in Middle Belt down the south, the attacks usually slow down … because they cannot move as they want," he detailed. "It's a pattern that we know of for some time. They tend to slow down during the rainy season and then it peaks when the grass begins to get dryer … because then they can move easily and, you know, their trucks and their bikes – sometimes they come on bikes, they can drive around."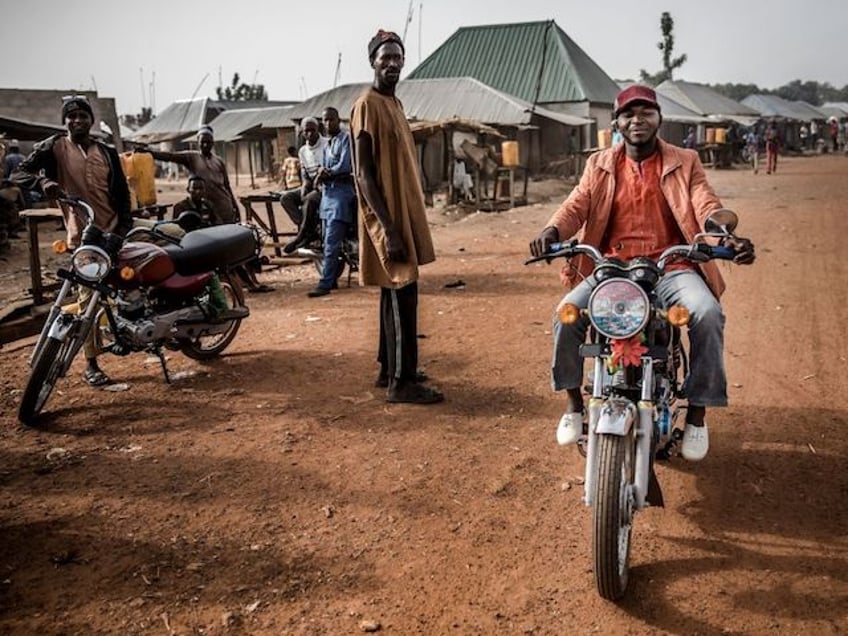 30-year-old Fulani herdsman Isa Ibrahim rides a motorbike he uses to do taxi services and get extra money early in the morning on the way to the main market at Kachia Grazing Reserve, Kaduna State, Nigeria, on April 18, 2019. (LUIS TATO/AFP via Getty Images)
Father Ihyula noted, however, that the jihadists are present despite not actively massacring people during the rainy season – "we are seeing them, they are still in the bushes" – and hurting people by occupying the ruins of the villages they have destroyed.
"There are places that people cannot go to because they have already sent them away from those villages and they are occupying those villages, so even when they are not attacking people and killing, people cannot go back to their villages," he explained. "They are occupying those villages and they tend to harm people, they rape women, rape young women, young girls, and kill some when they go to those places."
A little-reported fact about the attacks, the Father explained, is that the Fulani herdsmen are often not Nigerian, while the victims are members of indigenous minority tribes that do not find significant representation in a government in which Fulanis, Yorubas, and Igbos are considered the three main ethnic communities of the country.
"[The Fulani jihadists] come from Guinea, some of them are found in Guinea, some of them are found in Mali, some are found in Burkina Faso, some are found in … Chad," he explained. "The north of Nigeria is bordering Chad and Niger and Cameroon and … those borders are open so they just walk in."
"Most of the victims are minorities," Father Ihyula continued. "Nigeria is still mainly a country of tribes and tongues so, for instance, if you come to Nigeria, they will say they are three major tribes: there are Hausa Fulani, there is the Igbos, and there is the Yorubas, and then after that they begin to count minority tribes."
"It is a way of perpetuating injustice over minority tribes and they are comfortable with that so that even in the leadership of Nigeria," he said, "they feel that if you are not Hausa Fulani you are not qualified to be leader to Nigeria, or you're not from the Yoruba tribe you are not qualified."
Nigeria's population is a little over half Muslim, while Christians of all sects account for about 46 percent of the population. Despite this, Father Ihyula noted, the government has increasingly allowed elements of Sharia, the Islamic law, to enter the country's constitution, disenfranchising the sizable population who are not Muslim.
"Nigeria is supposed to be a democratic country and also a secular state, but the Muslim leaders who have led Nigeria … there has been a push by some Muslim elements in the country to Islamize the populace," Father Ihyula explained. "Imagine that, in a country where we are supposed to have a secular constitution, some parts of our constitution is Sharia. Just imagine that in the United States … there should be elements of the Sharia like someone can marry four wives or somebody's hand should be cut if they steal something."
Father Ihyula expressed urgent concern that the government has done little to protect Christian populations from the jihadist threat they face because the past two presidents – Buhari and current President Bola Tinubu – are Muslims of the same political party and obscure the reality of places like Benue on international platforms.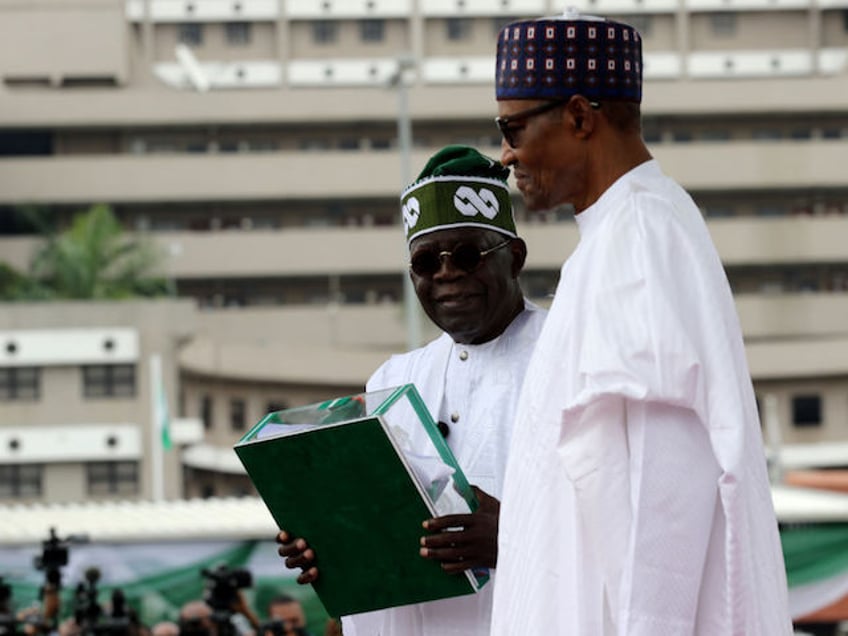 Nigeria President-elect Bola Ahmed Tinubu (L) arrives to attend swearing-in ceremony at Eagle Square venue in the capital, Abuja, Nigeria on May 29, 2023. Former President Muhammadu Buhari (R)  was also present at the ceremony. (Photo by Emmanuel Osodi/Anadolu Agency via Getty Images)
"They are very powerful, they have all the monies, they have all the connections, they have people in the U.N., they have people in all the prominent embassies in the world," Father Ihyula told Breitbart News. "They tell them that it [the jihadist violence] is climate change – I mean for heaven's sake, climate change, is not confined to Nigeria."
"People in the U.S. are not killing people because there is climate change," the Father observed. "Neither are people in the U.K. killing people because there is climate change. Only in Nigeria [is it] that people are displaced … in the name of climate change and nobody wants the truth to be said, and when you say the truth you become a target."
Father Ihyula urged those in the international community, and Americans especially, to pray for the Christians of Nigeria and discuss the crisis in the hopes of raising awareness.
"We need help in that the American people should talk about this. The more people get to know, the more the outside world gets to know about this, it's better for us because now its, 'oh the world is talking about this so let us talk, or tomorrow someone will bring us before the International Criminal Court,'" the priest said.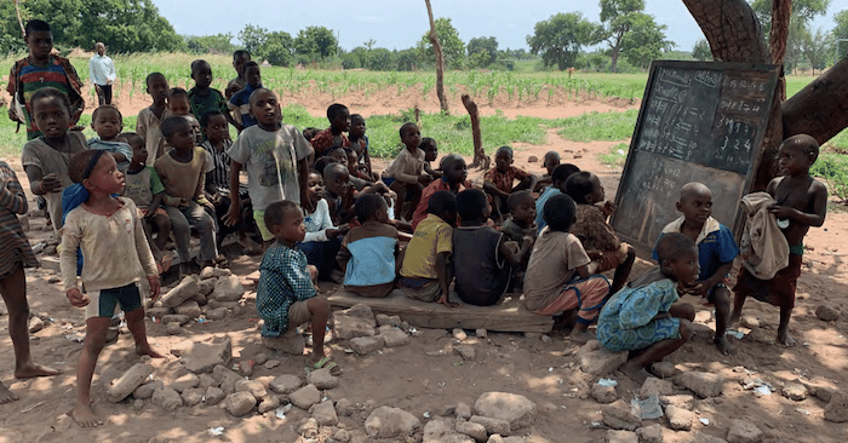 Children attempt schooling at the Uikpam IDP camp in Benue state, Nigeria (Courtesy of the Catholic Diocese of Makurdi Foundation for Justice, Development, & Peace).
He noted that the millions in IDP camps are also suffering tremendously and, despite support from Aid to the Church in Need and other similar humanitarian operations, those in the camps desperately need everything from food to blankets to educational tools for their children.