The ad drew criticism from Trump's former Ambassador to Germany Ric Grenell, the first openly gay cabinet official, who called it 'undeniably homophobic'
Florida Republican Gov. Ron DeSantis, who has drawn praise from the right for his opposition to biological men competing in women's sports as transgender athletes and to graphic sex education courses in elementary schools, committed an "unforced error" by sharing a controversial video, Karl Rove said Monday.
DeSantis's campaign team shared a Twitter video last Friday – the end of Pride Month – that attacks former President Donald Trump's positions on LGBTQIA+ issues. The video was made by another Twitter user and knocked Trump over his Pride merchandise, relationship with Caitlyn Jenner and 2016 pledge to "protect our LGBTQ citizens."
"To wrap up 'Pride Month,' let's hear from the politician who did more than any other Republican to celebrate it…" the campaign said.
Rove, a former top aide to President George W. Bush who was dubbed "the Architect" for engineering the Texas Republicans' 2000 victory, told "The Story" DeSantis should not have waded into such controversy.
RON DESANTIS SLINGS PIZZA WITH JESSE WATTERS, TORCHING LEFT'S LATEST GREEN REGS
"At the heart of it, it is mystifying. But at the heart of what [DeSantis] has done are things that have a great deal of popularity," Rove said.
"He has signed a law saying biological males cannot participate in women's sports. He said we won't have discussion of gender in kindergarten through… grade three or four, and we will only have age-appropriate sex education after that. These are the kind of things that people are strongly in favor of, but this ad makes it look like he glories, or his campaign is glorying in, attacking the LGBTQ community."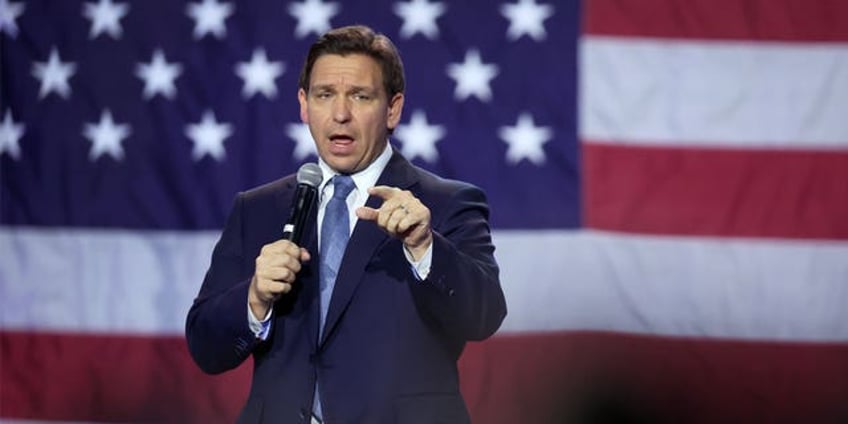 Florida Gov. Ron DeSantis speaks to Iowa voters on March 10, 2023 in Des Moines, Iowa.  (Scott Olson/Getty Images)
"And I do think it's an unforced error."
Rove said DeSantis' strategy should be to positively herald his own traditional conservative values.
"This was an odd video delivered at an odd time. And maybe they wanted the controversy. If they did, they're getting it," he said.
Former U.S. Ambassador to Germany Ric Grenell – the Trump appointee who became the first openly gay cabinet member in history – condemned the ad as "undeniably homophobic."
That tweet drew a response from DeSantis campaign spokeswoman Christina Pushaw, who said any type of identity politics should be considered "poison."
Opposing the federal recognition of "Pride Month" isn't "homophobic." We wouldn't support a month to celebrate straight people for sexual orientation, either... It's unnecessary, divisive, pandering.

In a country as vast and diverse as the USA, identity politics is poison. pic.twitter.com/yGI8Z3frpZ

— Christina Pushaw 🐊 🇺🇸 (@ChristinaPushaw) July 1, 2023
"Opposing the federal recognition of 'Pride Month' isn't 'homophobic'. We wouldn't support a month to celebrate straight people for sexual orientation, either. It's unnecessary, divisive, pandering," Pushaw tweeted.
Another 2024 hopeful appeared to echo Rove, calling the occasional spats between DeSantis and Trump a "food fight" that "leaders should not be doing."
DESANTIS OUTLINES DRUG SMUGGLING POLICY: CUT THRU WALL, END UP STONE-COLD DEAD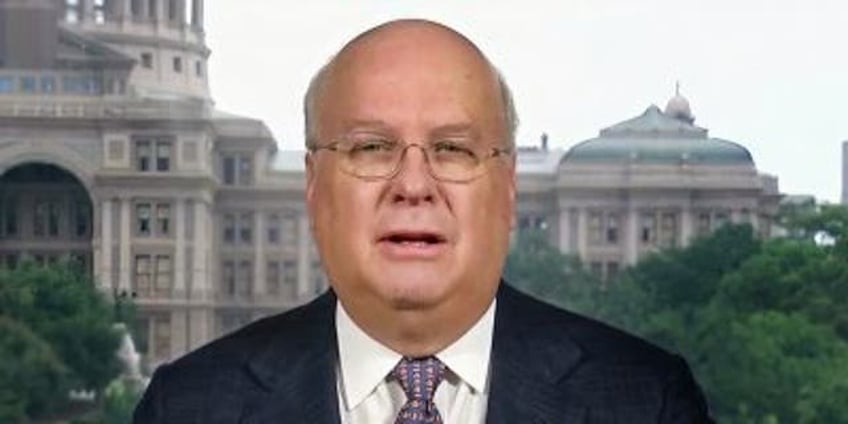 (Fox News contributor Karl Rove)
"It certainly doesn't make me feel inspired as an American on the 4th of July weekend to have this type of back-and-forth going on at all," former New Jersey Gov. Chris Christie said.
Rove told Fox News that Christie was simply stating the nature of how the two front-runners have sparred with each other.
"Remember, President Trump attacked Governor DeSantis by calling him 'Ron DeSanctimonious' and having other sort of childish nicknames for him. And I thought this of this particular video was ill-formulated and a mistake on the part of the campaign," he said.
"If they wanted to talk about what he had done, they could talk about it in a way that people would applaud."
For his part, Trump has often criticized Rove -- and his former boss, Bush – notably calling ex-chief of staff "a pompous fool with bad advice" after he characterized Trump's 2021 CPAC address as lacking a "forward-looking agenda."
During this year's CPAC Conference, Trump again critiqued the early-2000's GOP, saying it will "never go back to the party of Paul Ryan, Karl Rove and Jeb Bush."
Charles Creitz is a reporter for Fox News Digital. 
He joined Fox News in 2013 as a writer and production assistant. 
Charles covers media, politics and culture for Fox News Digital.
Charles is a Pennsylvania native and graduated from Temple University with a B.A. in Broadcast Journalism. Story tips can be sent to This email address is being protected from spambots. You need JavaScript enabled to view it..