South Korean police received more than 2,000 reports of mysterious packages from abroad, a large number of them believed to be from China, in less than a week, Korean authorities confirmed on Monday.
The packages prompted national alarm on Thursday after three people claimed they began struggling to breathe after opening one such mysterious parcel. The packages sent throughout the country vary significantly in size and content, the Korean Yonhap News Service reported on Monday, and include items appearing to be cosmetics, some liquids, and unidentified dough-like items. Some packages contain nothing at all.
Many of the packages were labeled Chunghwa Post, the name of a state-run postal service in Taiwan, but Taiwanese officials insisted this weekend that the packages originally came from China and were only sorted through Chunghwa's system. Chinese Communist Party media similarly reported that the packages came from China, and the Foreign Ministry confirmed this week that it was cooperating with Seoul to identify the origins of the items.
The Korea JoongAng Daily noted that some of the packages featuring the Chunghwa Post branding claimed to come from Malaysia, Ukraine, and Uzbekistan, similarly suggesting they were not of Taiwanese origin.
The incident that kicked off the package panic in South Korea began in Ulsan, a southern city, where a mysterious package was tied to the hospitalization of three people. The individuals affected are reportedly in "stable" condition, and police did not find any evidence of toxic substances in the package but left open the possibility that an unidentified toxic agent could have been on the package.
The Taipei Times reported that the package in question was marked Chunghwa Post but "had been sent by surface mail from China, then sorted through Chunghwa Post's freight forwarding center during a stopover in Taiwan," citing Taiwanese law enforcement authorities. South Korean police suspended the delivery of international packages in light of the incident.
A day later, the Korea Post identified a suspicious package with an "unknown substance" in it at its Seoul headquarters, prompting the evacuation of 1,700 people from the building. Police seized the package and reportedly conducted testing on its contents; no reports indicate any injuries or illnesses as a result of the package at press time.
Authorities in South Korea reportedly identified 2,141 suspicious packages nationwide between Thursday, when the Ulsan package incident occurred, and Monday but announced that they had found no evidence of terrorism or the presence of any toxic agents.
"We have confirmed that there are no suspicions of terrorism, as there were no terrorism threats, related intelligence, or casualties," a message from Korea's Office for Government Policy Coordination published on Monday read.
The Korean National Police stated that it had inspected 679 of the packages in question. It found some to be empty and most containing "lip balm or other cheap products," according to Yonhap. It urged Koreans not to open unwanted packages, particularly those marked Chunghwa Post, and to alert the police immediately if they receive any.
Korean authorities have publicly speculated that the packages are part of a "brushing scam," a type of e-commerce fraud.
"There are cases in which international sellers randomly send their products, or even empty packages pretending to hold products, to unspecified addresses in Korea for the purpose of inflating their export records as part of a scam," the Korea Customs Service explained in a statement this weekend, according to the JoongAng Daily. "Considering that the recent unidentified international packages were sent to Korea in a similar format, we are trying to identify if this was indeed intended as a scam."
Taiwan's Taipei Mission to South Korea confirmed that the Ulsan package transited through Taiwan on Sunday but claimed that it had initially come from China. Lin Li-fun, the deputy chief of mail business and operations for the Chunghwa Post, clarified that the company believes that Taiwanese customs did not inspect the package in Taiwan and announced that it had "temporarily suspended transshipping packages destined for South Korea from freight forwarders," the Taipei Times reported.
The Chunghwa Post clarified that it often ships Chinese packages on behalf of companies in the adversarial state "due to China's insufficient postal capacity," usually without incident.
On Monday, the company announced that, with the aid of Taiwan's Criminal Investigation Bureau, it had discovered that the package came from a Chinese company but had passed through the state mail service with the help of a "Taiwanese logistics firm."
Taiwanese Vice Premier Cheng Wen-tsan claimed the package came from Shenzhen, China, an industrial hub on the border of Hong Kong known for manufacturing cheap technology products.
"In view of this incident, we have asked logistics firms or freight forwarders to accept only items for delivery from logistics firms and suppliers verified by cross-border e-commerce platforms. They are banned from accepting goods from individuals," Chunghwa Post said in a statement.
The name of the logistics company does not appear to be public at press time.
Chinese Foreign Ministry Spokeswoman Mao Ning confirmed on Monday that the Chinese totalitarian regime is involved in investigating the packages but offered no information regarding how much Beijing knows about the origin of the packages.
"We have received the ROK's [Republic of Korea, South Korea] request for assistance in the investigation. The matter is being looked into. We will stay in touch with the ROK," Mao told reporters.
The bizarre packages recall a similar series of mailings in the United States in 2020, in which Americans nationwide received mysterious packages from China, many of them including unidentifiable seeds that alarmed United States Department of Agriculture (USDA) officials, who feared the seeds contained an invasive species. Citizens randomly received these "mystery seeds" in all 50 states. The number of identified incidents tied to the mailings numbered in the tens of thousands, government reports revealed. Agriculture authorities, including the USDA, urged those who received the seeds to throw them away and not eat or plant them.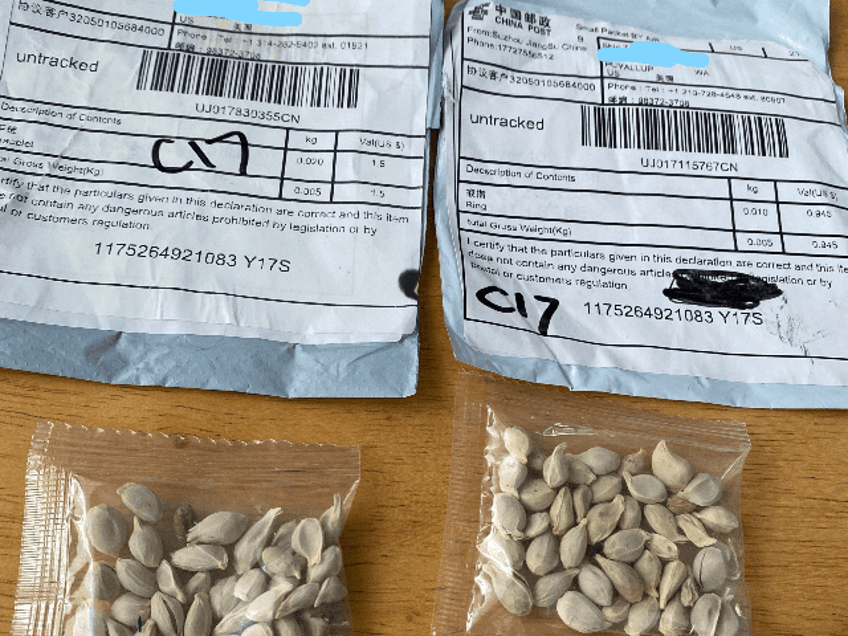 Unknown seeds sent mysteriously to America from China in 2020. (Washington State Dept. of Agriculture)
"The USDA urges anyone who receives an unsolicited package of seeds to immediately contact their State plant regulatory official or APHIS State plant health director," the agency advised at the time. "Please hold onto the seeds and packaging, including the mailing label, until someone from your State department of agriculture or APHIS contacts you with further instructions. Do not plant seeds from unknown origins."
"The seeds might not be anything, or they could be an invasive species that could threaten Texas agriculture," Texas Agriculture Commissioner Sid Miller told Breitbart News in July 2020. "We just don't know at this point."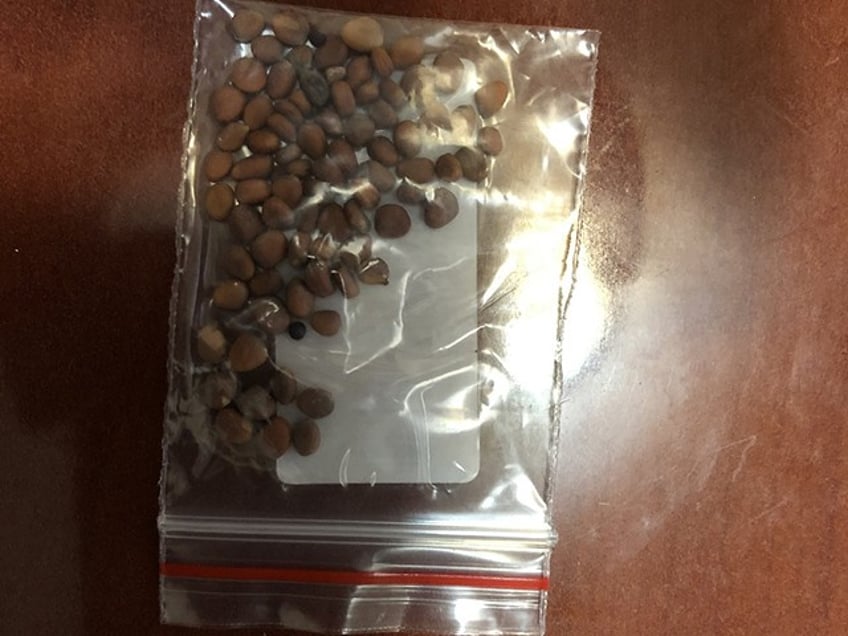 Unknown seeds sent mysteriously to America from China in 2020. (Twitter/@USDA_APHIS)
Government documents obtained by Vice later revealed that "at least hundreds, perhaps thousands of Americans" ate or planted the seeds.
Law enforcement authorities ultimately concluded that the packages were most likely a "brushing scam."
Follow Frances Martel on 
Facebook
 and 
Twitter.