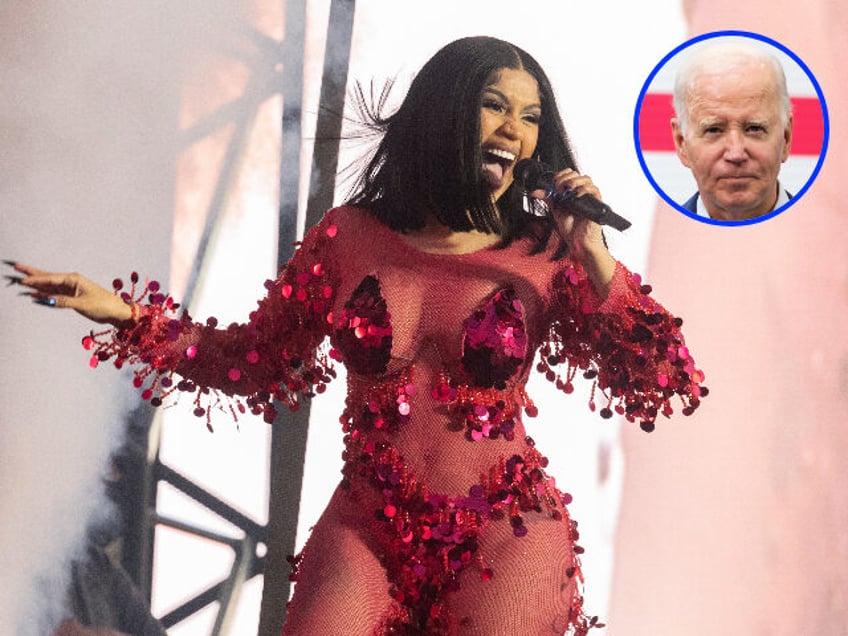 Rapper Cardi B told her 169 million Instagram followers she's never endorsing another aspiring president after backing President Joe Biden in 2020. Why? America's going through a recession, she says, big budget cuts are hitting her native New York, "the world is in fucking shambles," and U.S. leaders are imposing more budget cuts while foreign funding flows.
The Bronx-raised performer, whose real name is Belcalis Almánzar, went to social media following last week's announcement by New York City Mayor Eric Adams there would be a five percent cut affecting services in the Big Apple.
The police, public libraries, schools, and sanitation are among the departments affected because the city's law now prioritizes funding for Biden's economic migrants, as Breitbart News reported.
Video footage of Cardi B's explosive rant was shared on X, formerly Twitter, where it has garnered more than 14 million views over the weekend:
"I'm an angry bitch right now… I need y'all to spread this video, and if something happens to me, it's because I'm speaking the truth."
"In New York, there is a $120 million budget cut in New York that's going to affect schools, public libraries, and the police department… And a $5 million budget cut in sanitation," she went on. "bitch we are going to be drowning in fucking rats."
"I'm not endorsing no fucking president no more," the rap star vowed, charging that while New York City is facing the cuts, "Joe Biden's talking about, 'Yeah, we can fund two wars."
Noting her own wealth, the rapper behind the song "WAP (Wet Ass Pussy)" conceded she was "lucky" and "blessed," but added the next generation is bound to suffer: "What's going to happen to my nieces? What's going to happen to nephews? What's going to happen to my cousins, aunts, and my friends that's living in the hood."
She also suggested a solution to the international wars that the U.S. is backing with military aid, advising politicians of all sides to "sit the f*** down with these people and find an agreement… We can't fund no fucking wars. We can't.
"Y'all [are] doing budget cuts on the biggest city in the United States… This shit is getting out of hand. They don't want to say the word, but we're going through a recession right now."
Part 2: pic.twitter.com/omgSIn8STm

— Cardi B | Updates (@updatesofcardi) November 19, 2023
Cardi B further warned her followers the budget cuts in NYC are likely to be mirrored elsewhere across the country.
"Little by little, it's gonna go [on] in y'all states," she warned.
Calling out internet users' focus on "celebrity drama," Cardi B said "that's little compared [to] what's going on right now. The world is in fucking shambles."
"These leaders, they don't have our best interests [at heart]," she concluded. "I'm always gonna speak for the people."
Follow Simon Kent on Twitter: Follow @SunSimonKent or e-mail to: This email address is being protected from spambots. You need JavaScript enabled to view it.