European bourses are in the red after bleak EZ and Chinese PMI data, US futures similarly downbeat pre-FOMC Minutes
Crude initially pressured on the above but lifted by Saudi commentary from the OPEC+ seminar
DXY remains in close proximity to 103.00, with JPY benefitting from a broader yield pullback while EUR slips post-PMIs
Fixed income is bid, following data and strong UK and German supply; yields lower, short-end leading
Looking ahead, highlights include US Durable Goods & Factory Orders, FOMC Minutes, OPEC International Seminar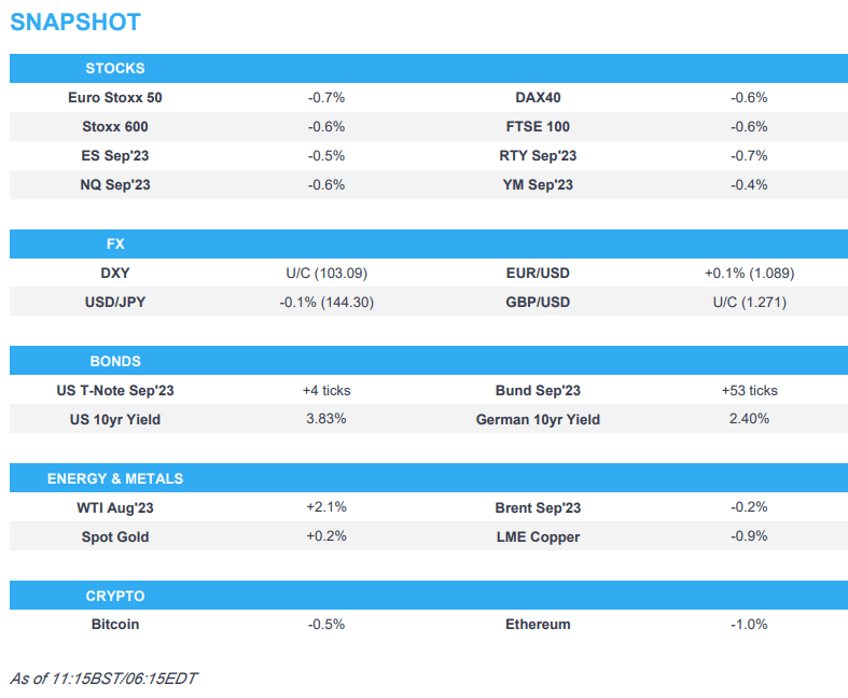 More Newsquawk in 3 steps:
1. Subscribe to the free premarket movers reports
2. Listen to this report in the market open podcast (available on Apple and Spotify)
3. Trial Newsquawk's premium real-time audio news squawk box for 7 days
INDEPENDENCE DAY RECAP
Russian President Putin says the risk of a global economic crisis are on the rise, in a virtual meeting of the Shanghai Cooperation Organisation, we plan to boost ties with Shanghai Cooperation Organisation. Supports transition to settlements in local FX.
China's Commerce Ministry are to meet with major Gallium and Germanium producers in Beijing on July 6, according to Reuters citing sources.
Chinese senior official, close to China's commerce ministry, tells the FT, "There will be more retaliatory measures against the snowballing semiconductor export controls from western countries"
EU's Diplomat Borrell scheduled trip to China has been pushed back by Beijing, according to the EU. Initial schedule was for July 10th
Click here for the reduced Newsquawk market wrap for Independence day.
EUROPEAN TRADE
EQUITIES
European bourses are in the red, following a subdued APAC handover given soft data and the region thereafter impaired by its own bleak Final PMIs; Euro Stoxx 50 -0.7%.
Sectors are mainly in the red and continue to exhibit the defensive bias from the morning's cash open, though with Auto names outperforming after strong Volvo Cars numbers.
Stateside, futures are similarly softer and have been moving in tandem with European trade ahead of their return from the market holiday and looking ahead to key FOMC minutes and data releases before hand; ES -0.5%.
Click here for more detail.
FX
DXY tethered to 103.000 level as US returns from July 4th and headline events of the week.
Loonie lags as crude prices dip on bearish supply/demand dynamics, USD/CAD elevated within 1.3220-78 range.
Aussie undermined by dips in PMIs and slowdown in China's Caixin surveys, AUD/USD also capped by psychological factors between 0.6698-65 parameters.
Yen benefits from yield retreat and threat of intervention around 145.00 as USD/JPY straddles 144.50.
Euro hampered by weak EZ PMIs, cooler 1 year ECB consumer inflation expectations and hefty option expiries in Eur/Usd at 1.0900. Sterling mostly solid around 1.2700 vs Dollar either side of unrevised final UK services and composite PMIs.
PBoC set USD/CNY mid-point at 7.1968 vs exp. 7.2180 (prev. 7.2046).
Click here for more detail.
Click here for the notable option expiries.
FIXED INCOME
Bonds overcome several early wobbles mount decent recovery from lows through largely weak services and composite PMIs
Bunds and Gilts rebound from 132.94 and 94.72 to 133.68 and 95.48 respectively with extra impetus via strong demand for German and UK issuance
T-note more contained within 112-04-111-25+ range awaiting return of cash traders from Independence, US data, FOMC minutes and Fed's Williams
Click here for more detail.
COMMODITIES
WTI and Brent futures show a divergence in intraday price percentage changes as the former did not see a settlement amid the US Independence Day, with initial pressure on soft data and subsequent upside from the OPEC+ conference.
Spot gold is relatively flat intraday as a firmer Dollar and the broader risk-averse mood keeps prices stable in their recent range.
Base metals are mostly softer amid the firmer Dollar and sullied sentiment, with 3M LME copper retreating towards USD 8,250/t from a USD 8,377/t intraday peak.
Saudi Foreign Ministry said Saudi Arabia and Kuwait have full sovereign rights to exploit natural wealth in the divided region and called for Iran to start negotiations with them to demarcate the eastern border of the divided area.
Saudi Energy Minister says fresh cuts prove wrong "cynical spectators" of the Russia-Saudi relations. Says "The market will not be left unattended". Adds, OPEC+ will do "whatever is necessary" to support the market, according to Reuters.
UAE's energy minister says his country will not be announcing any extra voluntary cuts, according to EnergyIntel.
Caspian Pipeline Consortium says consequences from power outage in Western Kazakhstan have not been fully removed; Tengiz pumping station has been halted. Artyrau station has been stopped, as well as oil intake from all supplies. Tengiz station receives oil from TCO.
Oil production in Kazakhstan down 21% on July 4 from July 2, refining volumes decline 46% following power outages, according to data from the energy ministry.
Russia's Kremlin on Grain Deal says there is still time for the West to fulfil those parts of the deal which concern Russia; we will announce our decision in a timely manner; those parts of the deal that concern Russia are still not fulfilled.
India's April-May finished steel imports from China at a six-year high; steel imports at three-year high; steel exports to Italy at six-year high; steel consumption at six year high.
Click here for more detail.
NOTABLE US HEADLINES
Click here for the US Early Morning Note.
EUROPEAN DATA RECAP
EU HCOB Composite Final PMI (Jun) 49.9 vs. Exp. 50.3 (Prev. 50.3); Services Final PMI (Jun) 52 vs. Exp. 52.4 (Prev. 52.4)
German HCOB Composite Final PMI (Jun) 50.6 vs. Exp. 50.8 (Prev. 50.8); Services PMI (Jun) 54.1 vs. Exp. 54.1 (Prev. 54.1)
UK S&P Global/CIPS Services PMI Final (Jun) 53.7 vs. Exp. 53.7 (Prev. 53.7); Composite PMI Final (Jun) 52.8 vs. Exp. 52.8 (Prev. 52.8)
EU Producer Prices MM (May) -1.9% vs. Exp. -1.8% (Prev. -3.2%); YY (May) -1.5% vs. Exp. -1.3% (Prev. 1.0%)
NOTABLE EUROPEAN HEADLINES
BoE is considering a clampdown on foreign bank branches and is looking at plans to force more international banks to set up subsidiaries in the UK, according to FT.
ECB Poll: Consumer Inflation Expectations - 12-months ahead 3.9% (prev. 4.1%); 3-year ahead stable at 2.5%.
ECB's Visco says interest rate decisions are taken meeting by meeting on the basis of incoming data, to ensure a rapid fall in inflation; more rate hikes are not the only way curb inflation can maintain rates adequately high for a sufficiently long time.
French Finance Minister Le Maire says inflation has started easing in July.
CRYPTO
Binance's Australian offices have been searched by the regulator as part of a derivatives probe, via Bloomberg.
GEOPOLITICS
Chinese President Xi personally warned Russian President Putin against using a nuclear weapon in Ukraine, according to FT citing Western and Chinese officials.
Ukrainian President Zelensky said he warned French President Macron about dangerous provocations by Russia at the Zaporizhzhia Nuclear Plant, according to Reuters.
Ukraine's military said Russia placed objects resembling explosives on the 3rd and 4th power units of the Zaporizhzhia Nuclear Power Plant and accused Russia of preparing a terrorist attack overnight which would not damage the power units but could create the impression that Ukraine is shelling the nuclear plant. It was also reported that Russian agencies quoted an adviser to the head of Rosenergoatom who alleged Ukraine will attempt to attack the Zaporizhzhia station overnight using long-range precision equipment and attack drones, according to Reuters.
UK armed forces chief rejected suggestions that Ukraine's counter-offensive was proceeding slowly and stated that Russia had lost half of its combat capability in Ukraine, according to FT.
US President Biden spoke with German Chancellor Scholz on Tuesday regarding preparations for the NATO summit, according to Reuters.
Russia and Syria are to hold military drills in Syria from July 5th which will last 6 days, according to RIA.
China's Defence Ministry said it resolutely opposes US arms sales to Taiwan and has lodged stern representations to the US, according to Reuters.
South Korea retrieved North Korean spy satellite wreckage and said the spy satellite was not worthy of military use, according to Yonhap citing the military.
Russia's Kremlin, on the Zaporizhzhia nuclear power plant, says the situation is tense, threats of sabotage is great, and the consequences could be catastrophic.
APAC TRADE
APAC stocks were mostly lower following the holiday lull stateside and as participants digested the latest Chinese Caixin Services PMI data, while geopolitical concerns also lingered after Ukraine and Russia accused each other of planning an overnight attack on the Zaporizhzhia nuclear plant.
ASX 200 was marginally lower amid underperformance in the largest-weighted financials sector and after mostly softer data releases from Australia.
Nikkei 225 slumped at the open but recouped some of the losses after it held above the 33,000 level.
Hang Seng and Shanghai Comp were subdued by ongoing trade-related frictions with warnings of more retaliatory measures against Western tech export controls, while the latest Chinese Caixin Services PMI missed forecasts and printed its slowest pace of increase since January.
NOTABLE ASIA-PAC HEADLINES
China's Global Times noted that China's metal export curbs are a warning to the US and its allies. It was separately reported that China's former vice commerce minister said China's export control measures of chipmaking materials are just a start and China has more sanction tools and measures, while countermeasures will further escalate if high-tech restrictions targeting China continue to escalate, according to China Daily.
Dutch Foreign Ministry said it is still unclear what the impact of the new Chinese export restrictions will be and that it is primarily up to the EU to respond to China's trade policies, according to Reuters.
Japan's Labour Confederation Rengo said the average 2023 wage hike is 3.58% which is the biggest since 1993, according to Reuters.
DATA RECAP
Chinese Caixin Services PMI (Jun) 53.9 vs. Exp. 56.2 (Prev. 57.1); Composite PMI (Jun) 52.5 (Prev. 55.6)
Australian Services PMI (Jun F) 50.3 (Prev. 50.7); Composite PMI (Jun F) 50.1 (Prev. 50.5)
Australian AIG Manufacturing Index (Jun) -19.8 (Prev. -5.1); Construction Index (Jun) 10.6 (Prev. -6.6)