A tornado caused extensive damage at a large Pfizer pharmaceutical plant in North Carolina on Wednesday, threatening critical supplies of medicines nationwide at a time of worsening drug shortages. 
On Thursday, Food and Drug Administration Commissioner Dr. Robert Califf tweeted the FDA is "aware of the storm damage at Pfizer's NC plant & is grateful employees there are unharmed." 
"I spoke w/Pfizer's CEO this afternoon to understand the extent of the damage & any potential impact to the drug supply & to offer our support. We're following the situation closely," Califf said. 
Not much is known in the public domain if the destruction of Pfizer's Rocky Mount plant, one of the largest sterile injectable facilities in the world, with more than 1.4 million square feet of manufacturing space on 250 acres, will disrupt medical supply chains.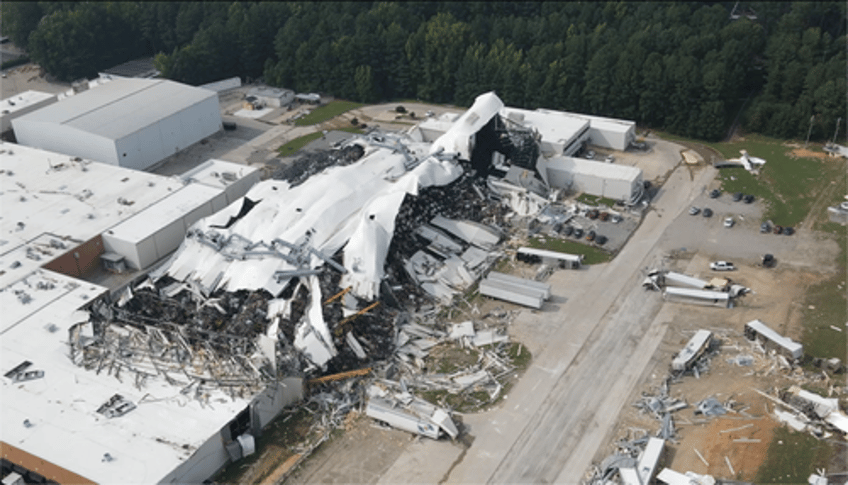 However, Bloomberg reports healthcare service providers Premier Inc. and Vizient Inc. have already asked other drugmakers to increase production. Vizient has also asked distributors to manage their drug inventory carefully. Before the tornado hit the plant, there were drug shortages across the US, including ADHD drugs, antibiotics, and cancer treatments. Recall this note we penned in June, "Drug And Food Shortages Are Here, And They Will Get A Lot Worse." 
In what could be a sign of future supply chain disruptions, a White House spokesperson said the FDA "is monitoring the situation closely as it evolves and is working with the company to understand the extent of the damage and any potential impact to the nation's drug supply."
Pfizer's website says the plant produces a wide range of products, "including anesthesia, analgesia, therapeutics, anti-infectives and neuromuscular blockers." It said, "More than 400 million units leaving the Rocky Mount site annually help treat patients around the world." 
Erin Fox, who runs the University of Utah's drug information service, has warned that the scarcity of drugs in the US has reached a nine-year peak. Currently, there are 309 drugs medicines in short supply, including 177 sterile injectables. 
Using the News Trend function on the Terminal, news stories containing "drug shortage" spiked during Covid and have surged since late 2022.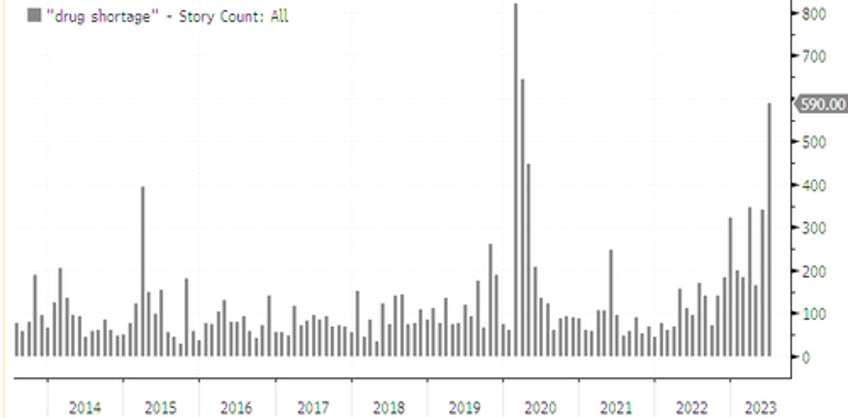 Due to a lack of transparency from Pfizer, there are still too many unknowns of what drugs might be in short supply following the tornado demolishing its Rocky Mount facility.