A quiet day for macro but all eyes were glued to The ECB's panel with the 'Big Four' Central Bankers.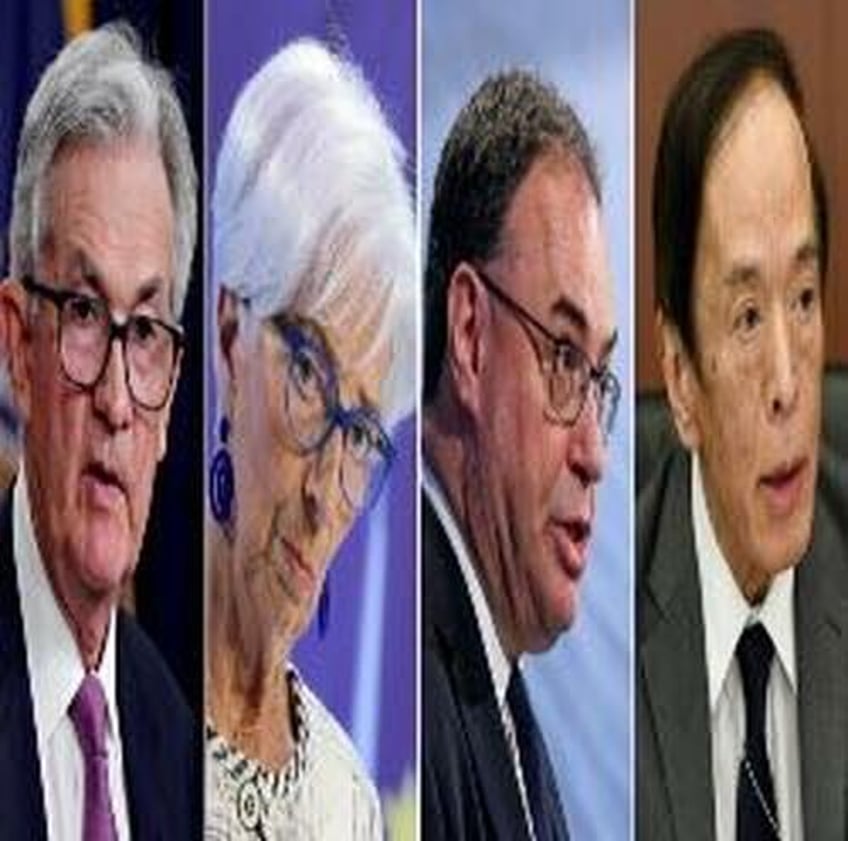 The persistence of inflation was a major theme for Bailey, Lagarde and Powell, who all pointed to the strength of underlying prices so far, and how they are adapting policy to that.
Powell reiterated that more tightening is what the Fed expects, saying that he didn't see US core inflation getting to 2% this year or next.
Lagarde's view on current fiscal policy suggested don't expect any dovish help there:
"A man's got to do what a man's got to do."
...but now it's time to roll back the measures that have been decided to deal with Covid and the energy crisis.
All-in-all, hawkish without a drop of dovish (despite the 'data-dependent' bullshit), which sent Fed rate-trajectory higher...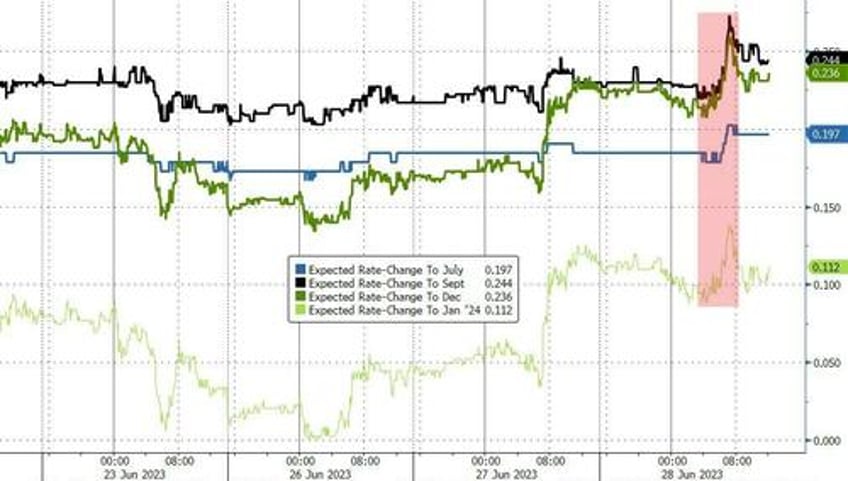 Source: Bloomberg
Stocks were very choppy on the day with The Dow lagging and Small Caps leading. Nasdaq and S&P toyed with unch all day. We note there was an odd panic bid in futs right as the cash market closed and after likely thanks to Micron.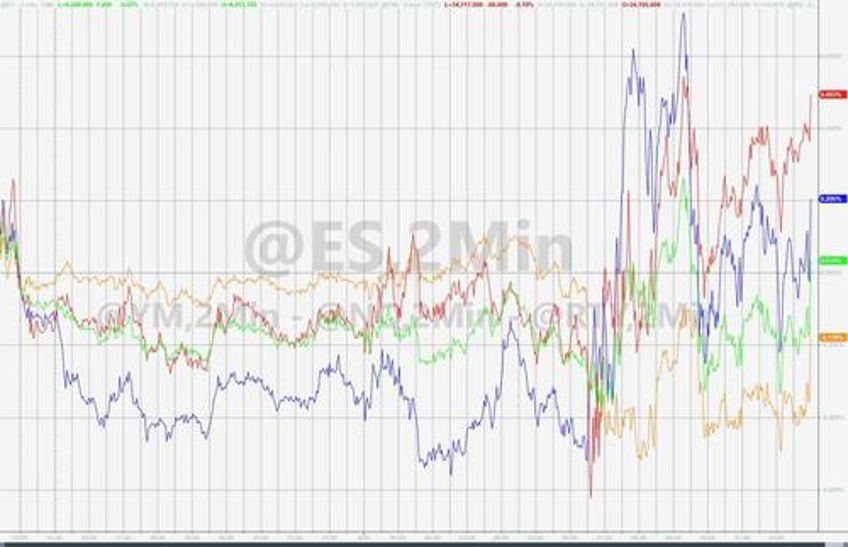 Banks were lower ahead of tonight's stress test results...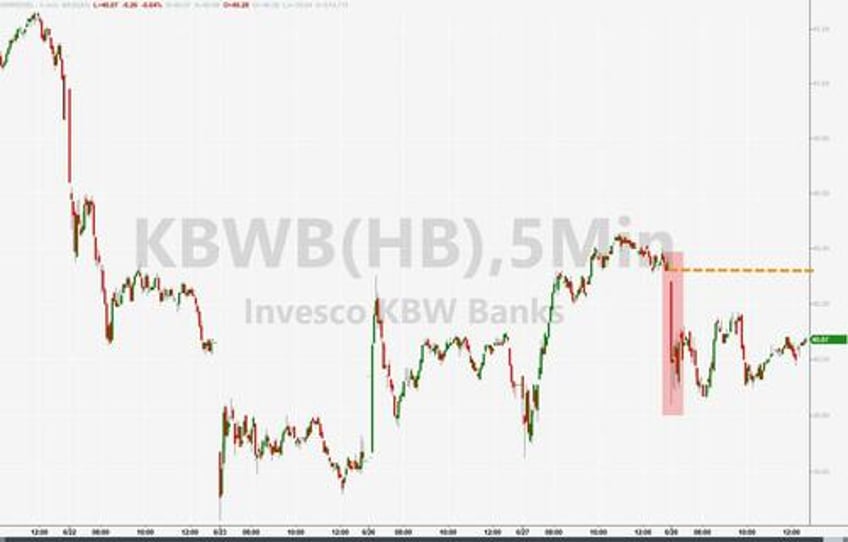 Tech was weighed down by some selling in chip stocks (AI) after NVDA was hit on headlines about increased crackdowns by Biden admin on chip exports to China. But the machines battled to keep NVDA above the critical $400 level...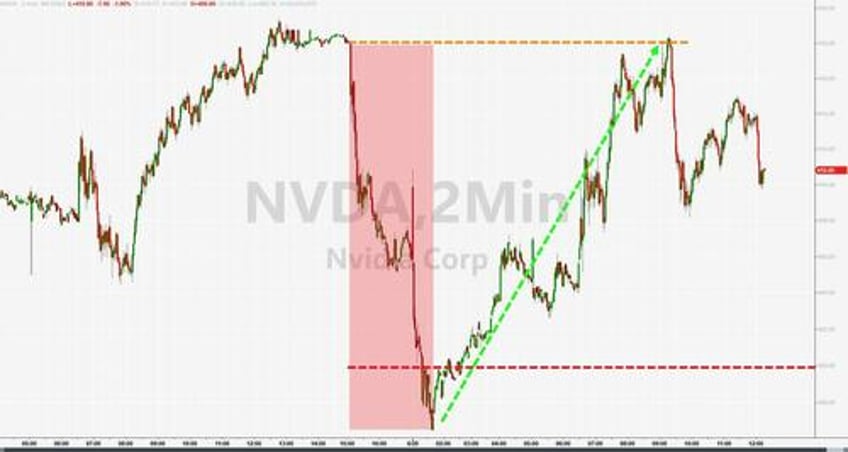 0-DTE traders were actively supporting NVDA on the day...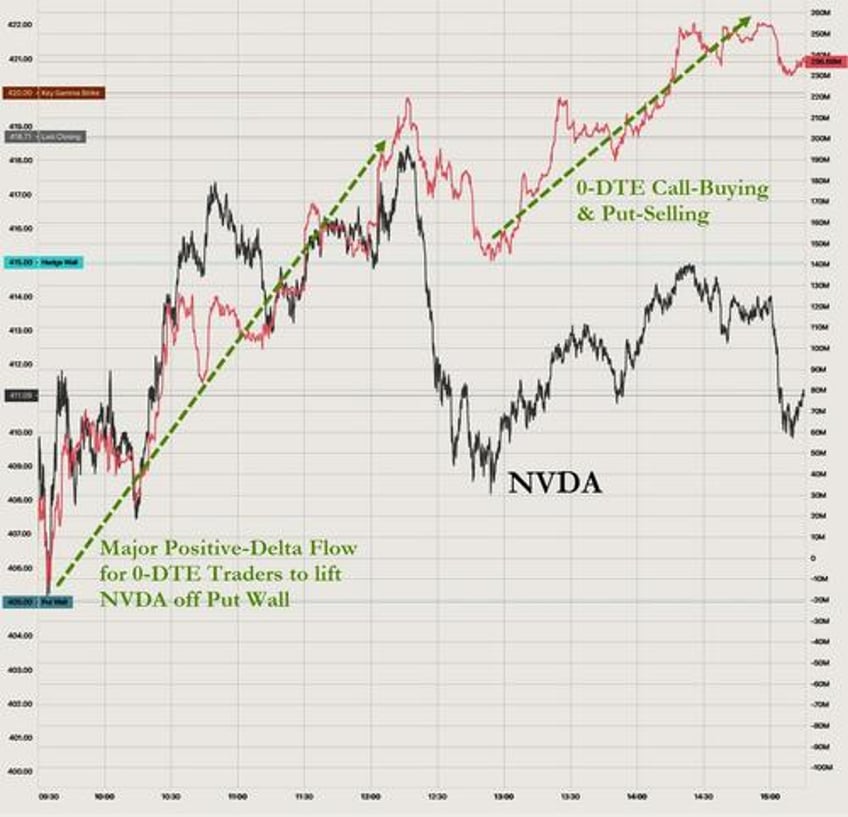 It was another short-squeeze day with 'most shorted' stocks closing at their highs - up 6.5% from yesterdays' open...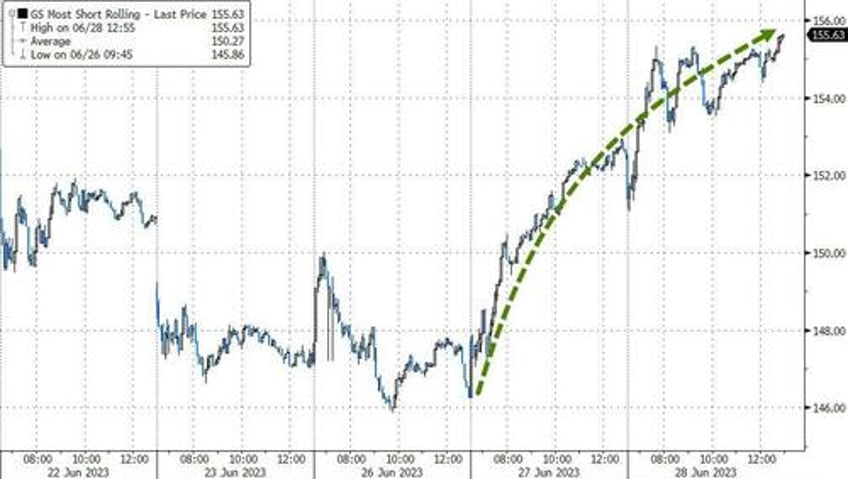 Source: Bloomberg
A strong 7Y auction helped support bonds further but yields were lower across the curve by 4-6bps (belly outperformed). This dragged all yields lower on the week...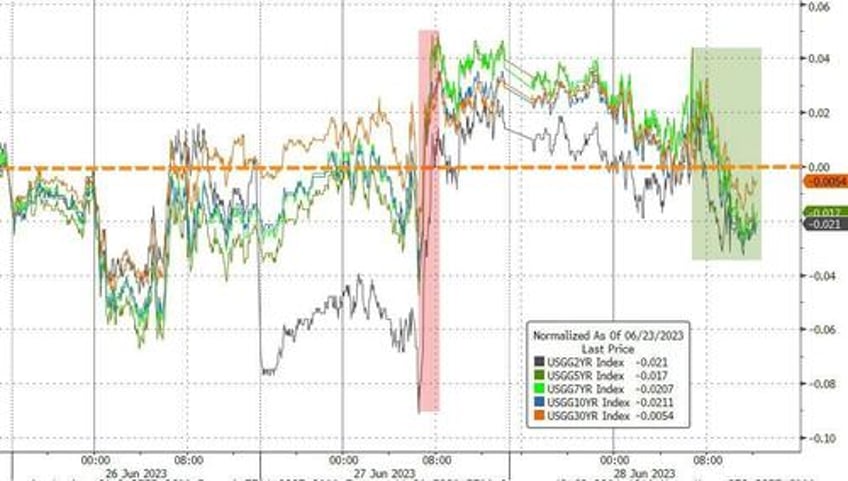 Source: Bloomberg
The dollar ramped higher today again to 3-week highs...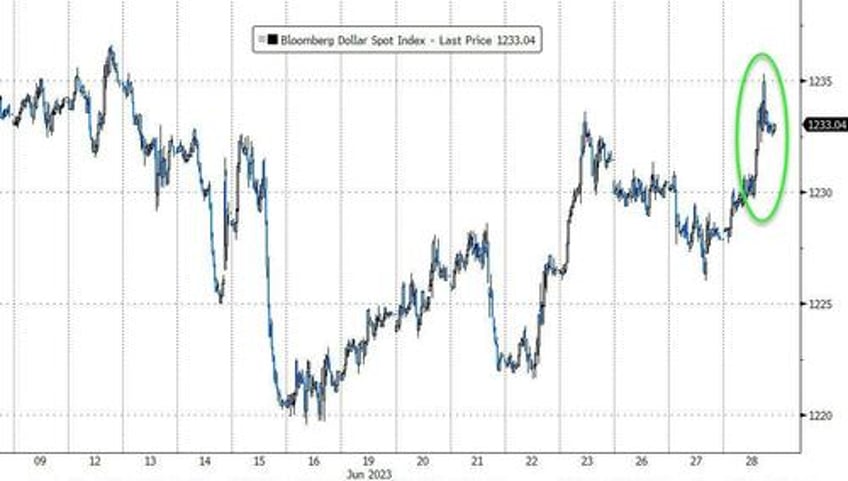 Source: Bloomberg
Bitcoin was pressured back below $30,000...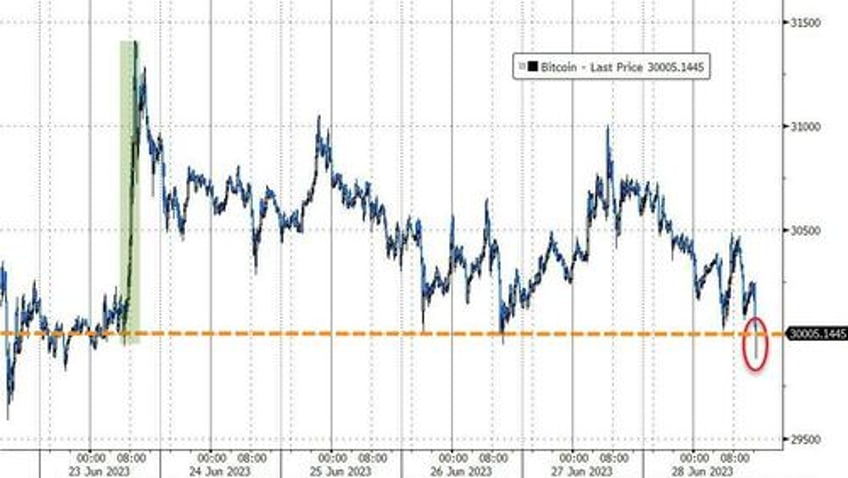 Source: Bloomberg
Another lower high and lower low today in gold...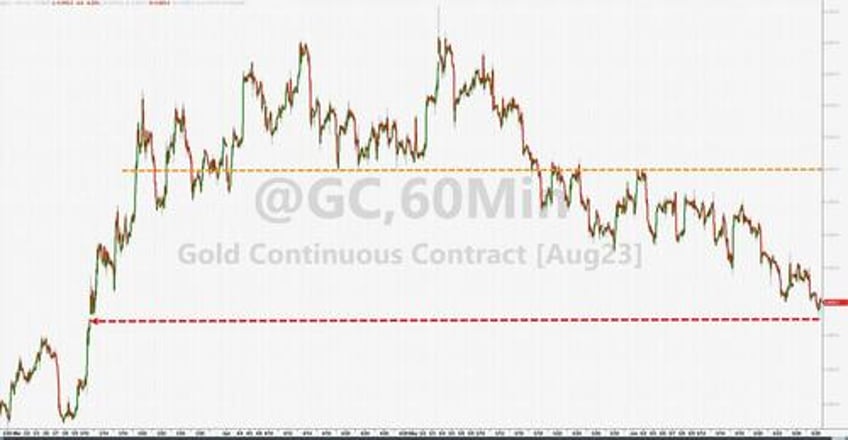 Oil rebounded off the recent rang lows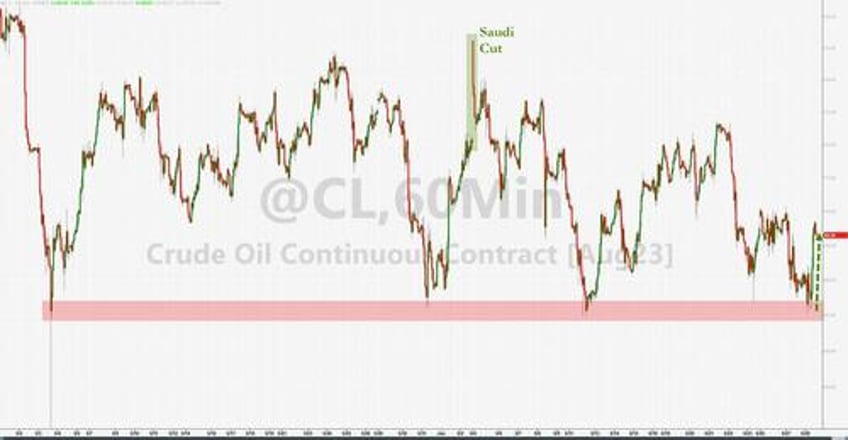 Finally, Apple inches ever closer to the $3 trillion market cap level...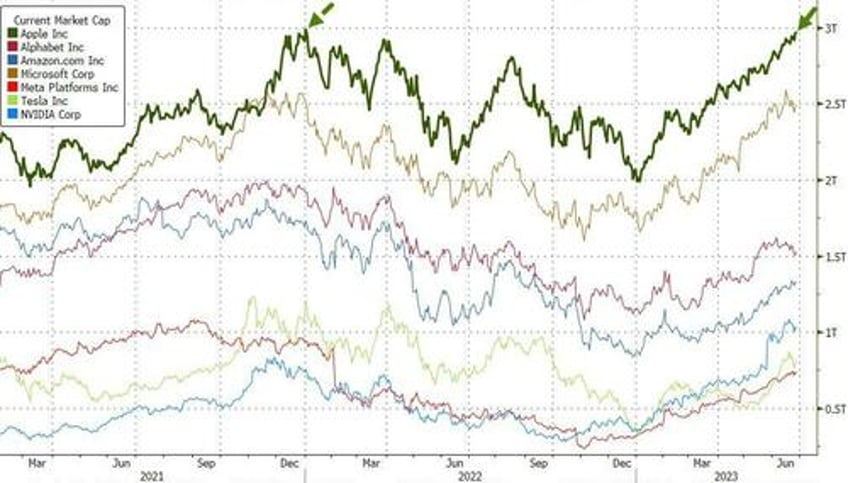 Source: Bloomberg
Will that be the top... again?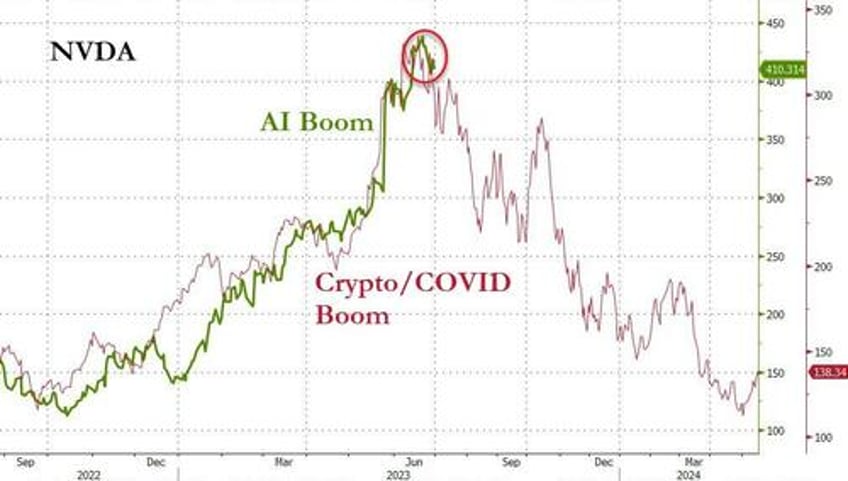 Source: Bloomberg
Is a new more aggressive crackdown on chip exports to China the end of this boom?