At a time when absolutely everyone (and their kitchen sink, cat and uncle) is working on their own version of chatGPT - because who wouldn't want to be the next "biggest and best" AI frontrunner leading to an avalanche of term sheets from idiot investors such as Soft Bank - moments ago AAPL, already the world's largest company by market cap, just spiked 2%, gaining more than $60 billion in market cap in seconds, after Bloomberg reported that Apple is "quietly" (really? quietly?) working on artificial intelligence tools that could challenge those from (Microsoft's) OpenAI, Google and others... even though the company has "yet to devise a clear strategy for releasing the technology to consumers."
More from the report:
The iPhone maker has built its own framework to create large language models — the AI-based systems at the heart of new offerings like ChatGPT and Google's Bard — according to people with knowledge of the efforts. With that foundation, known as "Ajax," Apple also has created a chatbot service that some engineers call "Apple GPT."

In recent months, the AI push has become a major effort for Apple, with several teams collaborating on the project, said the people, who asked not to be identified because the matter is private. The work includes trying to address potential privacy concerns related to the technology. A spokesman for the Cupertino, California-based company declined to comment.
What is hilarious is that while the AI algos only skimmed the headline, the punchline is hidden some 14 paragraphs down, where you find this:
"Apple employees say the company's tool essentially replicates Bard, ChatGPT and Bing AI, and doesn't include any novel features or technology"
So AAPL is doing to openAI what Facebook is doing to Twitter: copying and pasting with zero value added and zero creativity. Yet this is good enough to push the stock up $60 billion.
And this is where we are in the market: a place where what is obvious not only passes as news - because it would be news if Apple was not working on its own version of chatGPT as it has now become obvious even to 5-year-olds that AI is this generation's blockchain/3Dprinter/cannabis etc - but results in ridiculous market cap gains for some, and losses for others (such as the value stocks which form the pair trade with tech).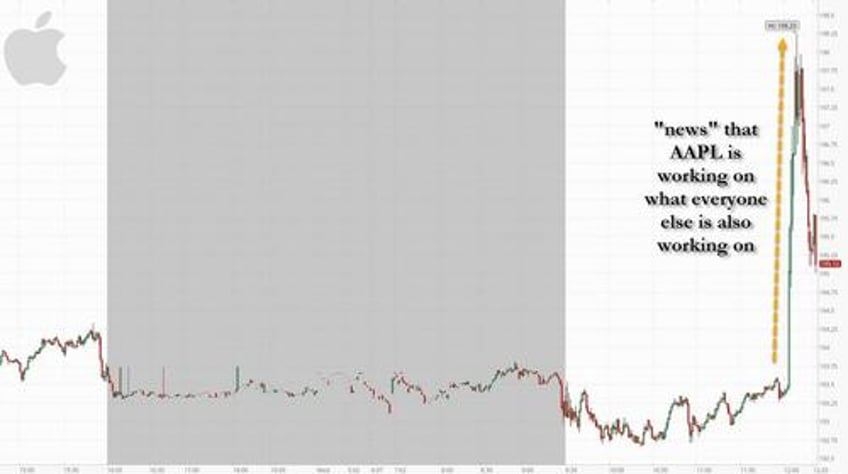 Refreshingly, after the initial euphoria, the algos had a chance to peruse our mocking tweets...
to summarize: AAPL just gained $60BN in market cap because a report it is working on what everyone else is working on https://t.co/ZNYbnRY2UF

— zerohedge (@zerohedge) July 19, 2023
... and promptly realized that we may have finally hit peak AIphoria.
NASDAQ 100 QUICKLY FALLS, BRIEFLY TURNS NEGATIVE