The Chiefs and Eagles play at Arrowhead on Monday night
The Philadelphia Eagles will travel to Arrowhead Stadium on Monday night to face off against the Kansas City Chiefs in a rematch of Super Bowl LVII and a potential preview of Super Bowl LVIII.
However, because of Travis Kelce's relationship with Taylor Swift and Jason Kelce scoring a finalist spot for People magazine's Sexiest Man Alive this year, the off-field items are a major theme coming into the game – even more so than a meeting of two of the best teams in the NFL.
CLICK HERE FOR MORE SPORTS COVERAGE ON FOXNEWS.COM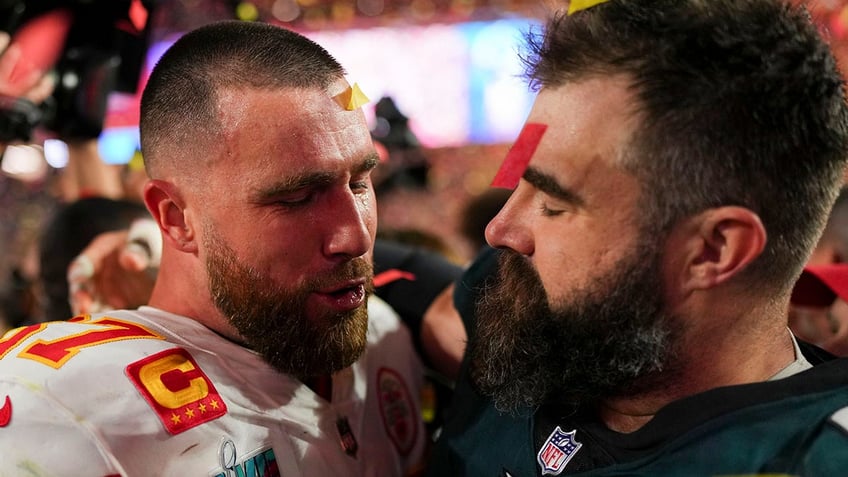 Travis Kelce, #87 of the Kansas City Chiefs, speaks with Jason Kelce, #62 of the Philadelphia Eagles, after Super Bowl LVII at State Farm Stadium on Feb. 12, 2023 in Glendale, Arizona. (Cooper Neill/Getty Images)
The Eagles trolled the Chiefs and Travis Kelce hours before kickoff. The team posted a meme of the Kelce brothers.
"One of these guys is a finalist for sexiest man alive and the other is dating an Eagles fan."
FROM OUTKICK: BUFFALO BILLS, FRESH OFF FIRING OFFENSIVE COORDINATOR, PUT TOGETHER BEST OFFENSIVE OUTPUT IN TWO MONTHS
The Eagles' X account added: "Sorry we had to."
APP USERS VIEW THE POST HERE.
Swift revealed her Eagles fandom earlier this year when her tour rolled through the Linc.
It is unlikely that Swift will be at Monday night's game, but rumors have swirled over her parents meeting the Kelces for the first time. Swift has been at Arrowhead Stadium a few times to watch the star tight end play – even showing up at MetLife Stadium to watch the Chiefs take on the New York Jets.
MICAH PARSONS' MILESTONE MOMENT WITH COWBOYS WAS NEARLY UPENDED OVER PREGAME ENERGY POWDER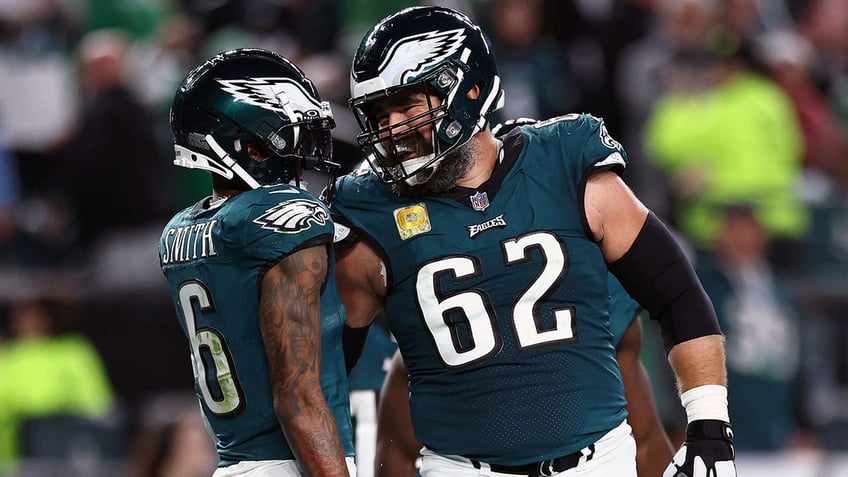 DeVonta Smith, #6, and Jason Kelce, #62 of the Philadelphia Eagles, react following a touchdown by Smith against the Dallas Cowboys at Lincoln Financial Field on Nov. 5, 2023 in Philadelphia. (Tim Nwachukwu/Getty Images)
Since the Chiefs' Super Bowl win, both Kelce brothers and their mother, Donna, have been in the spotlight. Outside the Swift relationship, the Kelce brothers released a Christmas album, while Donna Kelce inked some endorsement deals of her own. Additionally, Jason Kelce has a documentary on Amazon.
"It's been a whirlwind," Jason Kelce said before Monday's matchup. "It kind of started last year with the podcast and everything, and I think it continued to grow more and more."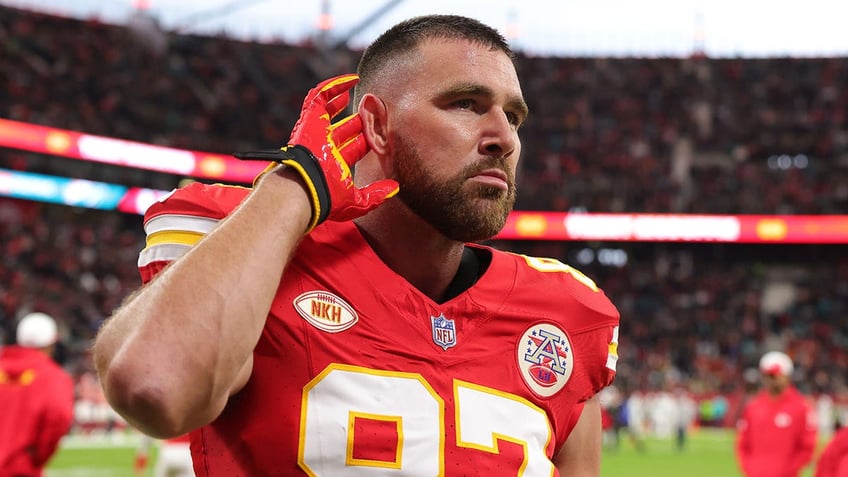 Travis Kelce looks on ahead of the NFL match between Miami Dolphins and Kansas City Chiefs at Deutsche Bank Park on Nov. 5, 2023 in Frankfurt am Main, Germany. (Ralf Ibing - firo sportphoto/Getty Images)
The Chiefs and Eagles kick off at 8:15 p.m. ET.
The Associated Press contributed to this report.
Follow Fox News Digital's sports coverage on X and subscribe to the Fox News Sports Huddle newsletter.
Ryan Gaydos is a senior editor for Fox News Digital.