Republican presidential candidate Vivek Ramaswamy called out Democrat Donna Brazile after she mispronounced his name and told him to go "home," pondering what would happen if a white Republican said the same of the failed Democrat gubernatorial candidate.
"Vivek needs to just shut the hell up and go home," she said during an appearance with Bill Maher, who pointed out that she was mispronouncing his name.
"Well whatever," she said after he corrected her, continuing to mispronounce his name.
"Thank you so much," she said after Maher corrected her again. "I learn so much when I come on this show."
"Vivek needs to go home," she said again.
"I agree. I just feel like there's something wrong with everybody refusing to learn to say his name. I just feel there's a little racism there," Maher said — a comment Brazile dismissed.
"I know we don't like him, but you know, just say his name right?" he continued.
Ramaswamy shared the clip and pointed out the glaring hypocrisy.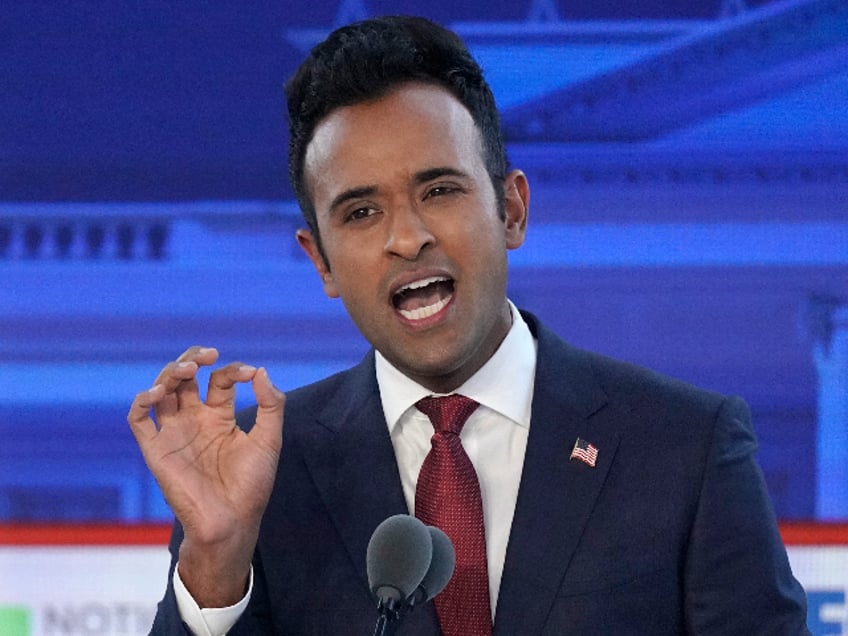 Businessman Vivek Ramaswamy speaks during a Republican presidential primary debate hosted by FOX Business Network and Univision, Wednesday, Sept. 27, 2023, at the Ronald Reagan Presidential Library in Simi Valley, Calif. (AP Photo/Mark J. Terrill)
"I wonder what they'd do if a white Republican intentionally mispronounced Donna's name & then told her to return 'home,'" Ramaswamy pondered as others wondered what Brazile really meant by "home":
I wonder what they'd do if a white Republican intentionally mispronounced Donna's name & then told her to return "home." 😂 https://t.co/UIfiSCU6p6

— Vivek Ramaswamy (@VivekGRamaswamy) November 19, 2023
"This is the true face of left-wing elitism, casually racist while pretending to champion diversity. Pathetic display of double standards," one individual commented as another noted, "They would cry racism."
Brazile has been open throughout the year, asserting that former President Donald Trump is going to be the GOP's nominee in 2024, despite deeming the MAGA movement a "threat" to democracy in the past.
RELATED — Donna Brazile: Trump Is Going to Be GOP 2024 Nominee
In September, she acknowledged Trump's success as a "movement," telling ABC's This Week, "I've never seen anything like this with Donald Trump."
"I mean, what doesn't kill you, makes you stronger. I mean, being indicted, that's making him stronger, raising $10 million using an ugly mugshot to raise money. This is a movement, and anyone who thinks that you can apply the old political rules to try to defeat this candidate based on, 'He's scary, he's ugly, whatever you might want to call him, this is a movement. We have to respect the fact it's a movement," she added.