Trump did not attend the Republican Party debate in California, instead campaigning in Michigan amid the ongoing autoworkers strike
Former President Donald Trump mocked his competition for the Republican Party nomination on Wednesday, saying he wouldn't give them a job in a hypothetical 2024 administration.
Trump made the remarks during a rally in Michigan on Wednesday night following a day of campaigning among autoworkers on strike in the state.
"We're competing with the job candidates, they're all running for a job. No, they're all job candidates," Trump said of his competition. "They want to be in the – they want to, they'll do anything, secretary of something, they even say VP."
WHO ARE THE REPUBLICAN PRESIDENTIAL CANDIDATES AT THE SECOND GOP DEBATE?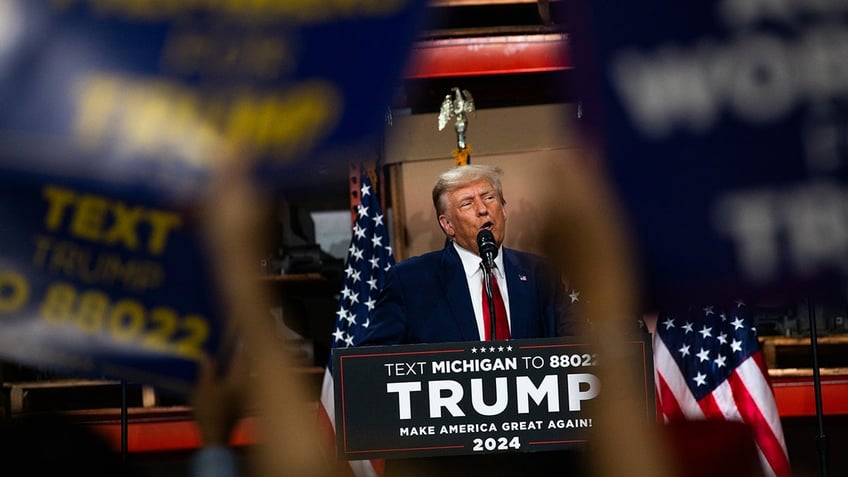 Former President Donald Trump speaks during a campaign event at Drake Enterprises in Clinton Township, Michigan, on Wednesday, Sept. 27, 2023. The visits by Trump and President Biden to Detroit this week give both men a chance to appeal to blue-collar America as the strike by union autoworkers threatens the economy in a battleground state. (Emily Elconin/Bloomberg via Getty Images)
"Does anybody see the VP in the group? I don't think so," the former president added.
Seven GOP candidates were on the stage Wednesday night at the Ronald Reagan Presidential Library in Simi Valley, California.
The seven candidates were North Dakota Gov. Doug Burgum, former New Jersey Gov. Chris Christie, Florida Gov. Ron DeSantis, former South Carolina Gov. Nikki Haley, former Vice President Mike Pence, biotech entrepreneur and political commentator Vivek Ramaswamy, and Sen. Tim Scott of South Carolina.
SEAN HANNITY TO MODERATE GROUNDBREAKING DEBATE BETWEEN GOVERNORS NEWSOM, DESANTIS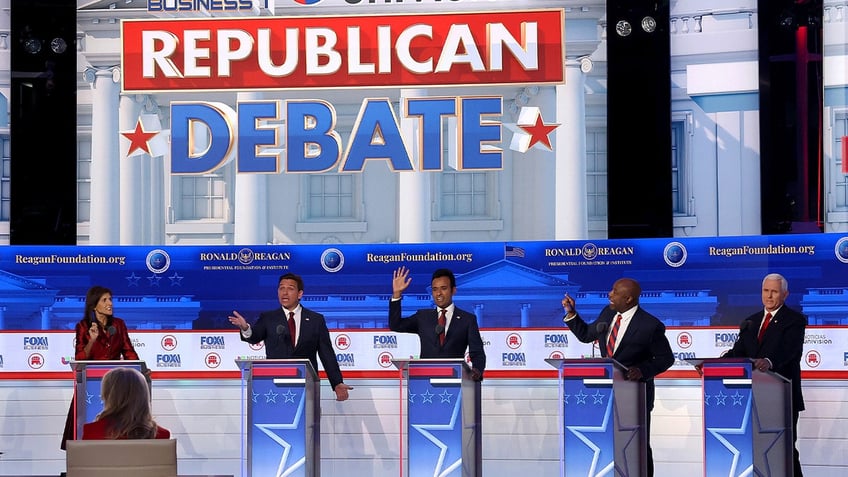 Republican presidential candidates, from left, Nikki Haley, Ron DeSantis, Vivek Ramaswamy, Tim Scott and Mike Pence participate in the FOX Business debate at the Reagan Library on Sept. 27, 2023, in Simi Valley, California. (Justin Sullivan/Getty Images)
The most recent Fox News poll shows 60% of Republican primary voters supporting Trump for the GOP nomination – up from 53% in the last survey in August. 
The only other candidates to receive double-digit support in that poll are DeSantis at 13% and Ramaswamy at 11%.
Haley sits at 5%, with Pence and Scott at 3% each. Christie is polling at 2%, with the remaining GOP candidates receiving less than 1%.
According to a new Washington Post/ABC poll from over the weekend, Trump is currently leading President Biden by 10 points in a head-to-head general election survey among voters. The poll said if the 2024 presidential election were held today, Trump would win 52% to 42% over Biden.
Meanwhile, Biden's approval rating sits at 37%, according to the poll, while 56% of respondents actively disapprove of his presidency.
Fox News Digital's Brooke Singman contributed to this report.
Timothy Nerozzi is a writer for Fox News Digital. You can follow him on Twitter @timothynerozzi and can email him at This email address is being protected from spambots. You need JavaScript enabled to view it.