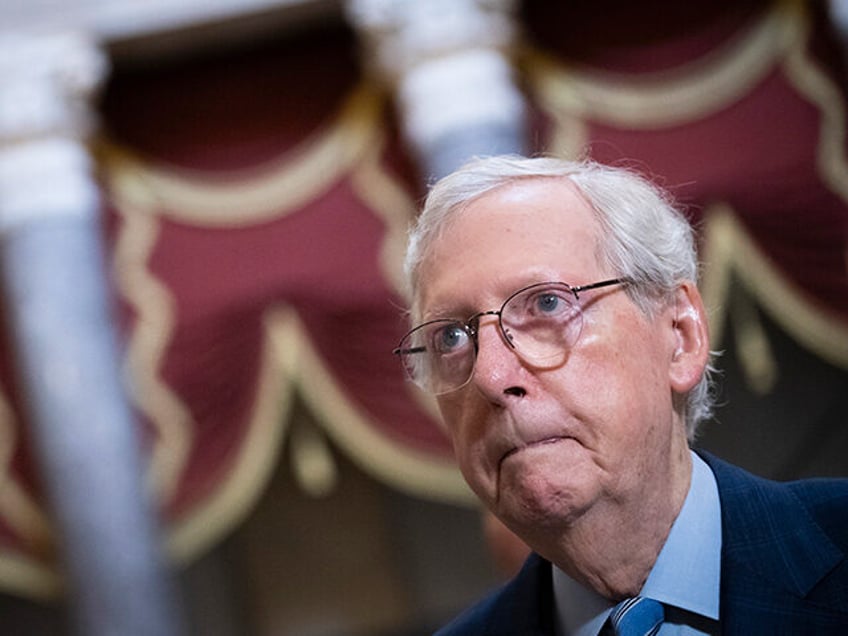 Senate Minority Leader Mitch McConnell (R-KY) reportedly tripped and fell while disembarking a plane earlier this month, weeks before his unfortunate freeze incident on Wednesday.
Two sources familiar with the fall incident confirmed to NBC News that it happened at Ronald Reagan Washington National Airport, adding that he sustained no serious injuries and resumed business as usual that day.
WATCH: Mitch McConnell Freezes Mid-Speech, Led Away from Podium:
C-SPAN
"The fall, which has not been previously reported, occurred July 14 after the flight out of Washington was canceled while everyone was on board," NBC noted. "McConnell who was a passenger, had a 'face plant,' someone who was on the plane at the time but did not witness the fall told NBC News. That passenger also said they spoke to another passenger who helped tend to McConnell."
The U.S. senator has resorted to using a wheelchair when navigating crowded airports as a precaution. A survivor of polio, he has a history of difficult falls and "sustained a concussion and a cracked rib in a fall in Washington this year," causing him to spend six weeks away from the Senate.
As Breitbart News reported, McConnell froze in the middle of a press conference for an extended period of time, ending with him being escorted off by concerned staffers:
McConnell — who at 81 years of age is the longest-serving party leader in the history of the U.S. Senate — went silent during his opening remarks at his regular press conference, according to video of the alarming moment.

"Well, good afternoon, everyone," he said moments after walking up to the podium. "We're on a path to finishing the NDAA this week. There's been good bipartisan cooperation, as well as a string of, uh," he trailed off.

As his tight-lipped, unblinking pause grew longer, Republican colleagues Steve Daines (MT), Joni Ernst (IA), Shelly Moore Capito (WV), Jon Thune (SD), and John Barrasso (WY) showed visible concern.
RELATED VIDEO — President Joe Biden Looks Confused About How to Get Off Stage:
C-SPAN
A McConnell staffer later revealed that he had suffered from some lightheadedness. The 81-year-old did eventually return to the podium where he said the president checked on his well-being, prompting his "sandbagged" joke.
"The president called to check on me. I told him I got sandbagged," McConnell said.
When reporters asked him how he felt and if he planned to see a doctor, McConnell repeatedly said, "I'm fine."
"Gotta watch those sandbags," he said on his way to the Senate floor.
President Joe Biden famously said, "I got sandbagged" after tripping and falling at the U.S. Air Force Academy graduation ceremony last month.
WATCH: Biden Falls at U.S. Air Force Academy Commencement:
Paul Roland Bois joined Breitbart News in 2021. He also directed the award-winning feature film, EXEMPLUM, which can be viewed for FREE on YouTube or Tubi. A high-quality, ad-free stream can also be purchased on Google Play or Vimeo on Demand. Follow him on Twitter @prolandfilms or Instagram @prolandfilms.