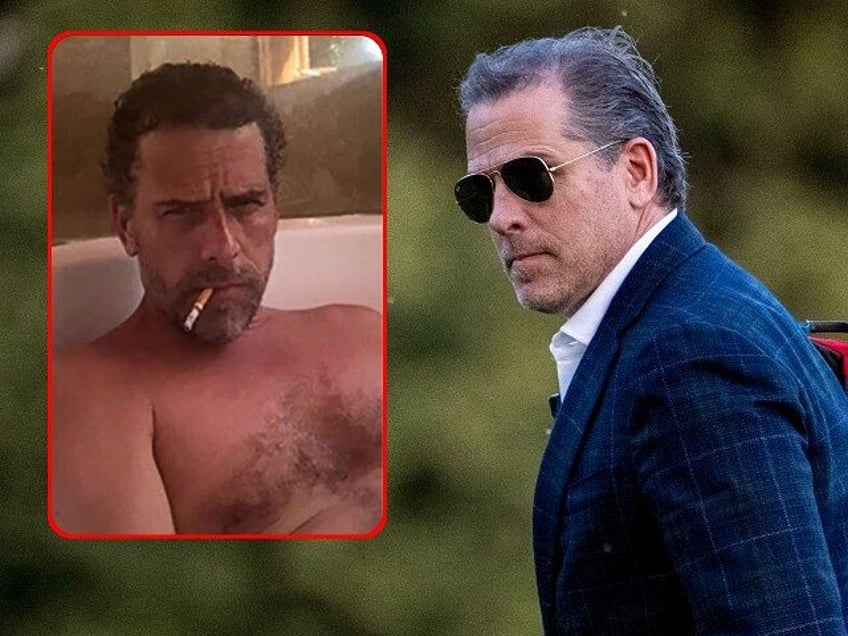 Hunter Biden claimed under oath that he has not taken illegal drugs since June 2019, though he was recently spotted visiting his lawyer, who was smoking a water bong.
During Wednesday's court appearance, U.S. District Judge Maryellen Noreika questioned Hunter Biden about his sobriety, according to the hearing transcript obtained by the nonprofit research group Marco Polo.
"When was the last time that you used, ingested, or were under the influence of any drug, legal or illegal, medication, or alcoholic beverage of any kind?" the judge asked.
"June of 2019, Your Honor," Hunter replied.
"All right. And so, just to be clear, you are not presently under the influence of any drug, legal or illegal, medication, or alcoholic beverage of any kind, is that correct?" the judge inquired.
"Yes, Your Honor," he stated.
Hunter Biden could be jailed if he consumes any drugs or alcohol, according to the conditions of his release signed by the judge. The hearing ended, and Hunter was released after pleading not guilty.
Hunter Biden's testimony under oath comes a few days after he was spotted at the California house of his lawyer, Kevin Morris, who was photographed by the UK Daily Mail apparently smoking a substance from a water bong while on the balcony.
🚨 JUST IN: Hunter Biden's lawyer Kevin Morris was just spotted ripping a BONG on the balcony of his LA home—CLEARLY visible from the road—during a visit by the president's son (Daily Mail) pic.twitter.com/embyAg55Ms

— Nick Sortor (@nicksortor) July 21, 2023
The Daily Mail reported:
Hunter Biden visited his "sugar brother" Hollywood lawyer Kevin Morris – who was photographed appearing to smoke from a bong.

The First Son took a trip from his Malibu pad to the Pacific Palisades on Thursday to visit his attorney, after agreeing to plead guilty to federal tax crimes last month.

While Hunter was at the house, Morris was snapped on a balcony in plain view of the public street appearing to huff from a white bong, in photos exclusively obtained by DailyMail.com.
Morris, as Breitbart News reported, is a central player in the legal dramas around Hunter Biden, including paying a nearly $2 million tax bill to the IRS. Moreover, Breitbart News exclusively reported that Morris controls Skaneateles LLC with a ten percent stake in BHR Partners, a Chinese state-backed investment fund founded just days after Hunter and President Joe Biden visited China in 2013.
Hunter Biden's claims of sobriety also come in the wake of an investigation by the secret service to determine who smuggled a bag of cocaine into the White House, one of the most secure buildings in the world. In the end, the secret service closed the probe with no suspects.
NBC News's Kelly O'Donnell said a source familiar with the findings believes the "leading theory" remains that a "visitor" who "transited the West Executive entrance was likely responsible. But there is not physical evidence to compare to the list of names."
"A visitor" appears to exclude administration employees and family members with permanent residence at the White House. It is unclear if Hunter Biden officially resides at the mansion, according to Newsweek.
Follow Wendell Husebø on Twitter @WendellHusebø. He is the author of Politics of Slave Morality.