Gaetz says he's moving to call for a vote of no confidence in McCarthy this week
House GOP members are preparing a motion to expel Rep. Matt Gaetz, R-Fla., amid his renewed threat to pursue a motion to vacate House Speaker Kevin McCarthy.
The House Republican members will seek to expel Gaetz if the ethics committee report comes back with findings of guilt, Fox News has learned. One member told Fox News the report is mostly written but does not know what it contains. Yet following threats to vacate McCarthy, the member said of Gaetz, "No one can stand him at this point. A smart guy without morals."
It takes a two-thirds vote to expel. And Republicans are treading on thin ice with their majority. The House is down to 433 members. It's unclear where things stand with federally indicted Rep. George Santos, R-N.Y. If you were to have members expelled, retire or die, the majority could be right on the edge for the GOP. 
During an appearance on CNN Sunday morning, Gaetz said he planned "to file a motion to vacate against Speaker McCarthy this week."
"I think we need to rip off the Band-Aid. I think we need to move on with new leadership that can be trustworthy. Look, the one thing everybody has in common is that nobody trusts Kevin McCarthy. He lied to Biden. He lied to House conservatives," Gaetz told CNN "State of the Union" host Jake Tapper. "Kevin McCarthy's goal was to make multiple contradictory promises to delay everything back up against shutdown politics and at the end of the day, blow past the spending guardrails he had agreed." 
GAETZ BLOWS UP AT MCCARTHY IN CLOSED-DOOR HOUSE GOP MEETING: 'FIREWORKS'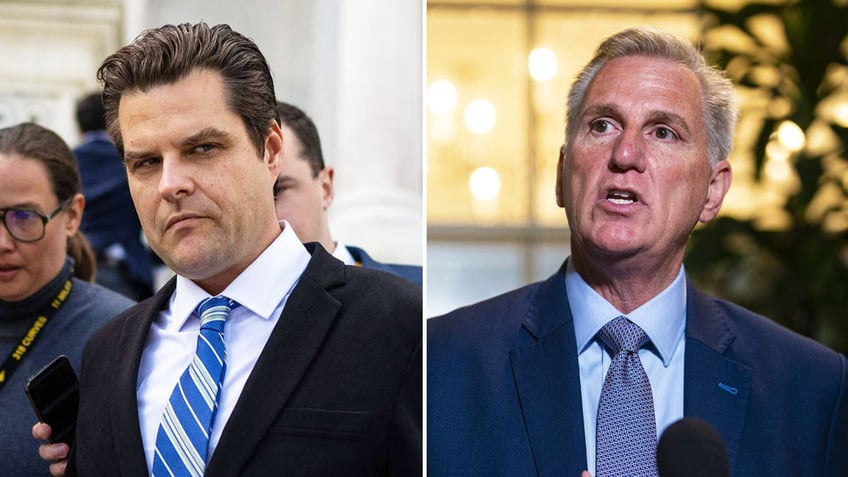 Rep. Matt Gaetz says he'll pursue a motion to vacate House Speaker McCarthy. (Andrew Caballero-Reynolds/AFP | Al Drago/Bloomberg)
In response to that motion to vacate, McCarthy said, "I'll survive."
"This is personal with Matt," McCarthy said, according to ABC producer and reporter Ben Siegel. "Let's get over it, let's start governing."
But on CNN, Gaetz insisted he was not pursuing McCarthy's ouster over personal matters. 
"This isn't personal, Jake. This is about spending," Gaetz said Sunday. "This is about the deal Kevin McCarthy made. If Kevin McCarthy didn't want to keep the deal to return to pre-COVID spending, if he didn't want to keep the deal to have single subject spending bills, not vote for government spending all up or down at once, then he shouldn't have made that deal. So this is about keeping Kevin McCarthy to his word. It's not about any personal animus."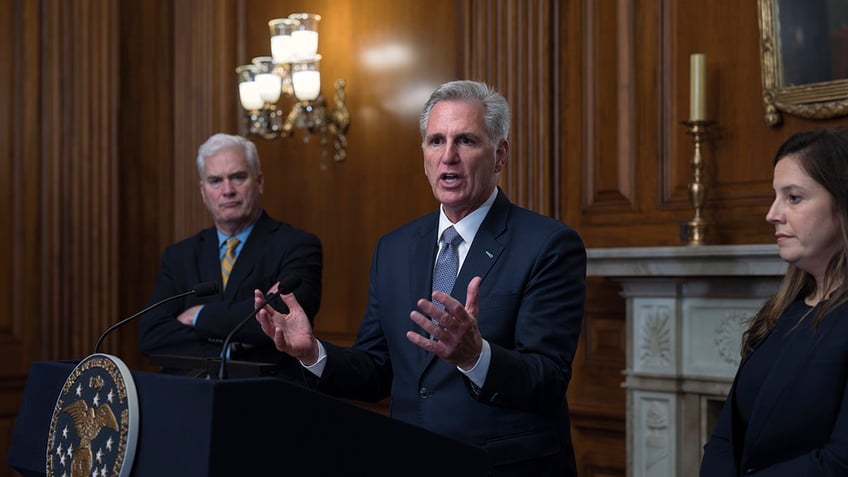 House Speaker Kevin McCarthy flanked by Majority Whip Tom Emmer and Republican Conference Chair Elise Stefanik, holds a news conference just after the House approved a 45-day funding bill to keep federal agencies open Saturday, Sept. 30, 2023. (AP Photo/J. Scott Applewhite)
REP. BYRON DONALDS SAYS MCCARTHY IS 'IN TROUBLE' AFTER BUDGET DEAL: 'WE DIDN'T GET ANYTHING'
The House Ethics Committee has been investigating Gaetz since 2021 on allegations, including campaign finance violations as well as claims of taking bribes and using drugs – accusations the congressman has vehemently denied. Gaetz also denies allegations leaked from a Justice Department sex trafficking probe said to have involved an underage girl.
"If Kevin McCarthy is still the speaker of the House, he will be serving at the pleasure of the Democrats. He will be working for the Democrats," Gaetz said Sunday. "The only way Kevin McCarthy is speaker of the House at the end of this coming week is if Democrats bail them out now, they probably will." 
"I will make no deal with Democrats and concede no terms to them. I actually think Democrats should vote against Speaker McCarthy for free. I don't think I should have to deal with that."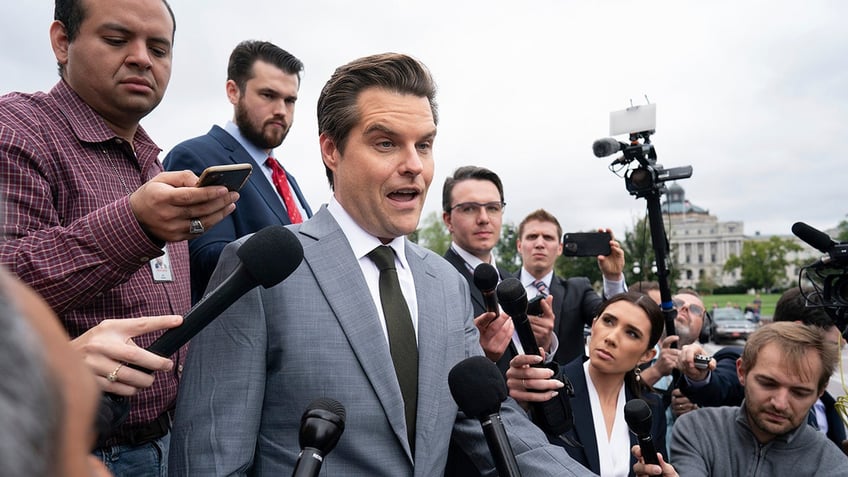 Rep. Matt Gaetz talks to reporters just after House Speaker Kevin McCarthy's last-ditch plan to keep the government temporarily open collapsed, at the Capitol, Friday, Sept. 29, 2023. (AP Photo/J. Scott Applewhite)
Such a gambit to try to bounce a speaker in the middle of a Congress is rare. Former Rep. Mark Meadows, R-N.C., threatened to use the tactic on House Speaker John Boehner, R-Ohio, in the summer of 2015. Boehner saw the writing on the wall and resigned that October. The House last saw a formal effort to remove a speaker in 1910. 
As the House currently has 433 members, if all members vote for someone by name in a speaker's race, the successful candidate must receive 217 votes. 
It's unclear how many Republicans may vote against that secondary motion to table or refer. McCarthy's move on government funding has inflamed many on the hard right. And it's unclear if Democrats could potentially assist McCarthy. Some McCarthy opponents on the Democratic side of the aisle may vote with Republicans wanting to bounce the speaker. Others may not participate in the vote at all. House Minority Leader Hakeem Jeffries, D-N.Y., has said Republicans must solve this civil war on their own. 
Also on CNN's "State of the Union," Rep. Alexandria Ocasio-Cortez, D-N.Y., said Sunday she would vote to recall McCarthy. 
Danielle Wallace is a reporter for Fox News Digital covering politics, crime, police and more. Story tips can be sent to This email address is being protected from spambots. You need JavaScript enabled to view it. and on Twitter: @danimwallace.