Conservative firebrand Rep. Matt Gaetz, R-Fla., and House Speaker Kevin McCarthy clashed on X following the former's effort to remove the latter from the speakership.
"Bring it on," McCarthy wrote immediately following Gaetz introducing a motion to vacate against him Monday evening, a move Gaetz had been threatening in recent days amid clashes between different wings of the Republican Party over a potential government shutdown.
Gaetz simply responded, "Just did."
MATT GAETZ INTRODUCES MOTION TO VACATE AGAINST HOUSE SPEAKER KEVIN MCCARTHY
Just did. https://t.co/zdQk3GblbV

— Matt Gaetz (@mattgaetz) October 2, 2023
Fox News Digital has reached out to the offices of Gaetz and McCarthy for comment.
Gaetz's move will force the House to take a vote on whether to keep McCarthy as speaker within two legislative days.
There are a number of members undecided on how they would vote on such a measure, but it's likely McCarthy will need at least some Democrat votes to keep his job. Democrats could be in a position to try and extract concessions from McCarthy for their votes.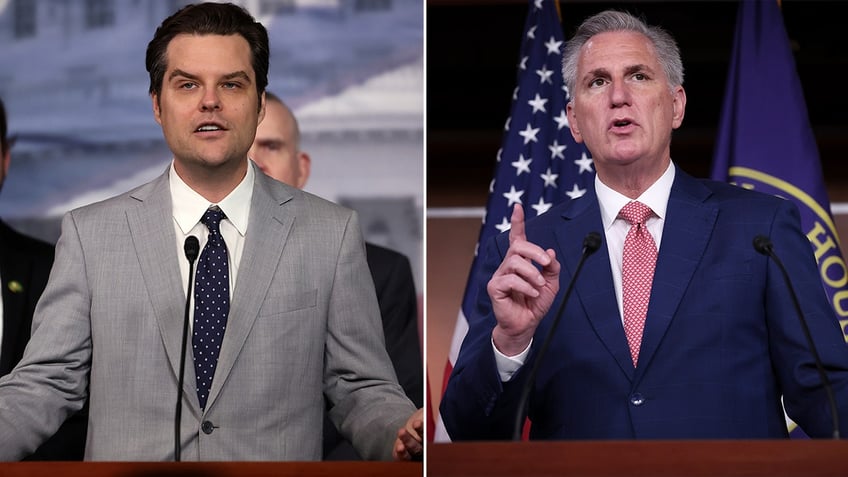 Rep. Matt Gaetz, R-Fla., and House Speaker Kevin McCarthy. (Kevin Dietsch/Getty Images | Photo by Win McNamee/Getty Images)
Rep. Thomas Massie, R-Ky., told Fox News following Gaetz's move that he believes a motion to vacate at this time is "a bad idea." Additionally, Rep. Andy Ogles, R-Tenn., told Fox he was undecided.
Brandon Gillespie is an associate editor at Fox News. Follow him on Twitter at @brandon_cg.