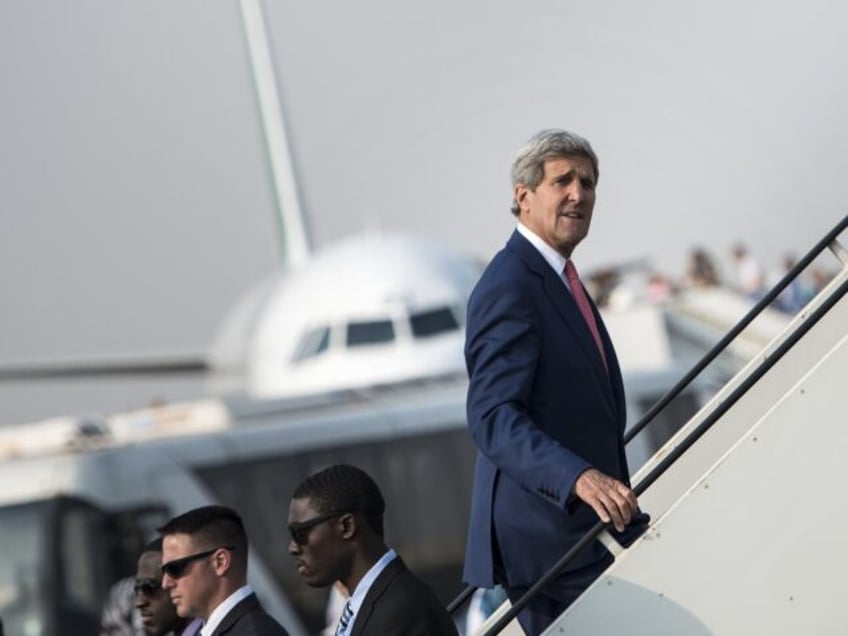 U.S. climate envoy John Kerry touched down in China on Sunday after flying to Beijing aboard a carbon-spewing jet for yet another series of talks with the world's single largest producer of greenhouse gases.
His flight comes just days after Kerry appeared before a congressional hearing and was roundly criticized for constantly jetting around the world trying to explain why other people shouldn't use jets.
The former senator and failed presidential candidate's trip to Beijing follows two other high-profile visits by U.S. officials — first Secretary of State Antony Blinken, then Treasury Secretary Janet Yellen — as part of the White House's desire to smooth relations with the Chinese Communist government ahead of the 2024 presidential election, as Breitbart News reported.
AFP reports Kerry will aim to use his time in Beijing to engage with Chinese officials "with respect to increasing implementation and ambition and promoting a successful COP28", the State Department said, referring to the U.N. climate talks in November.
As Breitbart News reported, Kerry is no stranger to long-haul flying in his job as Joe Biden's climate negotiator.
John Kerry said the "biggest thing" he's doing in his "lifestyle" to combat climate change "is traveling around the world, trying to do diplomacy" on climate. https://t.co/YJvPAe2q5S

— Breitbart News (@BreitbartNews) October 28, 2021
In 2021 alone Kerry took "48 trips lasting more than 60 hours and emitted an estimated 715,886 pounds, or 325 metric tons" since he first took the position in the Biden administration.
That figure has jumped since as Kerry shows no sign of stepping away from the private departure lounge canapés and cocktails just yet.
Kerry has spent years criss-crossing the globe, traveling to 30 countries to lecture governments, corporations, financial institutions, and citizens to tackle global temperatures.
His mission is to prevent temperatures from rising more than 1.5 Celsius above pre-industrial levels even as China shows no sign of falling out of love with coal-fired power generation.
FLASHBACK: John Kerry defends China, the world's single biggest emitter,  from criticism as he scolds the rest of the world to do more
In 2019, when he traveled on a private jet to Iceland to receive a climate change award, Kerry was asked why he chose to fly private.
He responded by noting his own self importance, saying private jets are "the only choice for someone like me."
"If you offset your carbon, it's the only choice for somebody like me who is traveling the world to win this battle," Kerry said.
Revealed: John Kerry, the U.S. special presidential envoy for climate, took a private jet to Iceland in 2019 to accept an environmental award. https://t.co/VfizY091WE

— Breitbart News (@BreitbartNews) February 4, 2021
China has pledged to peak carbon emissions by 2030 and achieve complete carbon neutrality by 2060 although its recent efforts seem to run contrary to Beijing's diplomatic statements.
President Xi Jinping has also said that the country will reduce its use of coal from 2026.
But in April, China approved a major surge in coal power — a move Greenpeace said prioritised energy supply over the emissions reduction pledge — fuelling concerns Beijing will struggle to ever deliver on its  ambitious targets as the rest of the world looks to ways to reduce dependence of fossil fuels.
Follow Simon Kent on Twitter: Follow @SunSimonKent or e-mail to: This email address is being protected from spambots. You need JavaScript enabled to view it.