China: 'Boycott Banter Will Be Extinguished' by Olympic Opening
Zhao Weidong, the spokesman for China's Beijing Winter Olympics Organizing Committee, said on Thursday that the opening ceremony for the Games would squelch all "banter" about boycotting the event to protest the Chinese government's human rights abuses.
"The so-called China human rights issue is a lie made up by people with ulterior motives," Zhao told Reuters on Thursday. 
In truth, China's concentration camps for the Uyghur Muslims of Xinjiang province can be seen from orbit, as Reuters itself has reported.
"I want to emphasize that the Olympics is a great spectacle for athletes and sports fans across the world. From the current situation, many countries and athletes have expressed their support for the Beijing Winter Olympics," Zhao declared.
"The opening ceremony is tomorrow. I believe that at the instance in which the Olympic flame is lit, all of this so-called boycott banter will be extinguished," he predicted.
Zhao added assurances that the Chinese government would be able to prevent Chinese coronavirus infections from spreading through the Olympic "bubble."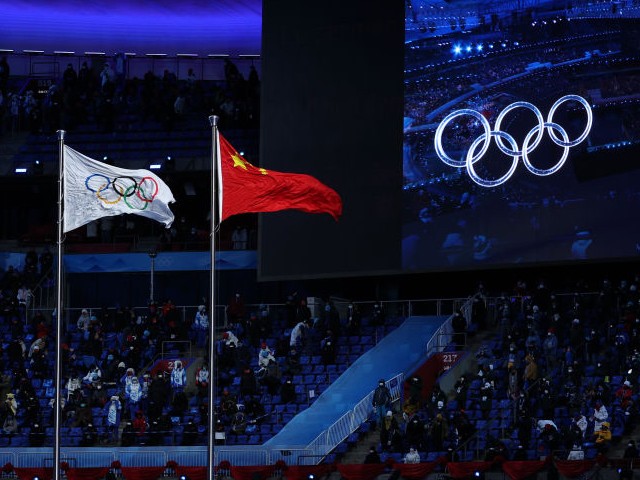 he IOC and Chinese flags are seen flying next to each other during the Opening Ceremony of the Beijing 2022 Winter Olympics at the Beijing National Stadium on February 04, 2022, in Beijing, China. (Photo by Lintao Zhang/Getty Images)
The only "boycott" of the Olympics organized by any civilized country so far has been a purely symbolic "diplomatic boycott" meant to express the displeasure of the U.S. and some allied governments with China's atrocities. The U.S., Australia, the U.K., Canada, Japan, and New Zealand have all announced they would not send high-ranking officials to the Olympics. 
India joined the diplomatic boycott on Thursday, at roughly the same time Zhao was predicting it would collapse, stung by China's insulting choice of a People's Liberation Army (PLA) soldier who fought Indian troops in a deadly hand-to-hand battle in 2020.
Some Olympic athletes said on Thursday they would boycott the opening ceremony but would still participate in the games. 
Some of these athletes said they would not announce they skipped the opening ceremony until after the Olympics were over, and they have safely returned home, fearing retaliation from the brutal Chinese regime. 
The small delegation from Taiwan openly announced it would not attend the opening or closing ceremonies last week, prompting the International Olympic Committee (IOC) to send a menacing letter to the Taiwanese demanding their participation. Chinese propagandists spent this week spreading rumors that the U.S. government was paying athletes from various countries to "disrupt" the Games.