Build Back Better Bill Targets Single-Family Homes in the Name of Affordable Housing
The Build Back Better Act, or the Democrats' social and environmental spending bill, includes financial incentives for state and local entities to change zoning laws, specifically those that would replace single-family homes with multi-unit properties to provide more "affordable housing."
Those financial incentives would come in the form of tax-payer-funded grants and tax credits.
On page 815 of the 2,468-page, $1.75 trillion bill, it reads:
The Secretary of Housing and Urban Development shall establish a competitive grant program for— (1) planning grants to develop and evaluate housing policy plans and substantially improve housing strategies; (2) streamlining regulatory requirements and shorten processes, reform zoning codes, or other initiatives that reduce barriers to housing supply elasticity and affordability.
Taxpayer-funded National Public Radio (NPR) titled its report on the bill, "Democrats are seeking largest ever investment in affordable housing."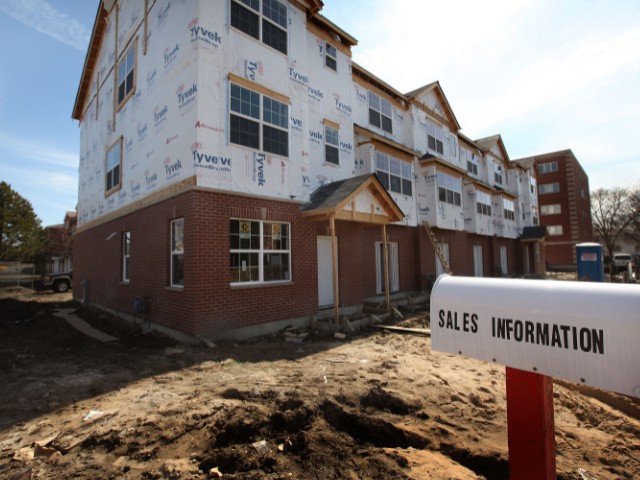 A multi-family condominium project under construction on March 16, 2011, in Des Plaines, Illinois. (Photo by Scott Olson/Getty Images)

That investment in affordable housing totals $150 billion.
NPR reported:
Local zoning rules often block the construction of smaller homes on smaller lots or affordable apartment buildings. So Price says the legislation is also trying to nudge states and localities to make zoning less restrictive.

He says the extent to which local governments become eligible for tax credits or direct assistance for housing construction can be determined "by the local practices with regard to the zoning, with regard to density."

So in other words, if a state or a town wants this federal money, they have a better chance of getting it if they change their zoning rules to allow for more affordable housing.
According to the National Association of Homebuilders' March 2021 study, 67 percent of home buyers would like to purchase a single-family detached home.
Follow Penny Starr on Twitter or send news tips to This email address is being protected from spambots. You need JavaScript enabled to view it..