As push for reparations gains steam, President Biden remains silent
President Biden is taking Black voters for granted and losing their support by remaining silent on – and not backing – reparations for Black Americans as a way to make amends for slavery and racism, according to pro-reparations activists who spoke to Fox News Digital.
"I believe the Biden administration's stance is emblematic of the Democratic Party's benign neglect of Black voters – ADOS [American descendants of slavery] voters more specifically," said Yvette Carnell, president of the ADOS Advocacy Foundation. "Black voters are whipped into a frenzy around election time, and Republicans are made into boogeymen who, as Biden himself said back in 2012, want to 'put y'all back in chains.' It's fear-mongering, rather than offering a reparations framework or a transformative Black agenda that we can actually get excited about."
Biden is facing increased pressure to use his authority to either support legislation or unilaterally enact proposals that would advance efforts to give out reparations, especially as the campaign for cities and states to pay reparations at a more local level gains major momentum across the country.
At the federal level, meanwhile, lawmakers have introduced their own measures. Most recently, Rep. Cori Bush, D-Mo., introduced a proposal in May to pay $14 trillion to compensate for what she believes are racist government policies that created a wealth gap between White and Black people. While critics have dismissed the proposal as absurd and unrealistic, supporters argue it sends an important message.
LEADING ACTIVIST SLAMS DEMS FOR DRAGGING FEET ON REPARATIONS: BLACK VOTE 'IS AN EXCHANGE, NOT A GIFT'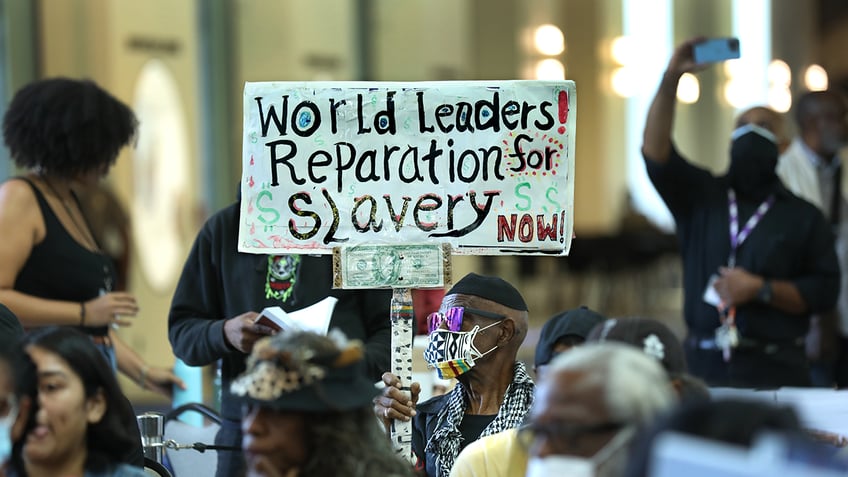 Longtime Los Angeles resident, Walter Foster, 80, holds up a sign as the Reparations Task Force meets at the California Science Center in Los Angeles, Sept. 22, 2022. (Carolyn Cole/Los Angeles Times via Getty Images, File)
"Congresswoman Bush's legislation challenges the notion that reparations for Black people have to wait for the right political moment and aren't feasible," said Dreisen Heath, an activist and reparations expert who for years worked as a researcher at Human Rights Watch. "The American public should read through the entire proposal to identify the long range of government sanctioned harms on Black America and how that has affected the healthiness of the country at large. Congresswoman Bush's proposal details the impacts of chattel slavery and living legacies such as environmental racism, lower life expectancy rates, maternal and infant mortality, over-policing, over-incarceration, and predatory lending."
Heath noted the $14 trillion figure didn't come from Bush, but was previously calculated by pro-reparations economists.
Less ambitiously, several Democrats in Congress have backed a bill establishing a commission to study and develop reparations proposals for lawmakers to consider implementing. However, Biden has largely been silent about such initiatives, and the White House didn't respond to multiple requests for comment this week to clarify the president's position on reparations and seek his response to critics claiming he needs to do more.
However, the White House has previously indicated Biden supports studying potential reparations for Black Americans but stopped short of saying he'd back a bill introduced in Congress that would create such a commission.
Last month, White House press secretary Karine Jean-Pierre repeatedly dodged a question concerning whether Biden would support financial reparations being paid to the descendants of Black slaves in the U.S.
In March, Jean-Pierre similarly failed to answer a question about whether Biden supports slavery reparations at a national level.
WHITE HOUSE REPEATEDLY DODGES QUESTION ON 'FINANCIAL' REPARATIONS FOR SLAVERY: 'WE'LL TAKE A LOOK AT IT'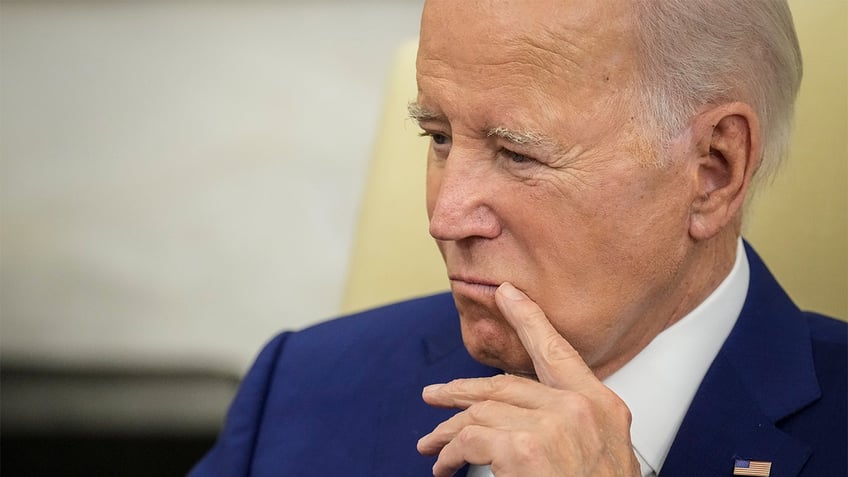 President Joe Biden meets with Swedish Prime Minister Ulf Kristersson in the Oval Office of the White House, July 5, 2023. (Drew Angerer/Getty Images, File)
Throughout this time, racial justice groups and some Democrats have been pushing Biden to establish a national reparations commission by executive order – so far to no avail. The lack of both words and action has led to frustration among those who support reparations.
"We are the base of the Democratic Party, and Biden told us very early on not to expect much movement on reparations," said Carnell. "That tells me he doesn't take the Black vote seriously. He takes it for granted… It's obvious to anyone watching that President Biden views the Black vote as a captured vote to which he doesn't owe any exchange."
Heath called on Biden to create a reparations commission by executive order, saying his lack of action is losing him support among Black voters. 
"The Biden administration can issue an executive order today setting up a federal reparations commission," she said. "Black voters continue to identify unkept promises from Biden and are less enthusiastic about his leadership because of what he has not delivered on, including reparations. The majority of Black Americans support reparations. Leaders have to be held accountable for unkept promises; they can't coerce support and then not deliver. It's that simple."
Heath explained that Biden ran on a campaign promise to address "systemic racism" and the "continuing impacts of slavery" by "supporting a study of reparations," noting multiple press secretaries have gone on record during the Biden administration to say the president supports a study of reparations.
"Given it's dead on arrival in Congress, Biden needs to act," she added. "The political gatekeeping of this issue is detrimental to the well-being of the Black community and the country at large."
WHITE HOUSE REFUSES TO SAY WHETHER BIDEN SUPPORTS REPARATIONS FOR SLAVERY, SAYS IT'S FOR 'CONGRESS TO DECIDE'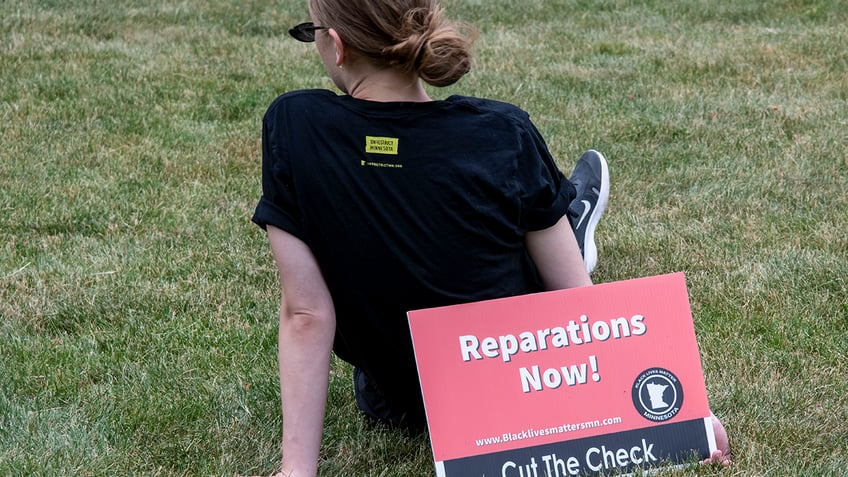 A protester during a march for reparations in Minnesota. Demands for reparations for African Americans have grown throughout the country in recent years. (Michael Siluk/UCG/Universal Images Group via Getty Images)
While many voices are demanding executive action by Biden, others argue he should instead focus on throwing his weight behind legislation.
"Executive orders are presidential directives and thus, typically too weak and limited to handle redress for slavery and its accumulated disadvantage," said Carnell. "I view calls for an executive order as just another dodge by reparations activists who refuse to push Congress to pass a reparations bill for Biden to sign."
Either way, reparations at the federal level appear stalled amid widespread Republican opposition, only partial support among Democrat lawmakers, and an unclear level of support from the president.
Still, pressure on Biden and the White House to act will likely mount as a growing number of localities add their names to the list of those actively pursuing reparations.
The latest example is Ann Arbor, home of the sprawling University of Michigan. Local outlet MLive.com obtained emails from city council members revealing they've been considering reparations for several months.
"As I previously shared with you, one of my main priorities on council has been to start a task force to help the city identify how we can pay reparations to our Black community," one council member wrote in a Jan. 23 email to a University of Michigan social work professor.
In Georgia, the Fulton County Board of Commissioners voted last week in favor of $210,000 in funding toward a reparations study to discern if reparations are necessary for some Fulton County residents who are descended from slaves.
REPARATIONS PUSH GAINS STEAM AS COMMUNITIES NATIONWIDE CONSIDER PAYMENT PLANS — AND NOT JUST FOR SLAVERY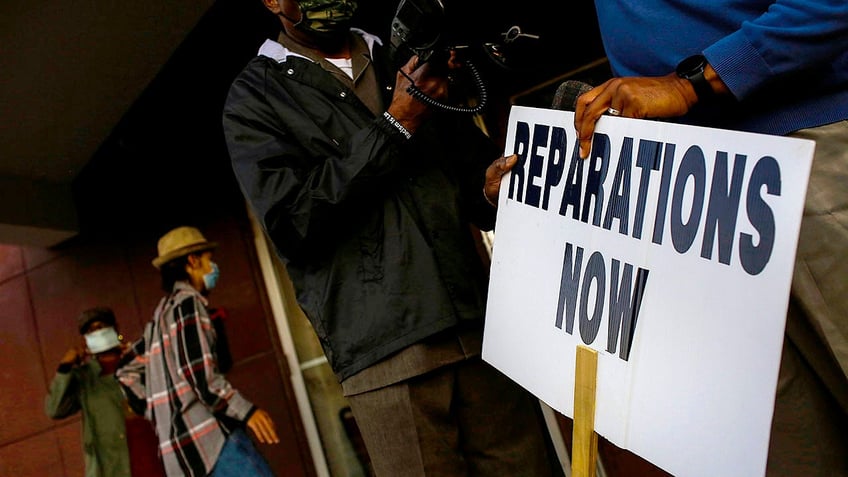 Vernon AME Church pastor Robert Turner holds a reparations now sign after leading a protest from City Hall back to his church in the Greenwood neighborhood, Nov. 18, 2020, in Tulsa, Oklahoma. (Joshua Lott/The Washington Post via Getty Images, File)
And in New York City, the Department of Health is reportedly pushing reparations as an answer to racial and wealth inequities among New Yorkers.
Across the country, several other towns, counties and cities have in recent months been considering or taken concrete steps to implement reparations. However, the Chicago suburb of Evanston recently took the unprecedented step of becoming the first city to actually start paying.
City staff have met with 48 recipients who are each eligible for the reparations, and 16 of them received payments this week, according to the Evanston RoundTable. The city expects to dole out the reparations to 140 mostly elderly residents by the end of this year out of about 75,000 total, officials told the Wall Street Journal.
Evanston had committed in 2019 to spend $10 million over 10 years on local reparations. Two years later, it became the first U.S. city of any size to fund reparations, specifically $25,000 for qualifying Black residents for home repairs, property down payments and interest or late penalties due on city property.
At the state level, meanwhile, the legislature in New York passed a bill last month that would create a commission to study the effects of slavery and racial discrimination in the Empire State and make recommendations for potential reparations, such as restitution payments from the government. The commission's recommendations would be non-binding, meaning the legislature would decide whether to take them up for a vote.
If Gov. Kathy Hochul signs the bill, New York would be the second state to establish a reparations commission, following California's lead.
BIDEN UNDER PRESSURE TO ACT ON REPARATIONS AS MOVEMENT TO MAKE AMENDS FOR SLAVERY GAINS STEAM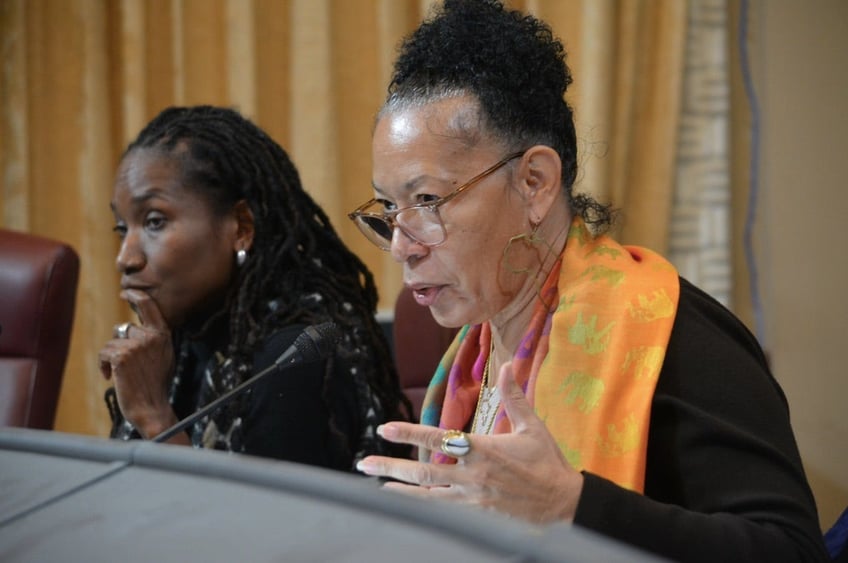 Cheryl Grills, right, and Lisa Holder, left, both members of the California Reparations Task Force (Screenshot from Twitter account of California Black Media)
Late last month, California's reparations task force released its final recommendations for the state legislature to consider and potentially send to the governor's desk to be signed into law.
In its approximately 1,000-page report, the task force proposed dozens of statewide policies and ways to calculate monetary reparations designed to redress slavery and historical injustices against Black Americans. The panel estimated the minimum dollar amount in harm that California has caused or could have prevented totals at least $1 million per eligible Black Californian.
Beyond cash payments, the task force recommended a variety of other reparations proposals, such as ending the prosecution of low-level crimes and mandating "anti-bias training" as a graduate requirement for medical school, among other measures.
CLICK HERE FOR THE FOX NEWS APP
Despite such momentum nationwide, critics argue reparations proposals tend to be fiscally unmanageable and would undermine the effort to create a colorblind society. Some have also said it doesn't make sense to have people who never owned slaves pay money to people who never were slaves as a way to atone for slavery. However, many activists and politicians argue the lingering effects of anti-Black discrimination remain.
"What an absolute shame that the federal government continues to hide behind its own crimes against humanity against Black people, instead of having the courage to repair the conditions it created," said Heath.
Aaron Kliegman is a politics reporter for Fox News Digital.