Alexandria Ocasio-Cortez says Bowman is cooperating with US Capitol Police
Rep. Alexandria Ocasio-Cortez tried to explain how, "in a moment of panic," fellow Democrat Rep. Jamaal Bowman pulled a fire alarm in a congressional office building, but she quickly pivoted to call out Republicans she says are "protecting" GOP Rep. George Santos, who is facing a 13-count federal indictment.
Ocasio Cortez, D-N.Y., appeared on CNN's "State of the Union" Sunday to address the actions of her fellow "Squad" member, at first trying to lay blame on the circumstances created by a vote to avert a pending government shutdown.
"I think there's something to be said that the government's about to shut down, there's a vote clock that's going down, the exits that are normally open in that building were suddenly closed..." Ocasio-Cortez begins to explain.
But host Jake Tapper jumps in: "So he pulled the fire alarm?"
'SQUAD' DEM JAMAAL BOWMAN OFFERS BIZARRE RESPONSE AFTER PULLING FIRE ALARM: 'OPEN THE DOOR'
The alarm-pulling happened Saturday on the same afternoon as the stopgap spending bill vote, which was intended to avert a government shutdown. 
Ocasio-Cortez cut off her explanation and responded that Bowman, D-N.Y., is "fully participating" with House administration and U.S. Capitol Police on what she called "a misunderstanding." 
Bowman is pictured on surveillance video appearing to pull the alarm in front of two closed doors.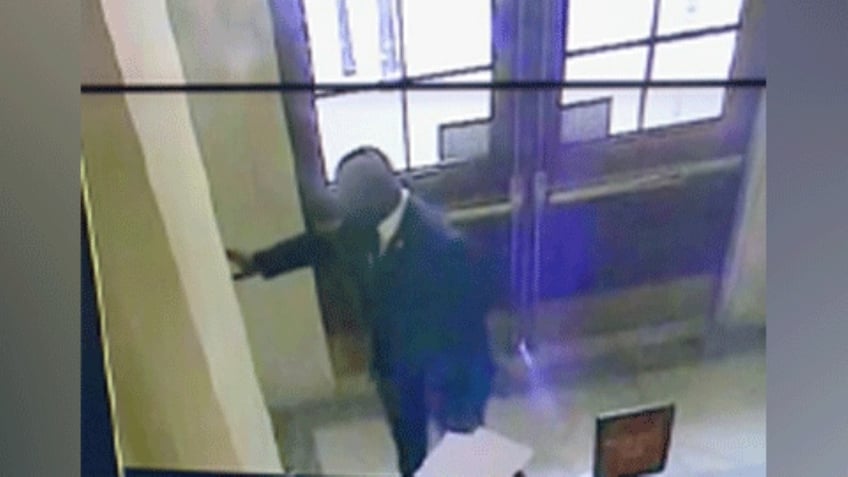 Bowman appeared to pull the alarm on Saturday as Republicans began voting on the stopgap bill to avert a government shutdown. (U.S. Capitol Police)
"I am embarrassed to admit that I activated the fire alarm, mistakenly thinking it would open the door," Bowman said in a statement released Saturday night, adding that he was urgently trying to get to a vote to keep the government open and not trying to delay the vote.
Statement from Congressman Jamaal Bowman. pic.twitter.com/v6qjdHNI7T

— Congressman Jamaal Bowman (@RepBowman) October 1, 2023
AOC TAKES AIM AT ELON MUSK, GOP LAWMAKER FOR 'JOYRIDE' AT SOUTHERN BORDER
He said he regrets and apologizes for any confusion his action caused.
After responding to Tapper's question, Ocasio-Cortez launched into an attack on Republicans, blasting them as hypocrites for apparently seeking to expel Bowman while "protecting" Santos, R-N.Y., who is facing an indictment centered on charges of money laundering and lying to Congress in an earlier financial disclosure.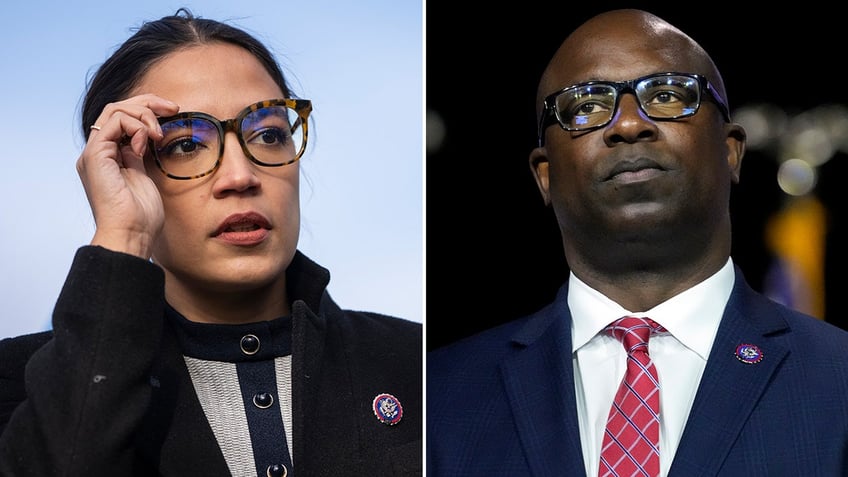 Ocasio-Cortez jumped to Rep. Jamaal Bowman's defense Sunday after her fellow "Squad" member pulled a fire alarm in a congressional office. (Drew Angerer/Getty Images | AP Photo/John Minchillo)
"But they're filing a motion to expel a member who in a moment of panic was trying to escape a vestibule," she said of Bowman. "Give me a break." 
"[Bowman] apologized," Ocasio-Cortez continued, referencing her colleague's statement. "And [Republicans] are protecting someone who has not only committed wire fraud, not only defrauded veterans, not only lied to congressional investigators, but is openly gloating about it, is absolutely humiliating to the Republican caucus." 
The congresswoman concluded that Republicans "should really check their own values."