Iran is relishing its pay raise from Team Biden's policies
While Americans have not received the bump to their budgets promised under "Bidenomics," Iran is relishing its pay raise from the Biden administration's policies.
A five-year high in oil exports has filled Iran's coffers, despite the U.S. claiming to have sanctions on the regime. Not to mention the $6 billion the administration greenlit in response to the terror state's hostage "diplomacy." This summer, the Islamic Revolutionary Guard Corps Quds Force (IRGC-QF), a Foreign Terrorist Organization, raised some of its proxies' salaries by 13 percent. This means that the IRGC-QF, and its proxies, have ample support to kill Americans, attack our partners, and threaten the region.
These developments matter deeply to American security at home and our allies and partners in the Middle East, several of whom are only separated by a narrow body of water from the world's leading sponsor of terrorism.
On this third anniversary of the Abraham Accords, the most significant advancement to peace in the Middle East, we are reminded of the need to strengthen our partnerships in the face of increasing Iranian aggression.
CLICK HERE FOR MORE FOX NEWS OPINION
Aristotle once said, "A common danger unites even the bitterest enemies." That is true of the Abraham Accords. Their very foundation is a common interest in security, one that has supported flourishing ties, from free trade agreements to advancements in inter-faith dialogues. These breakthroughs epitomize the seismic changes we are now seeing throughout the Middle East as U.S. partners work together to deter terrorism.
As a member of the Senate Armed Services Committee and a combat veteran who served in Iraq and Kuwait, I deeply understand the importance of the Accords. It's why I co-founded the Senate Abraham Accords Caucus which has been a driving force behind my bipartisan legislation to bring our partners together, and we have already had incredible success.
SEN. TOM COTTON: BIDEN'S HORRIBLE IRAN DEAL WILL LEAD TO MORE HOSTAGE TAKING
Last year, all eight of the Caucus co-chairs, across party lines in both the House and the Senate, came together to support my DEFEND Act, which works with our partners to build an integrated air and missile defense system to take on the threat posed by Iran and its violent proxies. Since becoming law, we have already seen progress, which is why we are advancing the MARITIME Act to direct similar integration at sea, which is increasingly important as Iran ramps up its marine aggression.
While Congress can advance the foundation of the Accords, we cannot legislate the president into projecting strength.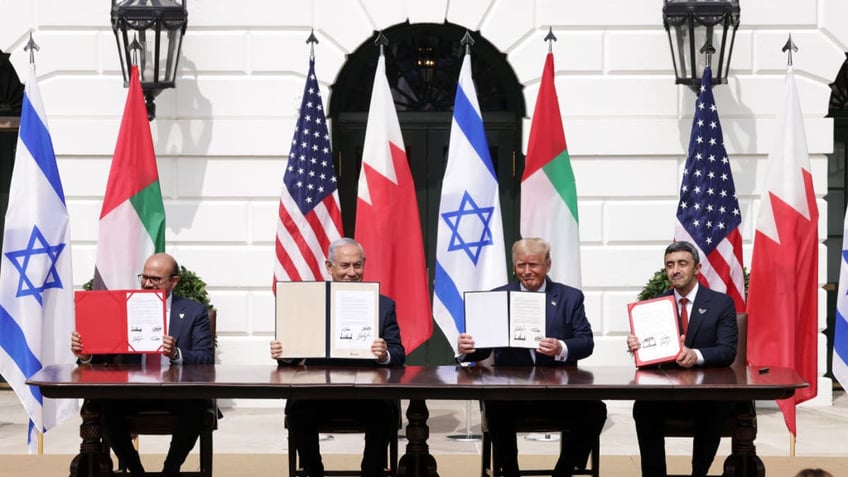 WASHINGTON, DC - SEPTEMBER 15: (L-R) Foreign Affairs Minister of Bahrain Abdullatif bin Rashid Al Zayani, Prime Minister of Israel Benjamin Netanyahu, U.S. President Donald Trump, and Foreign Affairs Minister of the United Arab Emirates Abdullah bin Zayed bin Sultan Al Nahyan participate in the signing ceremony of the Abraham Accords on the South Lawn of the White House on September 15, 2020 in Washington, DC. Witnessed by President Trump, Prime Minister Netanyahu signed a peace deal with the UAE and a declaration of intent to make peace with Bahrain.  ((Photo by Alex Wong/Getty Images))
This summer, frustration with the Biden administration's failure to enforce the law on Iran's illegal seizure of an oil tanker traveling between two United Arab Emirate (UAE) ports caused the UAE – a U.S. partner – to stop engaging with the U.S.-led maritime forces in the region. This is a clear example of how an Iranian appeasement strategy threatens the breakthroughs we have achieved and even moves the historic Abraham Accords backwards.
This is why I have been leading bipartisan oversight in the Senate to advance the Accords and am demanding that this administration deter aggression and project American strength. Step one in achieving this is for the U.S. to enforce the law and seize more Iranian illicit oil, which, despite our sanctions, has continued to grow in quantity.
Three years into the Abraham Accords, we cannot fail to protect this historic agreement, but this administration's attempt to pander to Tehran in pursuit of a flawed nuclear agreement would roll back the very sanctions we must enforce, further endangering the region and placing more U.S. resources and assets at risk.
We have witnessed greater stability in the region due to the once-impossible partnerships created and sustained by the Abraham Accords. The Biden administration must not allow the progress to unravel.
If the Abraham Accords are a shield, our sanctions enforcement must be a sword.
CLICK HERE TO READ MORE FROM SEN. JONI ERNST
Joni Ernst, a native of Red Oak and a combat veteran, represents Iowa in the U.S. Senate.