New Jersey Democrat Sen. Bob Menendez was indicted on federal bribery charges on Friday
The federal indictment against Sen. Robert Menendez, D-N.J., of bribery is devastating. The senator enjoys the presumption of innocence, and an indictment only reflects the government's side of the case, but the indictment contains a level of detail and a description of official acts taken by the senator that will be difficult for the defense to overcome and likely impossible for the senator to overcome politically. 
Sen. Menendez may have nine lives, but perhaps he used up eight of them successfully defending the last corruption case against him, in 2017. 
This indictment paints a picture of old-school, politician-on-the-take corruption. There is little nuance to envelopes of cash – nearly $500,000 worth – a new Mercedes-Benz convertible, a no-show job, and in a throwback to another era, $150,000 worth of real gold bars found at his house during an FBI search in June 2022. It is surprising that they did not also find a Tommy Gun, just to complete the picture. 
MENENDEZ DEFIANT AS GROWING CHORUS OF DEMOCRATS CALL FOR HIS RESIGNATION
More important than the image of these valuables is how Sen. Menendez and his wife, Nadine (also charged in the indictment), came to possess them. 
Nadine Menendez started dating the senator in February 2018. Among the things she brought into the relationship was her longtime friendship with Will Hana, a New Jersey businessman of Egyptian descent, who maintained close ties with Egyptian officials. Hana, along with his associates, Jose Uribe and Fred Daibes, are all codefendants with Senator and Mrs. Menendez. 
They immediately put the senator to work.  The indictment describes numerous official actions taken by Sen. Menendez beginning in March 2018, and valuable items bestowed upon him and Nadine close enough in time to create a strong inference of a quid pro quo. 
Texts between Nadine Menendez and Hana, Uribe and Daibes, tie the bribery allegations together tightly, as do details such as fingerprints and/or DNA of Daibes or his driver appearing on the envelopes of cash found in the Menendezes' house; a Google search performed by Sen. Menendez for "kilo of gold price"; and Hana purchasing 22 gold bars two days after the senator met with him and an Egyptian official -- and two of those gold bars subsequently being found in the Menendezes' home.
DEMOCRATIC SEN. BOB MENENDEZ FACING INDICTMENT ON BRIBERY CHARGES
Bribery cases have become more difficult for the government to bring in recent years. In the case against former Virginia Gov. Bob McDonnell, the Supreme Court narrowed the definition of what constitutes an "official act" to support a bribery conviction against a government official.  Specifically, the Court observed that "setting up a meeting, calling another public official, or hosting an event does not, standing alone, qualify as an 'official act.'"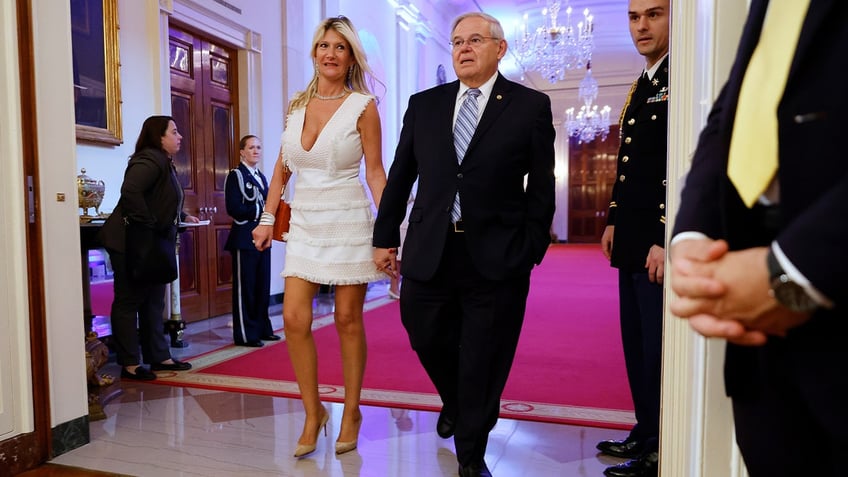 U.S. Senate Foreign Relations Committee Chairman Bob Menendez (D-NJ) and his wife Nadine Arslanian arrive for a reception honoring of Greek Prime Minister Kyriakos Mitsotakis and his wife Mareva Mitsotakis in the East Room of the White House on May 16, 2022 in Washington, D.C.  (Chip Somodevilla/Getty Images)
Further, for purposes of establishing bribery in an honest services fraud prosecution, the Court concluded, an "official act" requires a public official to "make a decision or take an action," or agree to do so, on a "question, matter, cause, suit, proceeding or controversy."
DEMOCRATIC SEN. BOB MENENDEZ STEPS DOWN 'TEMPORARILY' AS CHAIRMAN OF SENATE FOREIGN RELATIONS COMMITTEE
The actions Sen. Menendez is alleged to have taken for the benefit of Hana, Uribe and Daibes, if proven, clearly surpass the bar set for bribery in the McDonnell case.  Indeed, they represent classic, even extreme, illustrations of how a senator might sell out his office if he were so inclined, for example:
Misusing his position as chairman of the Senate Foreign Relations Committee to release a two-year hold on military aid to Egypt over human rights issues, in exchange for a low- or no-show job for his then-girlfriend, Nadine;
Intervening with the Department of Agriculture to try to convince Agriculture (unsuccessfully) to reverse its objection to, and efforts to have Egypt reconsider, Hana's company having a monopoly on making halal compliance certifications on U.S. exports to Egypt, in exchange for Hana's company paying $23,000 to bring Nadine Menendez's mortgage current, thereby avoiding foreclosure;
Contacting and meeting with a high-ranking official in the New Jersey Attorney General's Office to try to persuade that official to resolve an open criminal investigation into Uribe's companies in a favorable way for Uribe, in exchange for a new Mercedes Benz convertible;
Trying to interfere with an ongoing prosecution of Daibes by tying his support for a candidate for New Jersey U.S. Attorney to a belief that that candidate would resolve the case favorably for Daibes, and by contacting the First Assistant United States Attorney, in exchange for an envelope of cash and two gold bars.
These official actions that the New Jersey Democrat took in exchange for this treasure go to the heart of his responsibilities as a senator and would reflect an astounding betrayal of his oath of office. 
NEW JERSEY GOV. PHIL MURPHY CALLS ON SEN. MENENDEZ TO RESIGN FOLLOWING INDICTMENT
Interference with ongoing criminal investigations is "third-rail" stuff for elected officials, and manipulating foreign military aid can have profound policy implications. 
It does not appear that the senator will be able to credibly characterize these official actions as benign "constituent services."
CLICK HERE FOR MORE FOX NEWS OPINION
Sen. Menendez has faced corruption charges before. In 2015, he was alleged to have accepted close to $1 million worth of lavish gifts and campaign contributions from Salomon Melgen, a Florida ophthalmologist. Melgen was involved in a billing dispute with Medicare, and Senator Menendez allegedly used his staff to try to advocate on Melgen's behalf, among other favors for Melgen.
That case resulted in a hung jury after Sen. Menendez emphasized in his defense that he had a longtime genuine friendship with Melgen, and then decoupled Melgen's largesse from his official actions – "just friends helping friends," went the defense theme. 
The present case involves several significant differences from the Melgen matter: Sen. Menendez does not have a longtime friendship with Hana, et al.; the official actions he took on their behalf were far more consequential; and the items of value he received from them were far more scandalous than the vacations he took with his pal Dr. Melgen.
Bottom line: It will be difficult for him to prevail with the same playbook this time around.
CLICK HERE TO READ MORE FROM SCOTT A. COFFINA
Scott A. Coffina is a former Assistant United States Attorney, State Prosecutor, Associate Counsel to President George W. Bush, and Senior Deputy Chief Counsel to Governor Chris Christie.  He is currently in private practice at Pietragallo Gordon Alfano Bosick & Raspanti, LLP.