The animals wrestled for over two hours — and here's what happened in the end
6341180883112
A tour group got quite the sight in the wilds of Tanzania while standing just a few feet away from an animal attack in progress.  
Kristen Torres, owner of the Born to Dream tour guide company, was leading a group along the Mara River in Tanzania when she spotted a wildebeest under attack by a large crocodile. 
Torres said the wildebeest was trapped between two boulders in the river and was trying to make its way back to the shoreline when the crocodile emerged and clamped down on its body, she told SWNS, the British news service.
HORSE GOES VIRAL ON TIKTOK FOR FUNNY DANCE MOVES AS OWNER SAYS 'TWINKLE' IS A 'REAL CHARACTER'
"This wildebeest was caught between two boulders and was being trampled a bit," she said. 
Crocodiles typically grab their prey and spin the animals into the water in an effort to drown them, said the tour guide.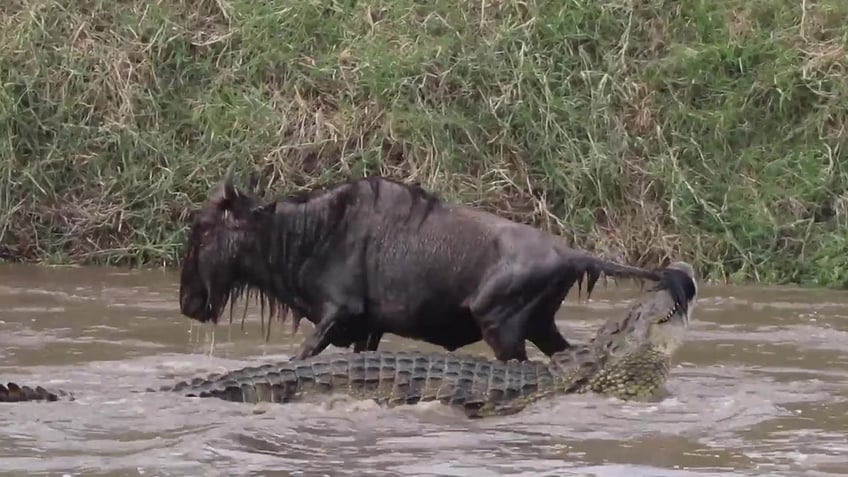 A wildebeest is shown struggling amid a crocodile's dramatic attack in the Mara River in Tanzania in East Africa. (SWNS)
But this crocodile and this situation were different — as the croc kept biting and then let go. 
That gave the wildebeest some wiggle room. 
UTAH TODDLER, AGE 2, RIDES HORSES AS FAMILY CLAIMS SHE'S A 'HORSE WHISPERER' WITH A SPECIAL TOUCH
"The wildebeest would escape and move on, and then the [crocodile] would attack again," Torres said, as SWNS reported. 
"The fight carried on for about two hours — and we believe it was more of a territorial issue for the crocodile rather than being hungry," she said.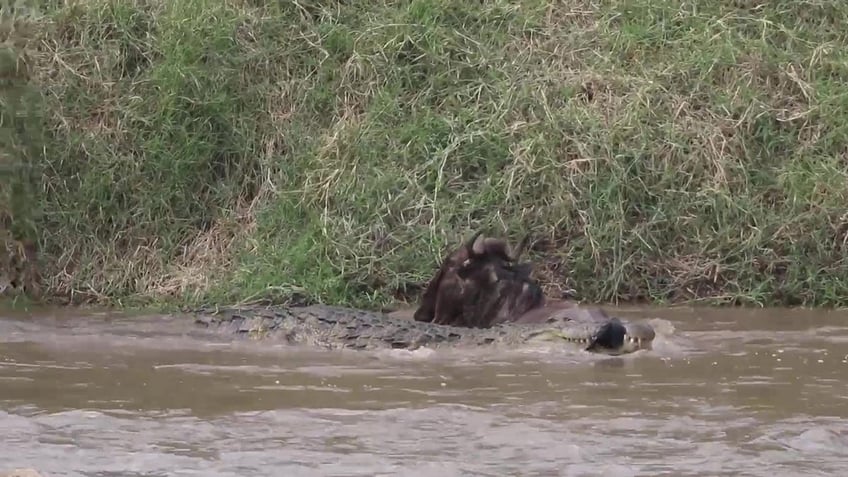 Kristin Torres was leading a tour along the Mara River in Tanzania when a wildebeest became trapped near the shoreline — and then faced a crocodile attack. (SWNS)
Finally, after the dramatic struggle, the wildebeest was able to make it back to the shoreline.
Torres said such attacks are common on the river — but never easy to watch.
"As many times as I have seen attacks and hunts, it is never easy," she said. 
UTAH HORSE RETURNS HOME TO OWNER AFTER 8 YEARS OF RUNNING WITH WILD MUSTANGS: 'IT'S A MIRACLE'
"Although tough to witness, excitement is always there."
Born to Dream offers guided tours through all the parks in Tanzania, the Serengeti, Lake Manyara, Tarangire, Kilimanjaro, Gombe and more, as SWNS reported.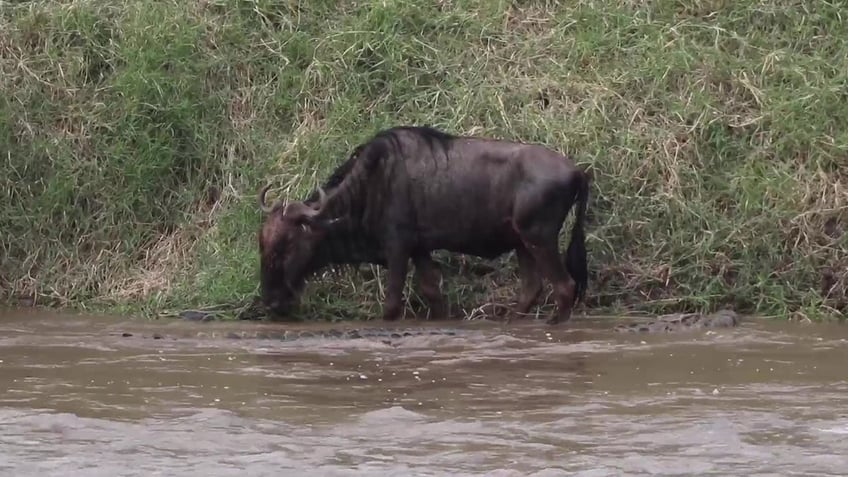 A determined wildebeest managed to climb to its feet and wrestle itself away from the aggressive predator — stepping out of the water to safety. (SWNS)
"All of the national parks are so incredibly different and unique, we feel it's important for clients to have a good variety of what Tanzania has to offer," she said. 
CLICK HERE TO SIGN UP FOR OUR LIFESTYLE NEWSLETTER
As her LinkedIn profile notes, "With 22 national parks, Tanzania is where you'll get breathtakingly close to African wildlife on a mobile safari."
She also says there, "You'll experience breathtaking scenery, see millions of animals crossing the Mara River, watch the endangered black rhino, explore the Maasai culture, spot the Big 5, see elephants and giraffes up close, experience chimpanzee trekking, spot tree-climbing lions and so much more."
For more Lifestyle articles, visit www.foxnews.com/lifestyle.
Brittany Kasko is a lifestyle production assistant with Fox News Digital.