TikTok users are swinging condiment bottles 360 degrees to release stuck sauce, prompting physics debate
TikTok users are getting a physics lesson with various condiment and sauce bottles, and they've been sharing before and after videos of how they've successfully gotten products unstuck.
Casey Rieger, a highly followed content creator and producer from Los Angeles, is one of the latest to test the "life hack" with a bottle of ketchup.
"OK, I saw someone do this on TikTok and I thought it was genius. So, I'm going to give it a try," she said at the start of her 24-second video, which was uploaded under her handle, @caseyreiger, on August 30.
VIRAL KITCHEN HACK SHOWS HARD BUTTER CAN BE MADE SPREADABLE WITH THIS UNEXPECTED TOOL
"You know when you want the last bit of ketchup – and you just – most people hit it on their palm," Rieger continued while she hit the closed bottle's mouth on her opened hand.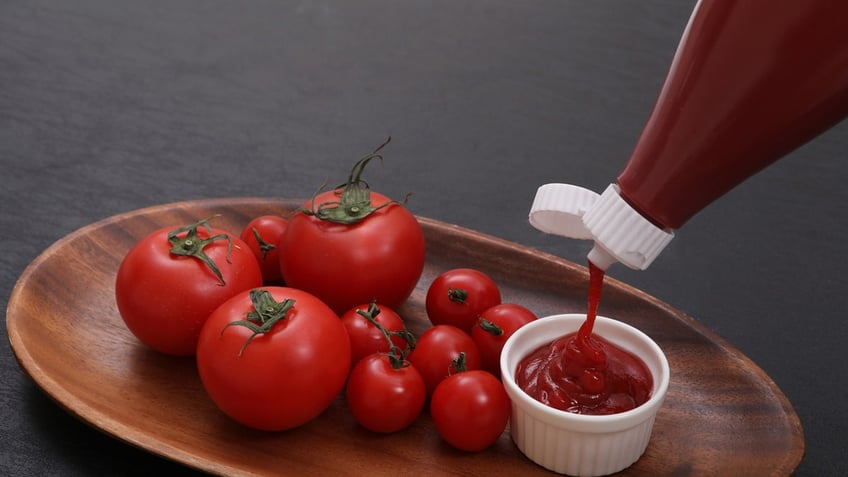 Content creators on TikTok have been sharing how they get stuck ketchup to move from the bottle base to the bottleneck, and it involves a swinging arm. (iStock)
Rieger told her followers there's another way to get the ketchup that's stuck at the bottom of the bottle to the bottleneck.
She took a step away from her camera and proceeded to spin her left arm in a counterclockwise motion as she held the ketchup bottle from its base.
Rieger swung the bottle seven times before she showed her TikTok followers that the movement pushed the condiment down the bottleneck.
"How cool is that, right? How cool is that?" she asked her followers.
MOM ON INSTAGRAM SHOWS TAPPING EGGSHELLS BEFORE BOILING MAKES PEELING EASIER: DO YOU KNOW THIS VIRAL HACK?
Fox News Digital reached out to Rieger for comment.
Rieger's demonstrative test video has gone viral with over 22.6 million views, 2.3 million likes and 27,300 comments.
While the condiment bottle life hack has been tested and documented by others in recent years, it appears many people didn't know a swinging motion could push a condiment or sauce up.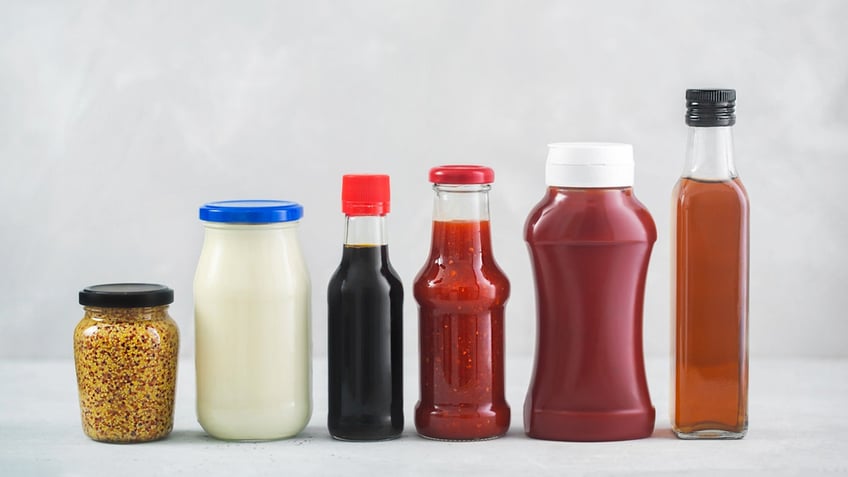 Social media users have tested the bottle-swinging hack when their sauce or condiment bottles run low. (iStock)
On TikTok, the video Rieger uploaded has been shared more than 687,200 times and saved more than 250,700 times.
AIRHEADS CANDY CHALLENGE GOES VIRAL AS TIKTOK USERS DISCOVER THEY'VE BEEN EATING IT 'INCORRECTLY'
Commenters have been divided about Rieger's ketchup bottle hack, but most seem to find the video funny.
"I would probably forget to check the lid and repaint my kitchen with ketchup," the post's top commenter wrote, which earned over 94,000 likes.
"My shoulder would never work again. LOL," another commenter wrote, which received 24,000 likes.
"I don't know what I was expecting...but it wasn't this," another TikTok user wrote.
'GENIUS' FRENCH FRY ORDERING HACK SEEMINGLY MAKES EATING IN CARS EASIER, VIRAL VIDEO SHOWS
"Imagine seeing someone do this at a restaurant," another user wrote.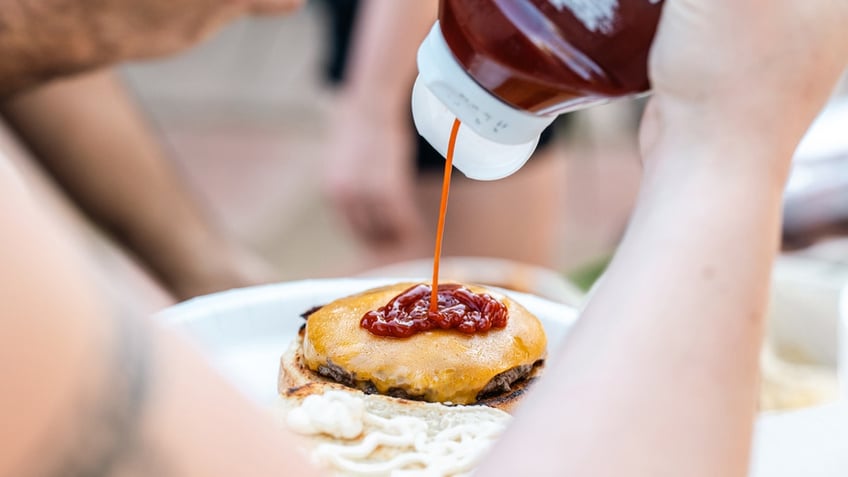 While spinning ketchup and other condiment bottles to free up stuck sauce appears to work, some question if it's practical to do outside the home. (iStock)
Commenters who weren't impressed with the ketchup bottle hack argued that the swinging method isn't necessary if the bottle was stored upside down.
"Life hack: store it on the lid like you're supposed to," one TikTok user quipped.
"That's no fun. Gotta do the Elvis," another user replied.
FIREFIGHTERS REVEAL HOW DEEP-FRYING FROZEN THANKSGIVING TURKEYS POSES EXPLOSIVE RISKS
Others TikTok users wrote that they plan to do this trick when their shampoo and conditioner bottles are low.
Several commenters claim they've always spun bottles to get the full amount of product, and many believe the phenomenon happens due to centrifugal force.
Centrifugal force is "the apparent force that is felt by an object moving in a curved path that acts outwardly away from the center of rotation," according to the Merriam-Webster dictionary.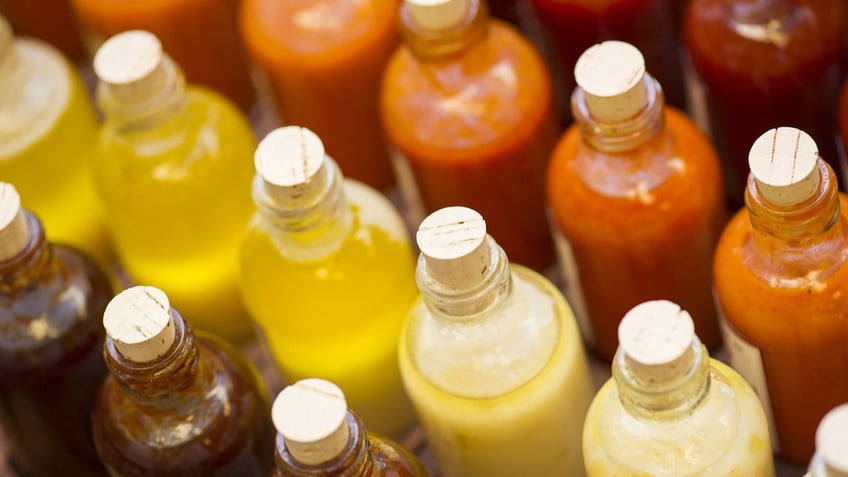 Social media users have tested out the bottle-swinging hack to free up and gather a variety of sauces and condiments when the product is stuck at the bottom of the bottle. (iStock)
Other TikTok users who have tested out the bottle hack in the last year have also credited centrifugal force as the reason. One video posted by a Canadian food blogger who calls himself East Coast Eater showed him spinning a bottle of hoisin sauce in a plastic bag.
"This is also good for when you don't have a lot left in a bottle," East Coast Eater wrote in his TikTok post on April 7. "The centrifugal force pushes the majority of the liquid to outer point - just means you don't have to hit your ketchup bottle from base to get like two drops out of it."
CLICK HERE TO SIGN UP FOR OUR LIFESTYLE NEWSLETTER
Similarly, TikTok user Julia Ryann posted a video on March 2, which shows her spinning a bottle of barbecue sauce.
"Me every time I see a nearly empty condiment bottle after learning about centrifugal force," she wrote in a text-to-speech overlay.
"Do I look crazy? Yes. Does it work? Yes," Ryann wrote in her video caption.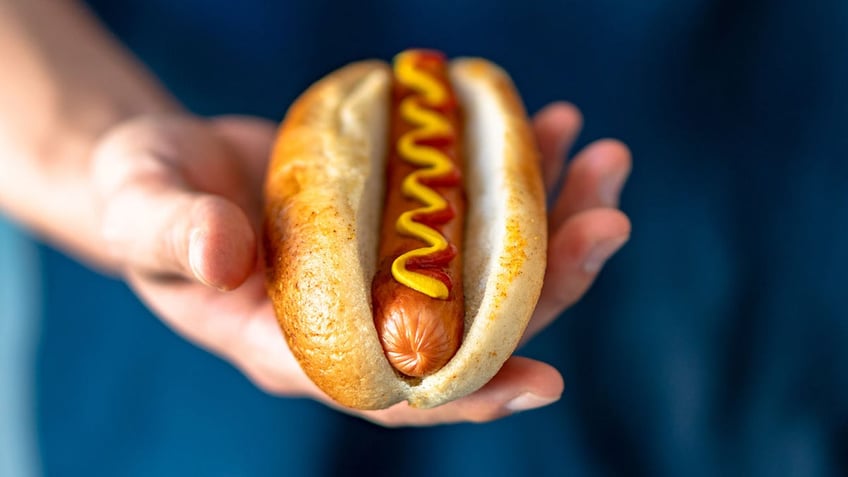 People on TikTok are showing what appears to be a unique way to get sauces like ketchup unstuck from the bottom of a bottle. TikTok user Casey Rieger's video has been viewed more than 22 million times since its upload. (iStock)
Fox News Digital reached out to East Coast Eater and Ryann for comment.
FOLLOW US ON FACEBOOK FOR MORE FOX LIFESTYLE NEWS
Some TikTok users have argued or questioned if centripetal force is the force responsible for the movement of condiments and sauces in bottles.
Centripetal force is similar to centrifugal in that it's a force that keeps an object "moving in a curved path," but it's "directed inward toward the center of rotation" instead of outward, according to Merriam-Webster.
Despite the debate, most social media users seem to be satisfied that their bottle-swinging ways aren't being done in vain.
Cortney Moore is a lifestyle writer on the Lifestyle team at Fox News Digital.