Former strangers Jamal Hinton and Wanda Dench of Arizona will spend Thanksgiving 2023 together
Two strangers from Arizona who went viral in 2016 after a text message that was sent to the wrong number resulted in a Thanksgiving invite will now spend their eighth consecutive turkey feast together.
Many Americans have watched the story unfold over the years as Jamal Hinton of Phoenix continues posting on X about his lasting friendship with Wanda Dench.
Hinton and Dench's story first gained national attention nearly a decade ago, when Dench accidentally texted Hinton an invitation to Thanksgiving dinner. Dench had meant to send the message to her grandson.
THANKSGIVING QUIZ!: HOW WELL DO YOU KNOW THESE SURPRISING FACTS ABOUT THE ANNUAL HOLIDAY?
Hinton realized Dench's 2016 text was a mistake after she sent a photo of herself to confirm whether she was Hinton's actual grandmother.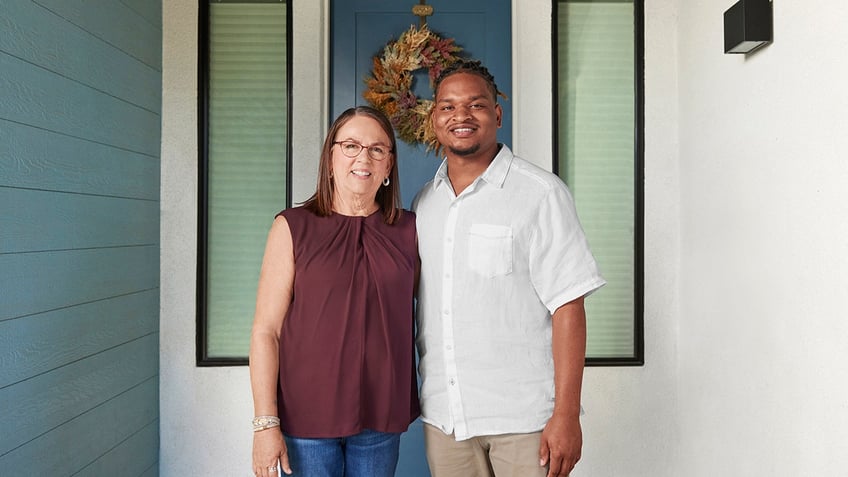 Wanda Dench and Jamal Hinton of Phoenix have shared Thanksgiving dinners, first tattoos and Super Bowl celebrations over the years. (Thomas Ingersoll)
"[You're] not my grandma," Hinton replied with a laughing emoji.
Hinton sent back a selfie, so Dench knew he was not her grandson — but she asked if he could stop by for dinner anyway. 
Dench then welcomed him with open arms.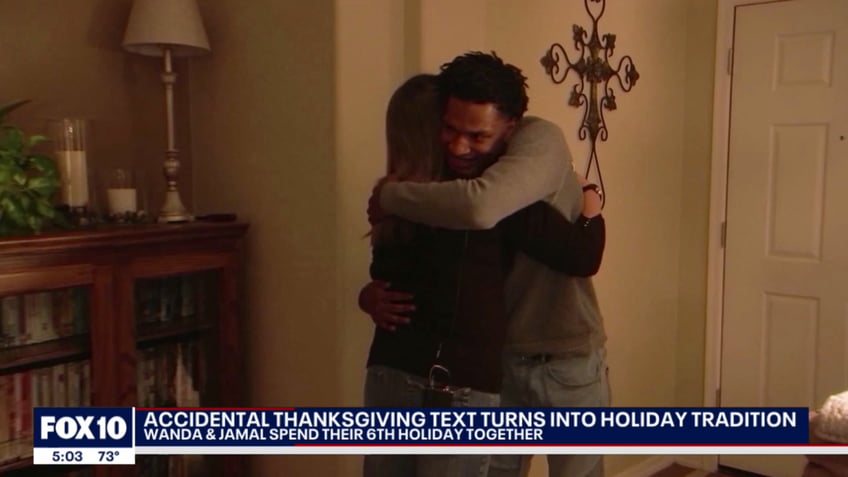 Hinton and Dench have not missed celebrating a Thanksgiving holiday together since 2016. (FOX 10 Phoenix)
This year, the pair joined forces with Airbnb to open Dench's home to other people who want to share in the Thanksgiving tradition. 
"Exciting news, guys — our Thanksgiving year 8 plans are with you!" Hinton shared on X, along with a photo of himself alongside Dench. 
"With @airbnb's help, we're hosting you and a friend at Wanda's home this year."
ARIZONA GRANDMA, MAN SHE MISTAKENLY TEXTED, TO SHARE THANKSGIVING FOR 7TH STRAIGHT YEAR SINCE 2016
A room had been listed on Airbnb; it was in Dench's home, located in Prescott Valley, Arizona, so that one lucky booker could spend Thanksgiving with the Turkey Day celebs.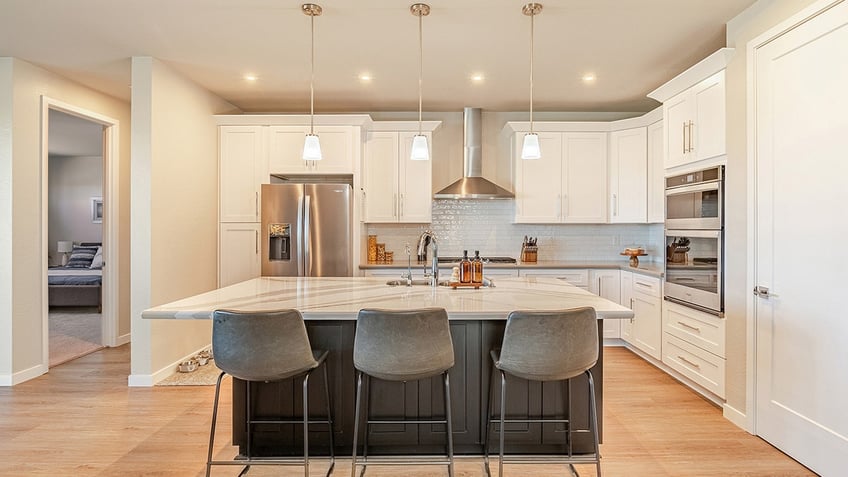 The Airbnb booking is now closed, though the person who did book the spot will enjoy a Thanksgiving dinner with the former strangers who initially went viral in 2016. (Ethan Maurice)
"Some may recognize us from our viral text mishap that led to our first Thanksgiving together back in 2016. And eight years later, we're practically family," the Airbnb listing states.
It goes on, "To commemorate our lasting friendship, we're excited to become Airbnb hosts and welcome new guests into our holiday tradition, creating meaningful connections in the process."
5 LITTLE-KNOWN FACTS ABOUT THANKSGIVING TURKEY FROM REGISTERED DIETITIANS
The booking, which is now closed, includes a seat at Hinton and Dench's annual Thanksgiving table with a traditional dinner — plus a night of playing board games, enjoying holiday movies and taking part in Hinton and Dench's annual selfie.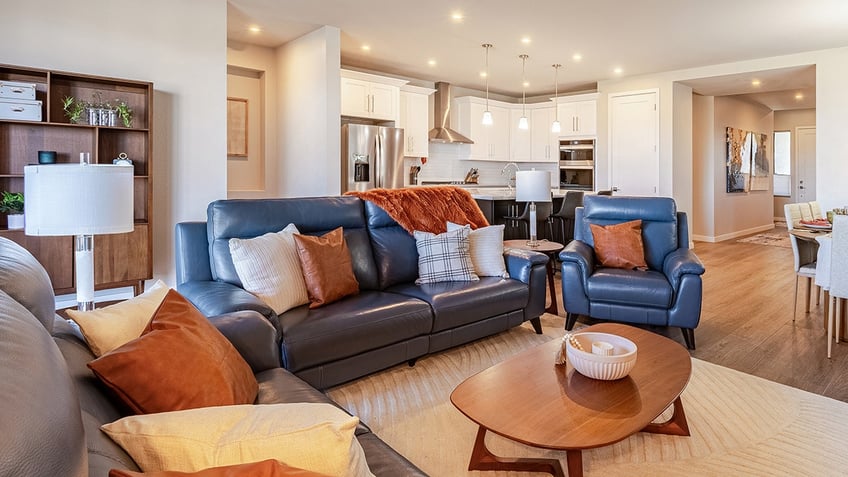 The person who booked the room through Airbnb will share a living room with Wanda Dench and Jamal Hinton. The pair went viral in 2016 after a text message was sent by mistake; it led to an ongoing holiday tradition that many Americans have followed over eight years. (Ethan Maurice)
The experience will also include "exchanging stories" and "heartwarming memories while creating new ones together," an Airbnb representative told Fox News Digital.
'BEST HOMEMADE' THANKSGIVING TURKEY GRAVY THE WHOLE FAMILY WILL LOVE: TRY THE RECIPE
Fox News Digital reached out to Hinton and Dench through Airbnb, though both were unavailable for comment.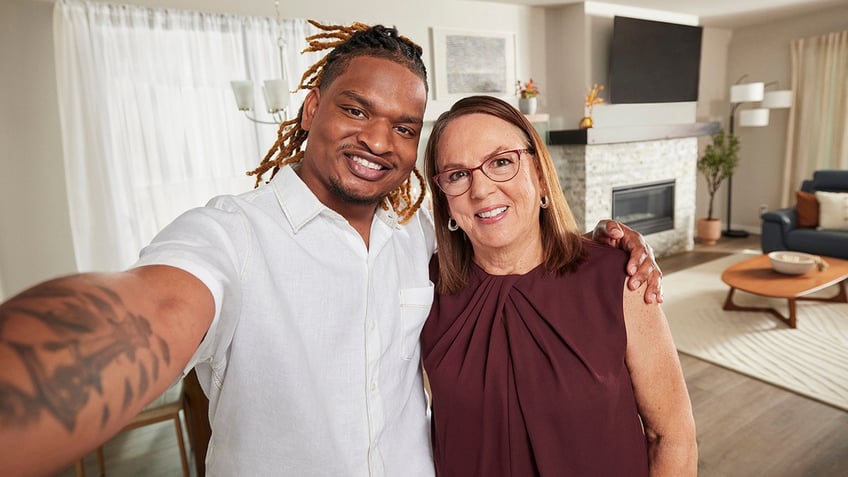 Jamal Hinton and Wanda Dench pose for their annual Thanksgiving selfie ahead of the 2023 holiday. This will be the eighth Thanksgiving the former strangers will spend together after an accidental text message catapulted them to viral fame back in 2016. (Thomas Ingersoll)
The Airbnb rental reportedly will take place on Nov. 20 (three days before Thanksgiving) and will be priced at $16 – "a nod to the year Wanda [Dench] and Jamal [Hinton] spent their first Thanksgiving together back in 2016 that started it all," the Airbnb rep shared.
After eight years, the former strangers have not missed a holiday together.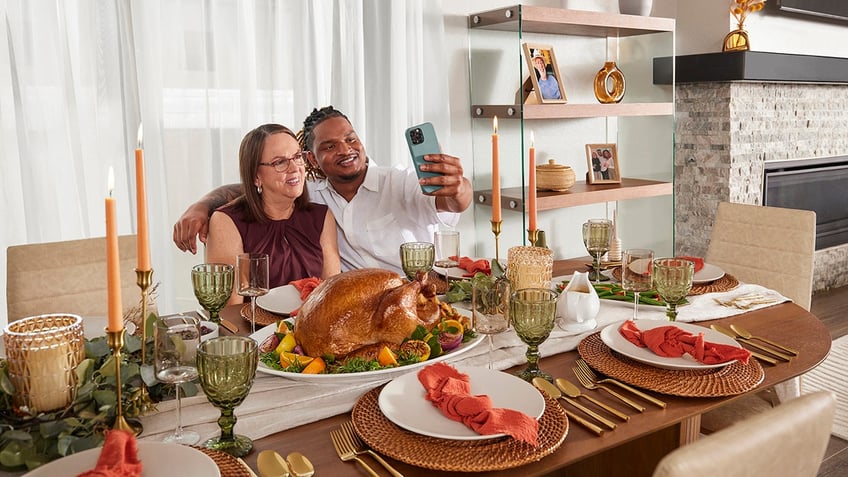 The booker of the Airbnb will enjoy dinner with Dench (at left) and Hinton (right). The former strangers have spent the Thanksgiving holiday together each year since 2016. (Thomas Ingersoll)
"It has been an amazing journey," Dench told Fox 10 Phoenix in 2021, the same year she and Hinton shared their sixth Turkey Day.
CLICK HERE TO SIGN UP FOR OUR LIFESTYLE NEWSLETTER
Hinton told the station, "She is an amazing person. She is the best."
Thanksgiving is apparently not the only special time that Hinton and Dench have experienced together. 
In September 2022, Hinton retweeted a video that Dench posted. It announced that she'd gotten her first tattoo at age 65.
"Guess who went with me?" Dench captioned the video.
Hinton appears alongside her.
The pair also enjoyed Super Bowl 2022 together and Dench tweeted a selfie with Hinton sitting on her left.
Airbnb says it will make a one-time donation to Feeding America to help provide food and support to the 32 million people in America who face hunger each year.
For more Lifestyle articles, visit www.foxnews.com/lifestyle
Nicole Pelletiere is a senior editor on the lifestyle team at Fox News Digital.