'The Bear' star John Mulaney checked into treatment in 2020 for help with alcoholism and a cocaine addiction
Pete Davidson reportedly admitted himself into rehab to manage "borderline personality disorder and PTSD" symptoms.
The "Saturday Night Live" alum is being treated at the same facility where his friend and former "SNL" writer, John Mulaney, sought treatment for addiction issues, according to Page Six.
Davidson and Mulaney join a string of stars from the popular sketch comedy series who have fought against personal dependency troubles.
Pete Davidson
The "Bupkis" star has previously disclosed attending rehabilitation centers, once in 2016 and two years later in 2018.
In 2017, Davidson revealed his borderline personality disorder diagnosis on the "WTF with Marc Maron" podcast. He tried rehab for the first time in December 2016 after experiencing metal health breakdowns, which he credited at the time to his frequent marijuana usage.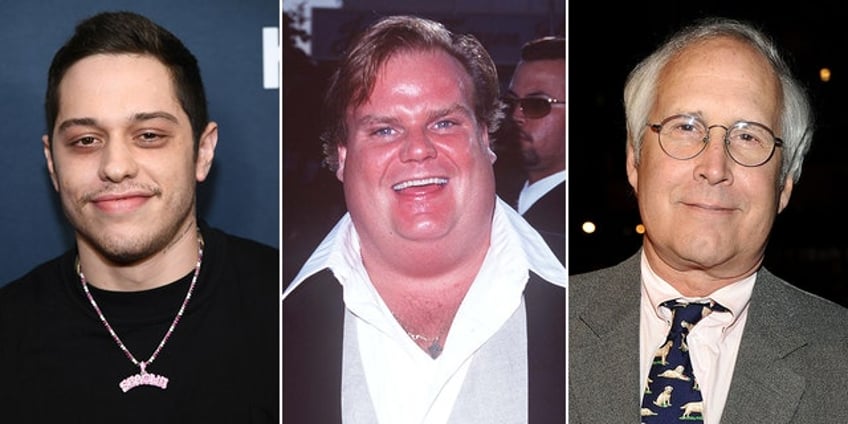 Pete Davidson, Chris Farley and Chevy Chase have each starred on "Saturday Night Live" and also struggled with dependency issues. (Getty Images)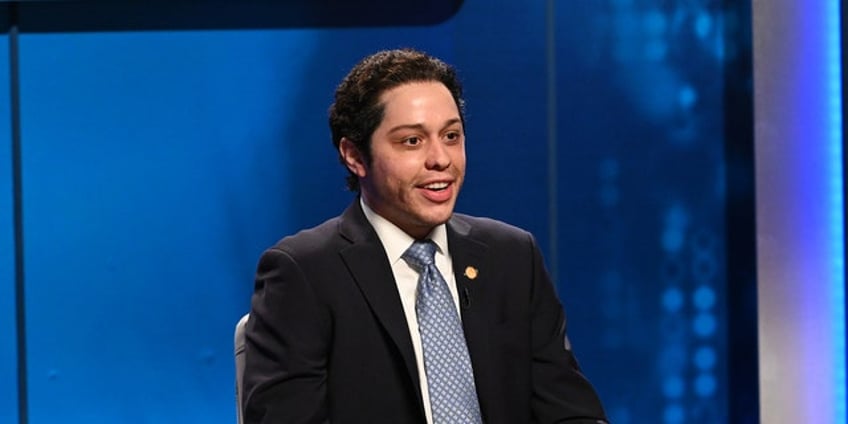 Pete Davidson starred on "SNL" for nearly a decade. (Will Heath)
"I've been a pothead forever," Davidson said. "Around October, September last year, I started having these mental breakdowns where I would, like, freak out and then not remember what happened after. Blind rage."
PETE DAVIDSON CHARGED WITH RECKLESS DRIVING AFTER ALLEGEDLY CRASHING VEHICLE INTO BEVERLY HILLS HOME
In an attempt to understand what was going on with his mental health, Davidson took a leave of absence from "Saturday Night Live" and went to rehab. He had only signed on as a cast member two years before at 20 years old.
"I never really did any other drugs, so I was like, 'I'm gonna try to go to rehab. Maybe that'll be helpful,'" Davidson said. "So I go and I get off weed. They told me there, they're like, 'You might be bipolar,' and I was like, 'OK.' So they're like, 'We're gonna try you on these meds.' And then I got out [of rehab], and then I started smoking weed again — and I'm on meds."
In December 2018, the "King of Staten Island" star entered rehab after posting about self-harm on social media. He wrote at the time, "I really don't want to be on this earth anymore. I'm doing my best to stay here for you but I actually don't know how much longer I can last. all I've ever tried to do was help people. just remember I told you so."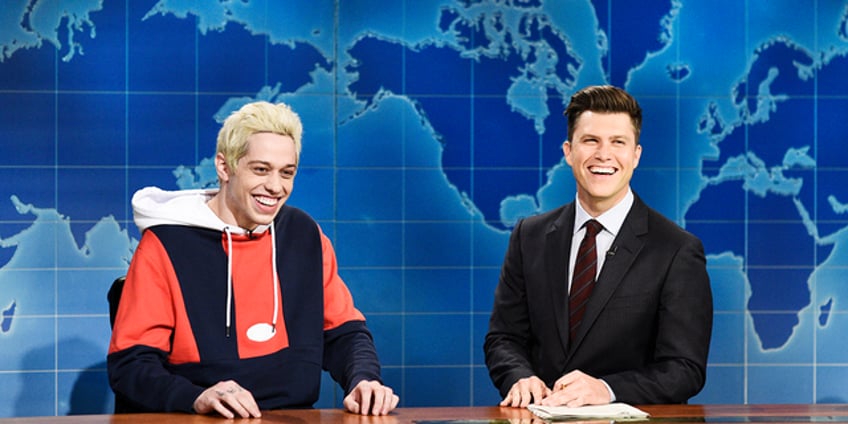 Pete Davidson regularly used the Weekend Update hot seat as his open monologue forum. (Getty Images)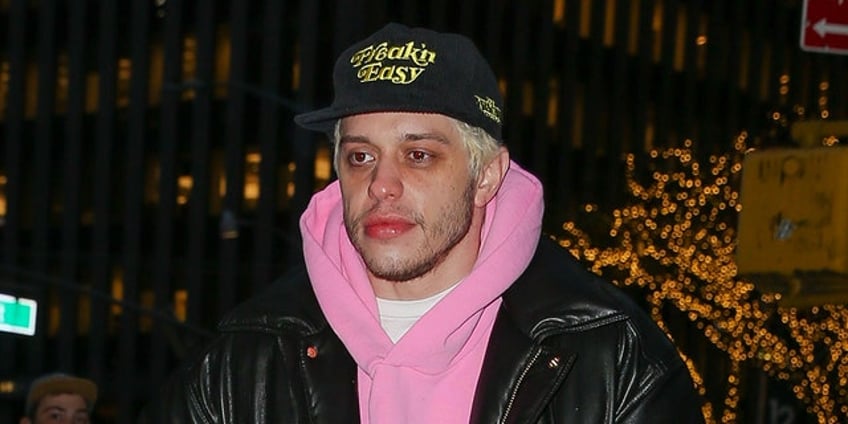 He publicly shared his mental health battles on "SNL" and social media. (Said Zapat)
The New York City Police Department visited NBC Studios to check up on Davidson after the cryptic post was reported. 
He appeared on "Weekend Update" to tell viewers he was going on "the kind of vacation where, like, insurance pays for some of it, and they take your phone and shoelaces."
Davidson later made light of his first time in a treatment facility during press interviews while attending the Sundance Film Festival in Utah for his comedy "Big Time Adolescence."
"I love Park City, Utah, because the last time I was here, I was in rehab," he said before sipping a beer. "It's nice to be on the other side of it, and it also speaks wonders to your rehab facilities.
"Four years ago; It worked out great."
JOHN MULANEY RECALLS BEING AT HIS 'DRUG DEALER'S APARTMENT' RIGHT BEFORE 'INTERVENTION'
Earlier this month, Davidson was charged with reckless driving after allegedly crashing his vehicle into a Beverly Hills home in March. The "Transformers" actor was reportedly traveling with rumored girlfriend Chase Sui Wonders at the time of the incident.
John Mulaney
Mulaney, 40, served as a writer on "SNL" for five years, and has hosted the show five times. He discussed everything from his intervention to rehab and staying sober in his last hosting gig in 2022.
At his intervention, Mulaney recalled how he had recently seen his dealer and was stocked up on drugs.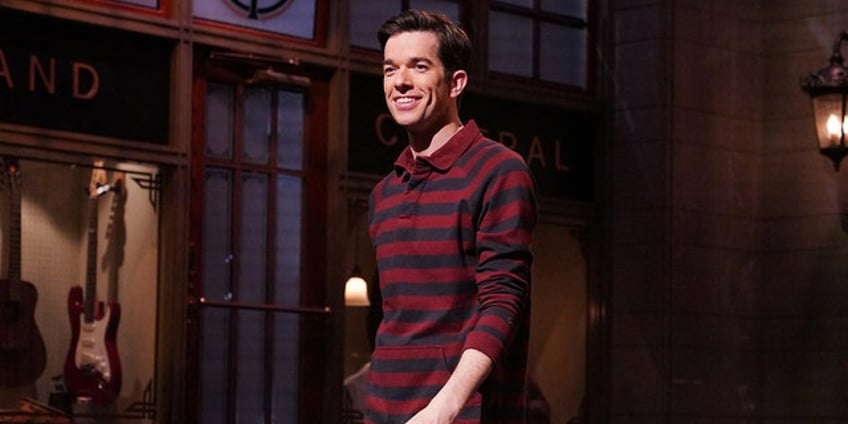 John Mulaney went into rehab for cocaine addiction and alcoholism. (Rosalind O'Connor)
"I remember I walked into my intervention. I had just been to my drug dealer's apartment and I finally got the right balance," he said on the "This Past Weekend with Theo Von" podcast. "One pocket all coke. One pocket all Xanax and I was like 'I have done it. I reached equilibrium.'"
JOHN MULANEY, FORMER 'SATURDAY NIGHT LIVE' WRITER, CHECKS INTO REHAB FOR ALCOHOL, COCAINE RELAPSE: REPORT
Upon reaching his house, there were a "bunch of people" in his home who were worried about his drug and alcohol usage. Mulaney said he "hadn't used drugs" for a few days.
"I went, 'Look I am sober right now. Look at me, I am sober right now,' I kept saying," he tried negotiating with the group.
Ultimately, he checked himself into treatment for alcoholism and cocaine addiction. After completing a 60-day stay, he separated from his ex-wife, Anna Marie Tendler.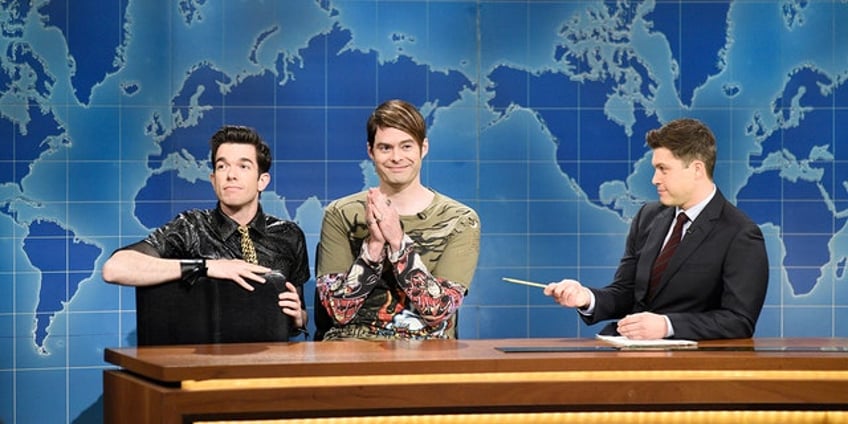 Mulaney created "Stefan," a character made famous by Bill Hader. (Will Heath)
Their divorce was finalized in January 2022. He began dating actress Olivia Munn shortly after, and the couple welcomed their first son, Malcolm, in November 2021.
Mulaney's trip wasn't his first stay in rehab. He's previously discussed substance abuse issues and was sober in 2005, but relapsed years later. 
"I don't drink. I used to drink, then I drank too much, and I had to stop. That surprises a lot of audiences, because I don't look like someone who used to do anything," he said in his 2012 special, "New in Town."
Chevy Chase
Chase has struggled with substances during his career and checked into the Betty Ford Clinic in the 1980s for treatment for an addiction to prescription painkillers.
At the time, the "National Lampoon" actor developed a "dependency on prescription drugs relating to chronic and long-term back problems" due to his work on "SNL" and additional projects. 
He told Esquire magazine in 2010 that despite his rehab stint, he wasn't very big on recreational drugs.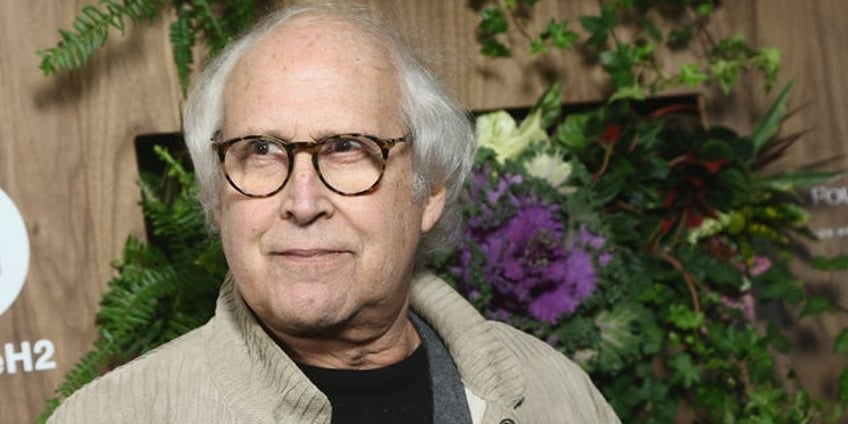 Chase checked into rehab in 2016 for a "tune-up" after first receiving treatment decades before. (Tommaso Boddi)
"I never shot things up or freebased. I was pretty low-level when it came to drug abuse," Chase said. "I checked myself into the Betty Ford Clinic after my nose started to hurt."
In 2016, the original "Weekend Update" host re-entered rehab for a "tune-up" in his recovery.
His publicist confirmed that Chase "wants to be the best that he can be," and was dealing with an alcohol-related issue.
Chris Farley
Chris Farley, one of the most beloved "Saturday Night Live" comedians, died of a drug overdose in December 1997. He was 33.
Police said Farley's brother John called 911 after discovering the comedian's body in the front room of his home in Chicago.
Farley admitted in an interview the year before that maintaining his boisterous on-screen persona was difficult at times.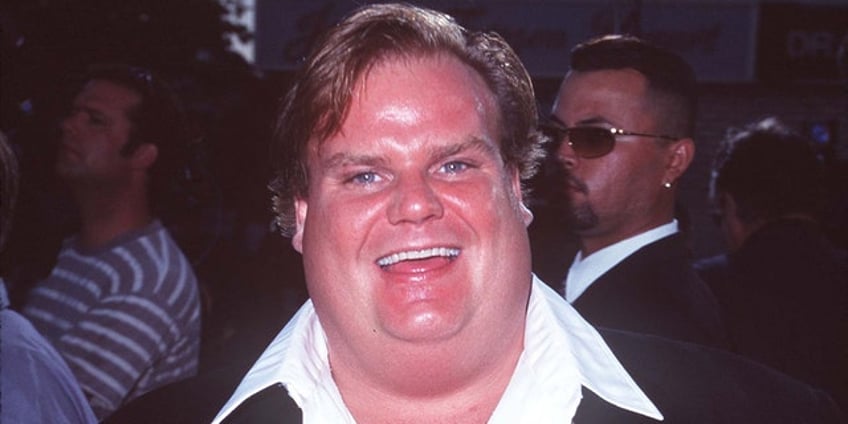 Chris Farley died of a drug overdose in 1997. He was 33. (Steve Granitz)
"Although I love this kind of comedy, sometimes I feel trapped by always having to be the most outrageous guy in the room," he said. "In particular, I'm working on trying not to be that guy in my private life."
ADAM SANDLER REMEMBERS GETTING FIRED FROM 'SNL' WITH CHRIS FARLEY
Tom Arnold recalled supporting Farley as his sober sponsor, and said Farley attempted rehab 16 times before his death. A build up of fats on the artery walls was also listed as a "significant contributing factor" in Farley's death.
"I told him early on, 'You can't be super fat and do drugs, that's death,'" Arnold told Page Six. "'You've got to make a choice. It's best you don't do either but you cannot do both.'"
At one point, Arnold had to stage an intervention with Rob Lowe and one of Farley's brothers.
"He sits down and we tell him how much we love him and we want him to go to this rehab, it's all set up," he told Page Six. "And he's like, 'I'm gonna do this but I need to run back to New York just to grab some stuff,' and that means, go back to New York to get some more heroin."
Adam Sandler was fired from the show in 1995 alongside Farley, and has since maintained he's unsure why they were let go. Sandler triumphantly returned to host the show in 2022 for the first time since he was fired, and paid an emotional tribute to his best friend.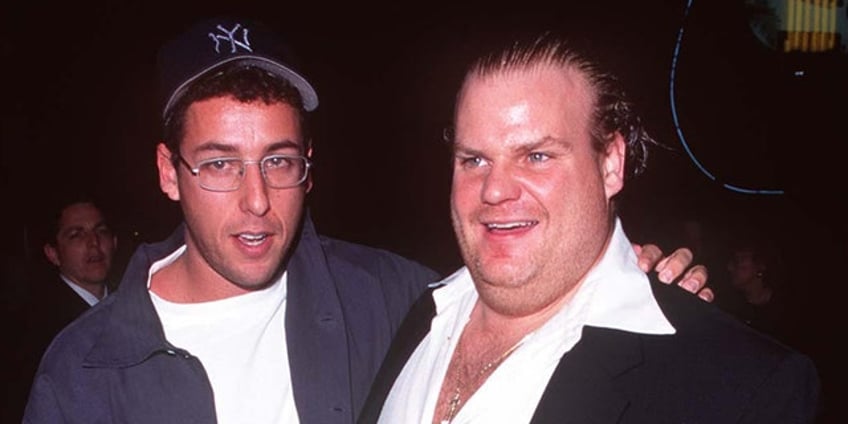 Adam Sandler fondly remembered working with Chris Farley on "Saturday Night Live." (Steve Granitz)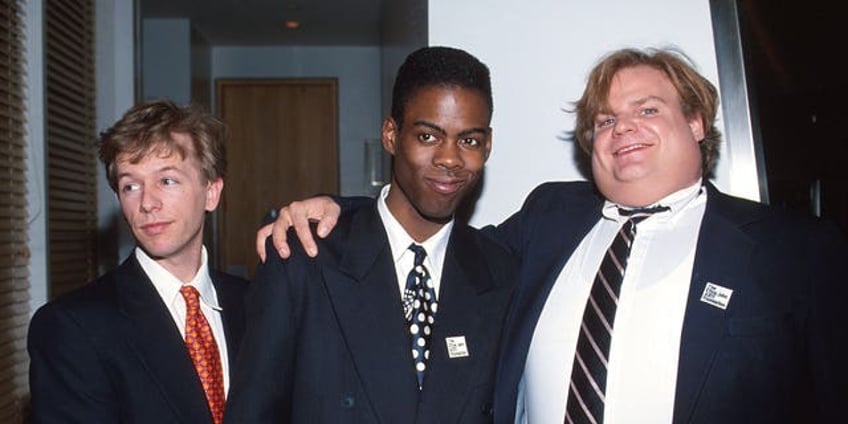 David Spade, Chris Rock, and Chris Farley were part of an all-star cast at "SNL." (KMazur)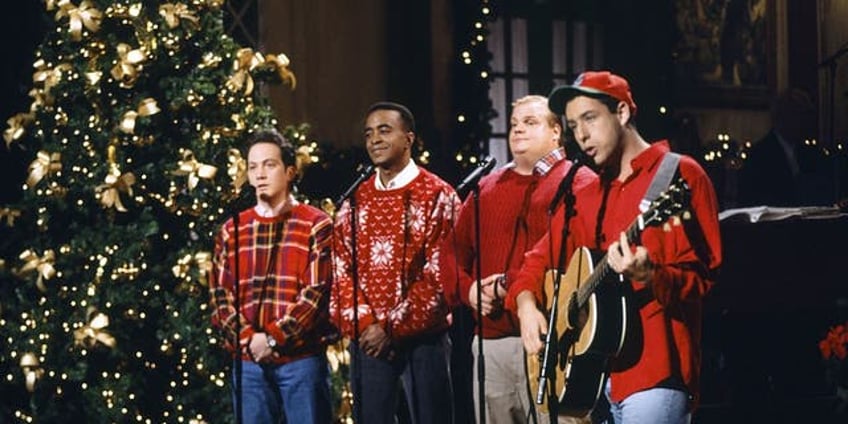 Rob Schneider, Tim Meadows, Chris Farley and Adam Sandler performed the 'Santa Don't Like Bad Boys' skit in 1993. (Gene Page)
ADAM SANDLER RETURNS TO 'SNL' WITH EMOTIONAL TRIBUTE TO CHRIS FARLEY
Sandler picked up a guitar and referenced many of Farley's hit characters and sketches, including motivational speaker Matt Foley, the risqué Chippendales dance with Patrick Swayze and "Gap Girls." The "Billy Madison" actor also mixed in some of his personal memories of Farley.
"He was a one-man party, you know I'm talking about, I'm talking about my friend Chris Farley," Sandler sang.
Sandler ended the song about Farley's legacy by sharing that his kids laugh at old clips of Farley and the movie "Tommy Boy."
"And when they ask me who's the funniest guy I ever knew, I tell them hands down, without a doubt, it's you," he said.
John Belushi
Farley's idol and fellow "SNL" fan-favorite, John Belushi, also died of a drug overdose. He was also 33 years old.
Belushi died at the famous Chateau Marmont on Sunset Boulevard in 1982.
CLICK HERE TO SIGN UP FOR THE ENTERTAINMENT NEWSLETTER
The night before Belushi's death – March 4, 1982 – a book titled "The Castle on Sunset," claimed he partied with friends Robert De Niro and the late Robin Williams, and a woman named Kathy Smith.
Smith later pleaded guilty to involuntary manslaughter for supplying the comedian with his last fatal doses of cocaine and heroin, a report on the book maintained.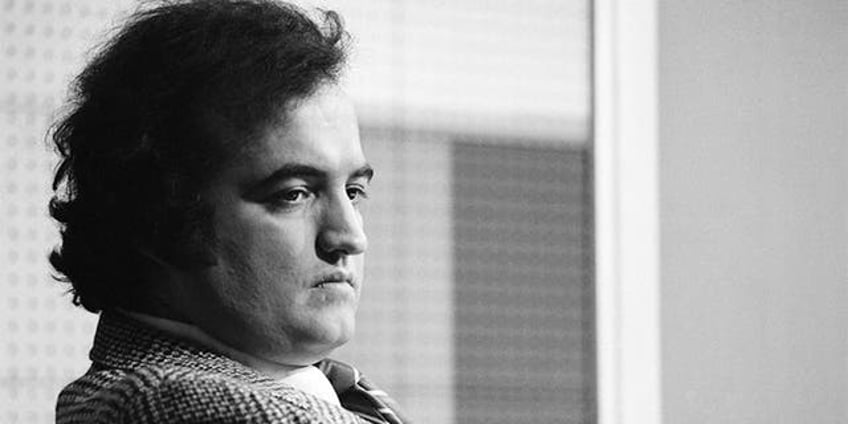 John Belushi died in 1982 from a drug overdose. (Alan Singer)
The next morning, Belushi was found unresponsive in his hotel room. Paramedics declared him dead at the scene. 
Belushi's manager informed Dan Aykroyd of his death and De Niro – who found out after calling the hotel numerous times –reportedly dropped the phone and cried when he realized what had happened. The hotel remodeled the room, hoping to avoid cult status, but their efforts failed and tours of Hollywood's most notorious incidents frequent the hotel. To this day, Chateau Marmont is still synonymous with Belushi's death.
In the Farley documentary, Kevin Farley acknowledged how the "Black Sheep" star looked up to Belushi. In fact, several of Farley's characters on the NBC show were inspired by the "Animal House" actor. 
Kevin insisted there was one special reason why Farley admired Belushi over the years.
"John Belushi represented a bigger guy who can move pretty well," said Kevin. "Dance really well. Chris identified with that, because Chris could dance really well. Chris could move his body really well … He admired that — the movement of John Belushi. And his physical comedy."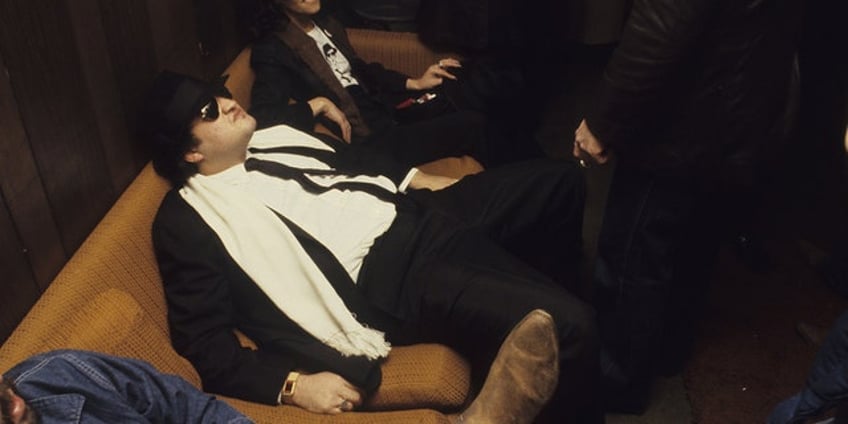 John Belushi, aka Jake Blues of The Blues Brothers, was known for his hard partying ways. (Richard McCaffrey)
His "The Blues Brothers" co-star, Dan Aykroyd, remembered filming the 1980 John Landis comedy." We had a budget in the movie for cocaine for night shoots," Aykroyd told Vanity Fair in 2012.
"Everyone did it, including me. Never to excess, and not ever to where I wanted to buy it or have it. [But] John, he just loved what it did. It sort of brought him alive at night—that superpower feeling where you start to talk and converse and figure you can solve all the world's problems."
Belushi decided not to pursue rehab despite his addiction problems. "I'm fine," Belushi told his wife Judy at the time. "I can't stop now until I finish the movie. It'll be fine when it's over."
Tracy Wright is an entertainment writer for Fox News Digital. Send story tips to This email address is being protected from spambots. You need JavaScript enabled to view it..