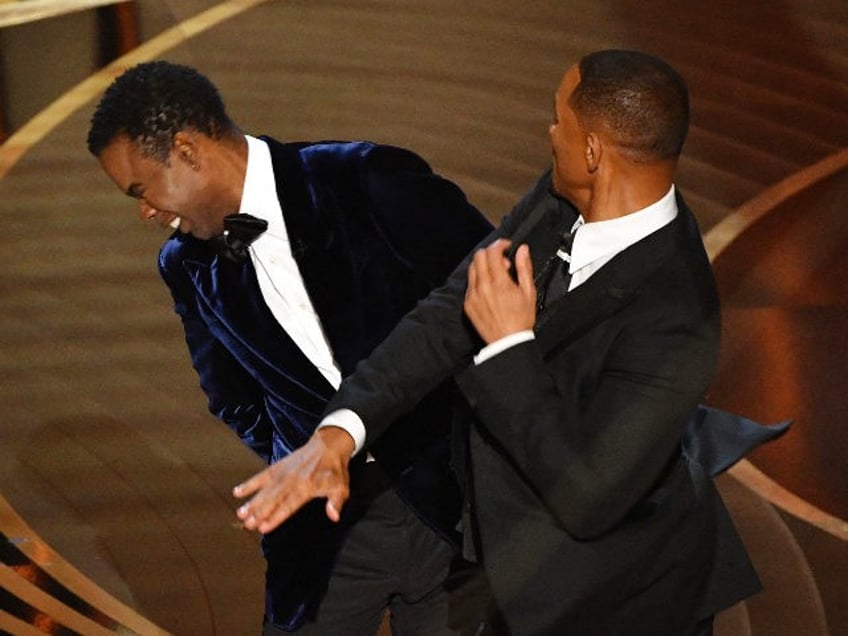 Leslie Jones is claiming that fellow comedian Chris Rock "had to go to counseling with his daughters" after actor Will Smith smacked him across the face at the Oscars last year.
"That shit was humiliating. It really affected him," Jones told PEOPLE of her close friend. "People need to understand his daughters, his parents, saw that. He had to go to counseling with his daughters."
Jones, who watched the infamous Oscars slap from her home, went on to say that the Smith's attack on Rock "infuriated" her.
"It made me so infuriated," she said. "You don't know that I was going to jump in my car and roll up there. I was so fucking mad on so many levels — he's like my brother."
"For a long ass time I was just mad," Jones continued. "Chris Rock did a fucking joke. I know Will, too — I was like, you couldn't handle that shit afterwards? This is the Oscars. The whole world is watching."
Last year, the Bad Boys star marched onto the Oscars stage to smack Rock across the face after the comedian made a joke at the expense of Smith's wife.
Watch Below:
Jones added that she spoke to Rock after the slap.
"I was like, 'Chris, when he got up why didn't you run?'" she said. "'I would've been running around that stage like 'Will, calm down. Jada, call your man!'"
The Ghostbusters star also expressed her desire to have seen the aftermath of the slap play out differently.
"He could have still fixed it," Jones said of Smith, who later returned to the stage to accept his award and give his acceptance speech for Best Actor in the 2021 film King Richard.
Instead, Jones wishes that Smith would have said, "I shouldn't have did that. Bring Chris out. I can not accept the Oscar right now because that was fucking wrong.'"
On a positive note, Rock ended up taking his 2022 Oscars experience to the stage, she noted.
"Everybody got pissed off about him doing a special. That's what comedians do," she said of Rock's Selective Outrage standup special that debuted on Netflix in March.
"Instead of us going crazy we fucking go talk about it on the fucking stage," Jones said. "Thank God we've got the stage."
You can follow Alana Mastrangelo on Facebook and Twitter at @ARmastrangelo, and on Instagram.