Jill Biden Seeks Communications Boost Ahead of Midterms: Hires Michelle Obama Alum
First Lady Jill Biden is readying for a critical role in the upcoming midterm elections, announcing Wednesday she is hiring a communications specialist to refine her messaging of Democratic policy.
Axios reported her office hired Kelsey Donahue to join an expanding East Wing team. An alum of the Obama administration, Donahue worked as then-first lady Michelle Obama's assistant press secretary between January 2015 and January 2017, according to her LinkedIn profile as seen by the Hill.
Donahue will oversee Biden's digital media efforts and help drive public engagement communications, according to Axios.
Michael LaRosa, the first lady's spokesperson, told Axios "We are excited for Kelsey to join our small but nimble team!" There are currently three members of the first lady's communications team, according to the outlet.
Donahue is currently employed by social media company Snap Inc., and previously served as the director of communications at the Harvard Kennedy School's Institute of Politics.
Jill Biden has previously set out to help her husband in his day-to-day engagements, although with mixed success.
.@JoeBiden: "You know, there's that great philosopher, and he talked about, Jill puts notes up on my mirror when she wants me to, where I shave, to get messages across to me, and there's a philosopher who once said 'faith sees best in the dark.' Kierkegaard said that." pic.twitter.com/ZsDaK25qUJ

— Breitbart News (@BreitbartNews) September 17, 2020
As Breitbart News reported, during the 2020 presidential campaign she visited the Twin Cities, making stops in St. Paul and speaking to supporters in Minneapolis in support of her husband's bid for office.
Drawing what one outlet described as "a small, but energized crowd of women deemed 'Women for Biden,'" at her last stop, Jill Biden appeared happy to appear in her husband's stead while pushing his political agenda.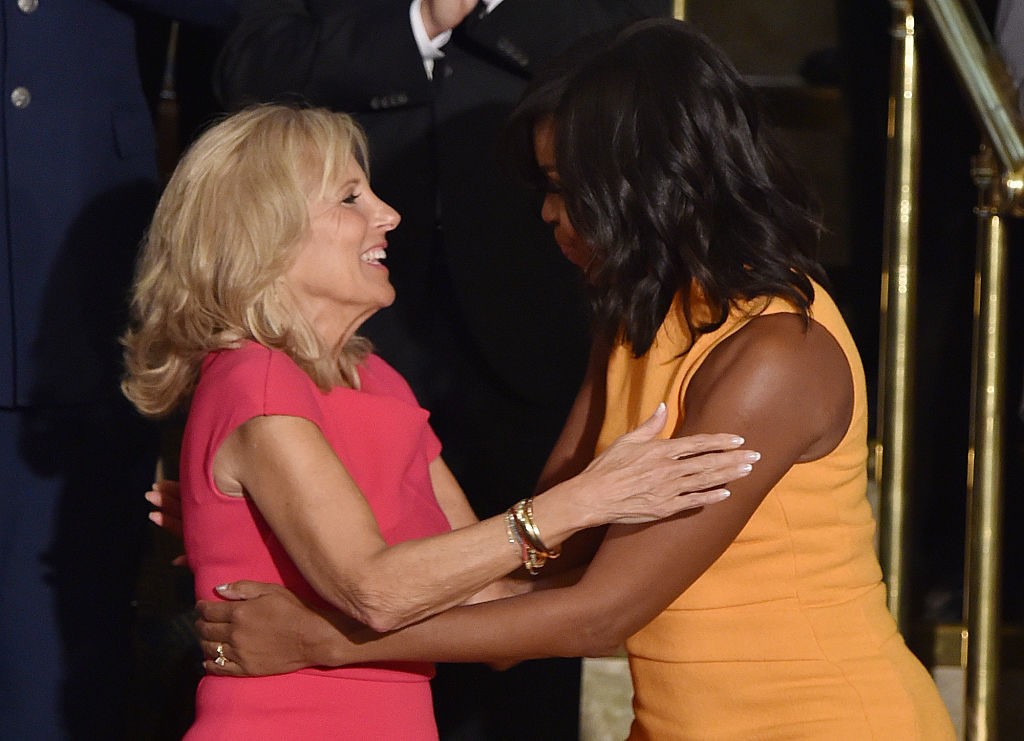 U.S. First Lady Michelle Obama (R) hugs Jill Biden, wife of U.S. Vice President Joe Bidem, before the arrival of U.S. President Barack Obama for the State of the Union at the U.S. Capitol in Washington, DC, on January 12, 2016. (NICHOLAS KAMM/AFP via Getty Images)
In April 2021 she journeyed to California in a visit to a pop-up vaccination site for farmworkers designed to encourage others to join the national mass coronavirus vaccination program.
Video of her effort to speak Spanish to around 100 farm workers during the stop in Delano attracted almost as much attention as the flag that provided the backdrop.
Jill Biden humiliated herself again. https://t.co/u3kFscfnNH

— Breitbart News (@BreitbartNews) April 1, 2021
More recently Biden, 70, attended the G7 summit in Cornwall, England alongside her husband.
On that trip it was revealed she gave the U.K. Prime Minister Boris Johnson's son Wilfred a copy of the picture book she wrote about the president's early years and his life among young children.
Follow Simon Kent on Twitter:Follow @SunSimonKentor e-mail to:

This email address is being protected from spambots. You need JavaScript enabled to view it.