Afghanistan: China Warns America Not to Sanction the Taliban
Multiple senior Chinese officials warned on Tuesday against any proposed "wanton sanctions" on the Taliban, a jihadist terrorist organization, by the United States in the aftermath of the group's takeover of Afghanistan.
The warning comes as the World Bank and International Monetary Fund (IMF), among other international institutions, freeze funding to Afghanistan in light of the Taliban's return to power – expressing both human rights concerns and confusion regarding who is currently serving as head of state of the country. The Taliban leadership has not appointed a head of state or announced the installation of any individuals as actual leaders of the country at press time.
The Taliban became the de facto national government of Afghanistan after ex-President Ashraf Ghani fled Kabul, the capital, on August 15. Taliban jihadists had surrounded Kabul hours earlier but not yet entered the city. Following Ghani's flight, Taliban leaders announced the country would rebrand as the "Islamic Emirate of Afghanistan" and the Taliban would build a full government apparatus to replace the fallen republic as soon as possible.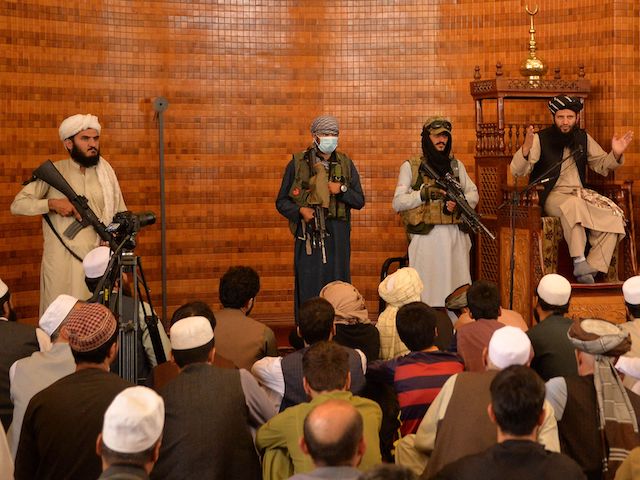 Afghans gather on a roadside near the military part of the airport in Kabul on August 20, 2021, hoping to flee from the country after the Taliban's military takeover of Afghanistan. (Wakil Kohsar/AFP via Getty Images)
"We are deeply concerned about the situation in Afghanistan and the impact on the country's development prospects, especially for women," World Bank spokesperson Marcela Sanchez-Bender reportedly told CNN, according to Afghanistan's Tolo News. "We have paused disbursements in our operations in Afghanistan and we are closely monitoring and assessing the situation in line with our internal policies and procedures."
The Taliban has also failed to access the funds in Afghanistan's central bank, reportedly under the control of the New York Federal Reserve.
Taliban spokesman Suhail Shaheen called the IMF's decision last week "an injustice" and urged the world to invest in a successful Taliban regime.
"We need the reconstruction of Afghanistan, the people of Afghanistan need the budget. The [central bank] shall need the budget," Shaheen told China's state-run CGTN network.