Tesla reported its Q2 production and deliveries on Sunday, posting numbers that exceeded analyst estimates, despite doubts about demand throughout the quarter.
At the end of Q2, Tesla once again proved that price cuts can help move metal, posting 466,140 deliveries for the quarter, ahead of Bloomberg's consensus estimate of 448,351. The auto manufacturer produced 479,700 vehicles in the quarter, exceeding estimates of 456,617.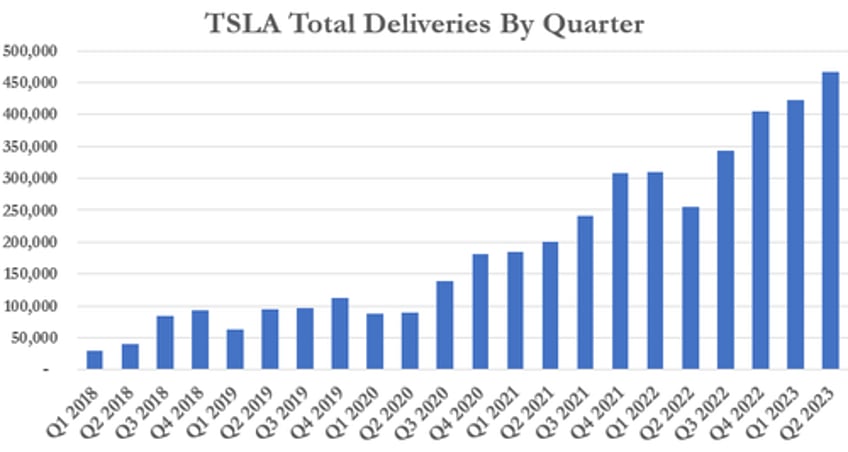 Tesla delivered 19,225 Model S/X vehicles in the quarter, beating expectations of 14,606.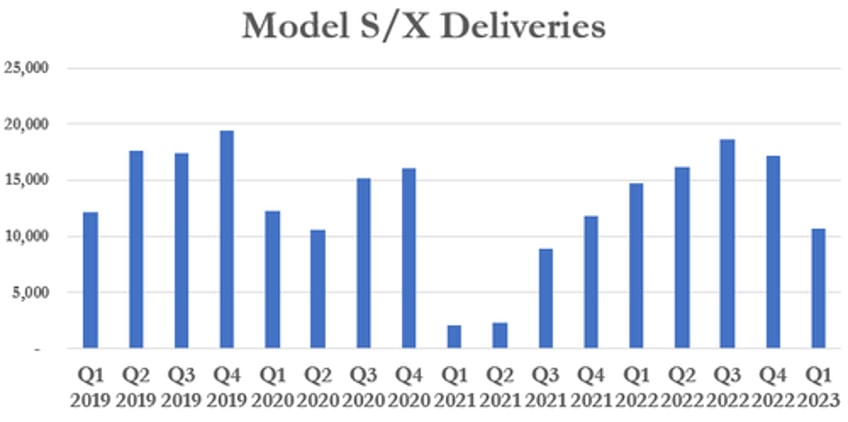 The EV manufacturer also delivered 446,915 Model 3/Y vehicles in the quarter, exceeding estimates of 437,386.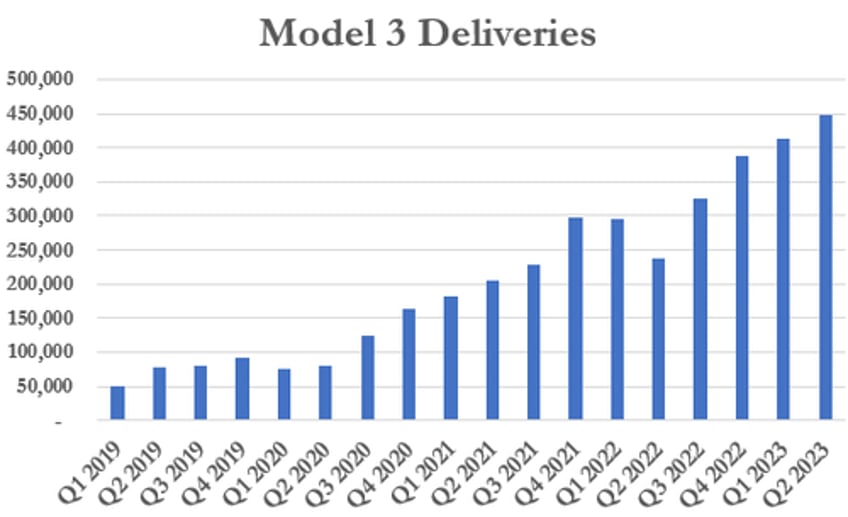 Despite the beat on both deliveries and production, some investors are beginning to notice the gap between the two numbers and are beginning to raise questions about the automakers' inventory.
🚨🚨🚨 $TSLA inventory increases for the 5th quarter in a row.
Of these 109k produced-but-not-sold, I estimate that about 90k are in active inventory. With additional production coming online, it would seem that more price cuts should be expected pic.twitter.com/hnrnQ5K6N9

— CoverDrive (@CoverDrive12) July 2, 2023
We'll be sure to keep an eye on this trend in future quarters, especially as Tesla continues to expand globally. For now, however, the market's focus will likely remain on the headline numbers beating expectations.
Recall, over the last month, we have been covering how legacy automakers like Ford and GM, paired with new EV companies like Rivian, have adopted Tesla's charging standard, allowing their vehicles to utilize Tesla's nationwide network of Superchargers. As such, we have been documenting how Tesla's charging standard is now quickly becoming the EV industry's charging standard. 
Days ago both Goldman Sachs and Morgan Stanley downgraded Tesla. Despite the downgrade two weekends ago, shares held steady after their recent 3 month rally, up nearly 75% off their 52 week lows. Goldman, led by analyst Mark Delaney, noted that the stock price moving higher, in addition to a tougher pricing environment for autos, were two of the reasons for downgrading the name:
We're downgrading Tesla shares to Neutral from Buy, as we believe the stock now better reflects our positive long-term view of the company's growth potential and competitive positioning post the substantial move higher YTD (up 108% vs. the S&P 500 up 13%) and in the last month (up 38% vs. the S&P 500 up 5%). While the primary reason for the change in our view is that we think the market is now giving the stock more credit for its longer-term opportunities, we are also cognizant of the difficult pricing environment for new vehicles that we think will continue to weigh on Tesla's automotive non-GAAP gross margin this year.
Morgan Stanley's Adam Jonas' bull case remains at $450 and his bear case remains at $90 for shares. Analyst Adam Jonas admitted that Tesla "remains a 'must own' company in any EV portfolio" and that it "is emerging as an industrial 'standard bearer' for one of the greatest industrial changes we've witnessed in over a century.
TSLA shares are up 6% in the pre-market, erasing all of the post-MS/GS downgrade losses...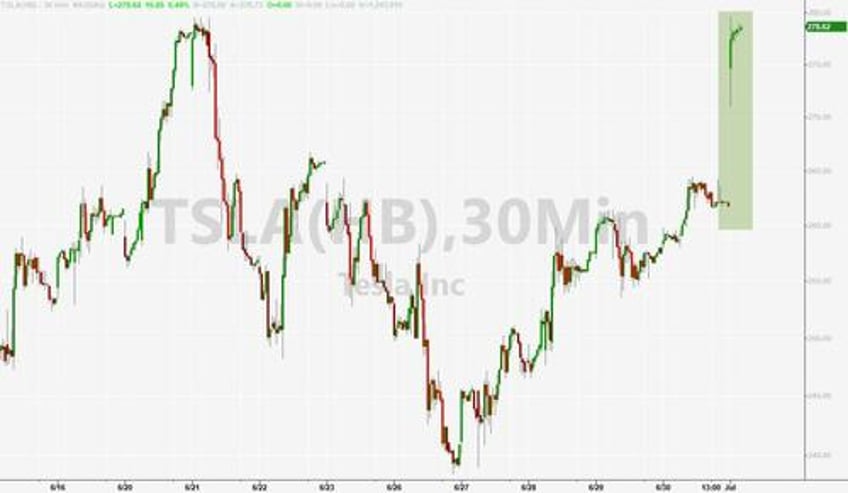 We can't wait to see how quickly these analysts change their tunes once again, after these Q2 delivery numbers.
Despite price cuts to start 2023, Tesla has been slowing walking the price of its most popular models higher again, with the latest hikes coming in early May.