On Monday, China announced export controls on two rare earth metals, gallium and germanium, starting on August 1. These critical rare earth metals are used in microchip production. On Wednesday, a former top Chinese official was quoted by state media as saying export controls on rare earth metals are "just the beginning."
Former vice-minister of commerce Wei Jianguo spoke with China Daily and said Beijing has plenty of tools for countermeasures if the Biden administration continues to ramp up technology restrictions. He said the decision to restrict the export of gallium and germanium would "cause panic in certain countries, but also exert heavy pain in them." 
Wei said: "This is just the beginning of China's countermeasures, and China's toolbox has many more types of measures available. If the high-tech restrictions on China become tougher in the future, China's countermeasures will also escalate."
This is alarming because China controls the world's processing and refining of rare earth metals.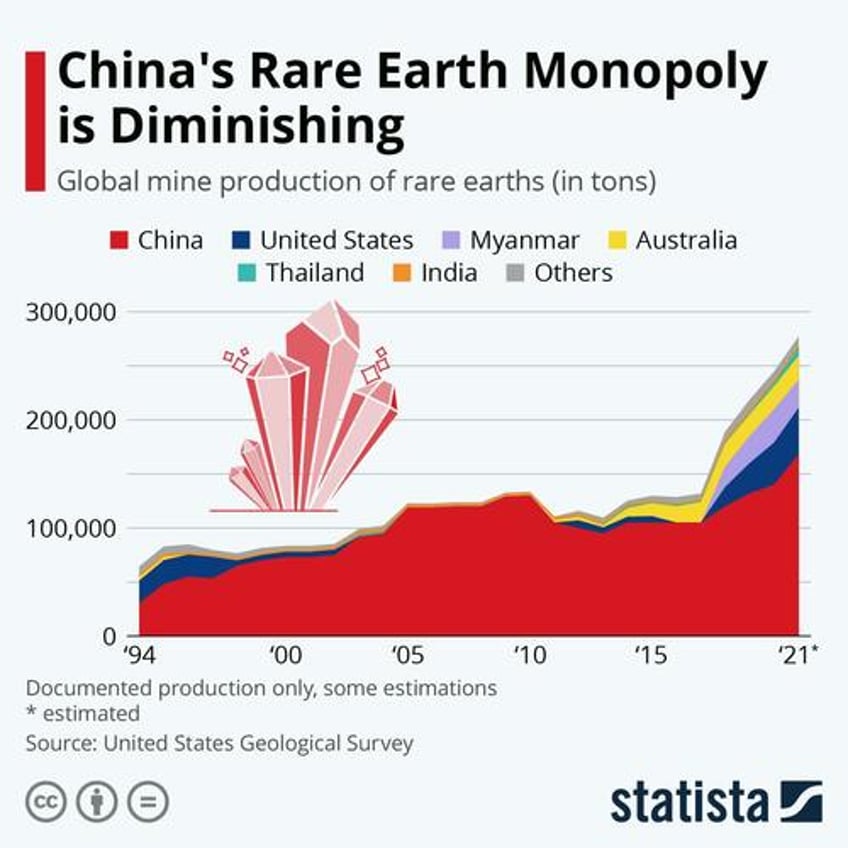 These metals have become essential for producing electric vehicles, wind turbines, solar panels, and high-tech defense weapons. Any disruption of the rare earth metal trade to the West could impact supply chains. 

As for the military-industrial complex, which has already seen China place Lockheed Martin and a unit of Raytheon Technologies on an "unreliable entities list" over weapon sales to Taiwan, this is a major wake-up call that rare earth supply chains need to be rejiggered from Asia to elsewhere or even increase North American mining and refining capacity. 
"Any attempt to promote decoupling through hegemonism, including suppressing Chinese enterprises, will ultimately be a stone thrown at one's own feet," Wei added.
Five years into a trade war, the weaponization of trade flows appears to be in full swing. The announcement of the export controls came ahead of Treasury Secretary Janet Yellen's visit to Beijing on Thursday and was timed to send the Biden administration a message.